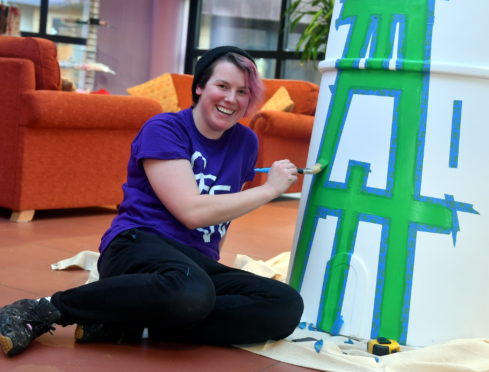 The first part of a new fundraising art trail which will light up the north-east has been decorated.
Aberdeenshire mural artist and illustrator Katie Guthrie was chosen to paint the first 9ft lighthouse of the Light the North trail.
There will be 30 sculptures scattered across Grampian, Orkney and Shetland next year  to raise not only money, but awareness, of Clan Cancer Support.
Professional and amateur artists are being encouraged to submit their designs to be considered for the trail.
Ms Guthrie, 34, from Westhill, was inspired to get involved after her uncle died last year.
The Gray's School of Art graduate said: "My uncle was a chief engineer for the Northern Lighthouse Board and worked on the boats for 30 years.
"Working with Clan is a way for me to honour his memory and it was wonderful to study the seas, the boat forms and landscapes which he lived alongside all his life.
"Everyone knows someone who has been affected by cancer and I am proud to be part of the trail which I know will capture the imagination of the people in the north-east.
"We all have an emotional connection with the sea and many of us will have stories of lighthouses to share with our friends and family members."
Project director Fiona Fernie said: "It has been a joy to watch Katie bring our very first sculpture to life.
"We have enjoyed having the lighthouse at Clan House since September, but to see it awash with the colours of the sea and our coastal heritage is very exciting.
"The sculpture will now remain on display here at Clan House for all to see, until next year when it will be varnished before forming the first part of our exciting Light the North sculpture trail."
Businesses and communities can still get involved. For more information, or to find out about submitting a design, visit lightthenorth.co.uk