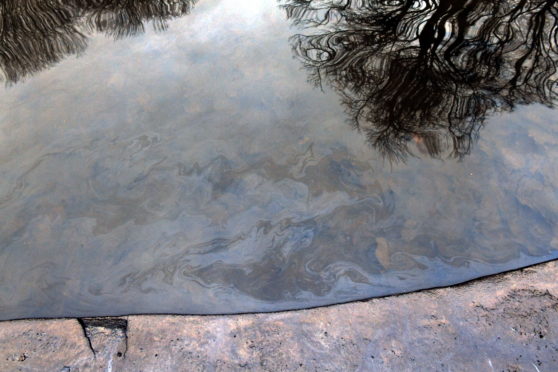 Dogs owners have been warned to keep their pets away from Westburn Park following further pollution concerns.
Another investigation has been launched into Gilcomston Burn after what appears to be another oil spill at the popular site.
The Scottish Environmental Protection Agency originally investigated the issue in October when a suspected fuel spill caused a strong smell.
Councillor Tom Mason who represents the area has no doubt the issue must be "sorted" as soon as possible.
He said: "Casual dog walkers won't know it's a problem until they get down there. If their dog wanders into the water, they will come out covered in oil.
"It's a very well used park and it's not great for people walking in it. My wife has been down recently and it is smelly.
"We need answers and Sepa needs to find out what is causing the problem."
Peter Stephen, chairman of the Friends of Westburn and Victoria Park group, confirmed he still wasn't sure about the source of the spill, but said he was concerned at the "worrying trend."
He added: "There are a few construction sites in the area that it might be coming from, but we're still not sure.
"Everyone should continue to use the park as normal because the grounds are habitable. We will wait and see what the outcome of the investigation is."
Scottish Water confirmed that they were in attendance at the pond on Thursday to assist Sepa with their investigation.
A spokesman told the Press and Journal: "At Sepa's request, one of our local teams attended Westburn Park to assist in the containment of oil pollution which had been reported in the Gilcomston Burn.
"We were pleased to be able to assist Sepa and the City Council in minimising the potential impact of this issue on the local environment.  The source of the pollution is not believed to be linked to Scottish Water's infrastructure."
A Sepa spokesman said: "We have received a report regarding an oily film on the water in the ponds at Westburn Park.
"We are aware of a potential source of the oil and local officers are working to ensure that all possible measures are taken to minimise any further impact to the environment."