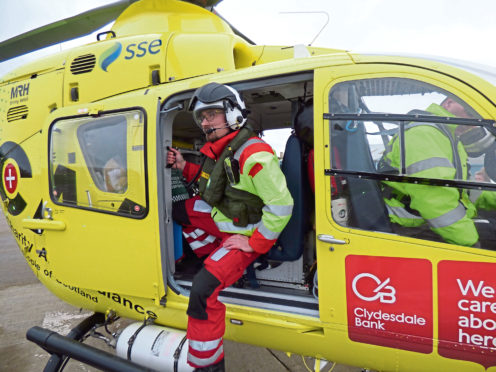 A year after successfully campaigning for Scotland's Charity Air Ambulance (SCAA) to base its second helicopter in the Granite City, the Press and Journal is backing the charity's fundraising campaign to get it off the ground.
SCAA hopes to raise £6 million to fund operations out of Aberdeen Airport, expected to begin in March.
So far, the charity has raised around half of its target.
We're backing Helimed 79 to encourage readers to give what they can towards the fundraising efforts.
We met with some of the crew at the charity's base at Perth Airport and found out what happens when they're called to an incident.
'The uniform is our armour'
A piercing screech can be heard at the control tower of Perth Airport, both inside the building and out on the blustery airfield.
You can feel the urgency as the phone vibrates, but Darren O'Brien is completely calm before picking up the handset.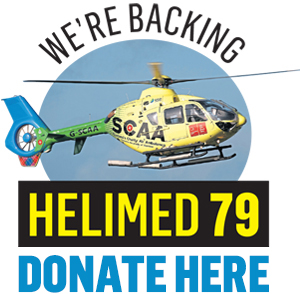 Were he to consider the enormity of the conversation, Darren might quiver – but with his red uniform on, he has a job to do.
Within five minutes of the call being taken, the team is ready for take-off.
They have already digested complex information, run through a series of checklists and steeled their nerves for what awaits at the destination.
There is no room for human error and, although the operation may look slick, the trio have undergone years of training.
Fellow emergency services rely on their swift arrival, as do those who find themselves at the heart of a life or death situation.
Perhaps your child is critically ill or your husband has been involved in a farming accident.
Once 999 has been dialled, and the severity of the situation has been assessed, you will search the horizon for Scotland's Charity Air Ambulance.
The invaluable service is not government funded and Helimed 76 covers the length and breadth of Scotland.
The team can be called upon 365 days of the year and attend incidents where every second counts. "Sometimes you'll see it right away, the sheer relief that we arrived on the scene," says Darren.
But before the helicopter has even taken off, dozens of checks have been made in order for the mission to stand the best chance of success.
Darren, who has been an aircrew paramedic with the charity for 18 months, works alongside Captain Russell Myles and fellow paramedic and team leader John Pritchard.
Together they make for an extraordinary team, with the gentle banter which you might expect among office workers. But once the Helicopter Emergency Medical Service Phone Call has been made, their dedication and professionalism comes into play.
Whether SCAA is called upon depends on several factors, including the severity of the incident, location, weather, distance from hospital and availability of other resources.
When the dispatch centre at either Glasgow, Edinburgh or Inverness, plus an air desk at Cardonald, calls for Helimed 76, the distinctive emergency phone rings in the operations room at SCAA's Perth base.
"You can hear the phone across the entire site, meaning we can all muster to the desk," explains Darren.
"I'll take the call on loudspeaker so one of us can take the grid reference of the incident. Then one of us inputs that information into a TomTom for the aircraft, which will give us a destination and route.
"Essential details include the grid reference, injury summary, and what, if any, resources are available on the scene.
"We plot the course, work out the fuel required and check out the weather.
"Then we complete our departure checklist, put our helmets on and gather equipment to take out to the aircraft."
Each helmet is individually designed and comes complete with a name badge.
Despite the gravity of the situation, a strange sense of calm descends on the control room.
"We walk with haste and purpose, we never run," says Darren.
"You want to avoid the red mist of an emergency, and get out to the helicopter without missing steps.
"That can be hard if you know you're attending an incident where a child is involved. But we must remain calm, as we aim to be airborne within five minutes."
Once the crew has reached the helicopter, they don life jackets, as many of their routes cross over water.
Next, the HEMS (Helicopter Emergency Medical Services) bell is pressed to alert the control tower that the team is going out.
Captain Russell Myles takes up position and paramedic John joins him up front.
Once Darren has acted as fire marshall to make sure each engine has started safely, he gives the captain a thumbs-up before clambering aboard for take-off.
The space within the helicopter is tight but meticulously organised and John can spin his seat 360 degrees from the cockpit to the treatment area.
The aircraft contains a wide variety of equipment, which can include a special bothy bag for remote incidents.
"Me and John take turns as to who sits up front," says Darren.
"Once we're in the air, I'm relaying information to the ambulance service.
"But quite often, we might be first on the scene if it's a remote incident.
"We can calculate to the minute what time we will arrive at the destination and we're already considering how close we are to the nearest hospital.
"If we attend an incident in Aboyne, for example, the nearest hospital would be Aberdeen Royal Infirmary.
"That's 12 minutes' flying time, meaning that reduces an equivalent road ambulance journey by about 40 minutes.
"From the moment of take-off until the moment we hand over the patient, the front left paramedic always has something to do.
"So if John is up front, he's helping the pilot navigate, then he'll be helping me with the patient, and when we're back up in the air he can be doing a bit of both.
"We do at least one orbit when finding a suitable landing site.
"One of the big issues is any sort of wire. It is the little domestic wire in people's gardens that can cause a huge issue.
"We have to consider livestock and how much of a hold-up we'll cause if we land on the road.
"Sometimes we have a bit of a walk in a rural area. When you're carrying all the equipment plus the patient on a stretcher, you can be pushed to the limits of your physical and mental endurance.
"But no matter how bad a day you think you're having, it's not as bad as the patient lying on the ground, who is relying on you to save their life."
Each team member experiences an incident slightly differently, partly due to the tasks which are required of them.
Captain Russell Myles, who is a senior pilot and helped get the charity up and running, is left with no choice but to dissociate from the patient.
"We have the biggest operating area of any charity air ambulance in the UK," says Russell.
"We go from Orkney to the English border and the east coast to the Outer Hebrides.
"We're working in the highest terrain in the coldest weather.
"My job is to get a £5 million helicopter and the paramedics on board home safely so I can't think about what's going on just behind me.
"I used to work on airlines. On Monday it would be Las Palmas, Tuesday it was Heraklion and Paphos was on a Wednesday.
"I can remember the timetable for the entire week. But with this job, I can only think of two places where I have landed twice on separate incidents.
"We can land virtually anywhere, but it has to be safe."
The team is repeatedly touched by the kindness of strangers when out on missions.
"I have to stay with the helicopter whilst the paramedics attend to the patient," says Russell.
"We once attended an incident at a farm and I had to land at the next farm along.
"I was invited in for bacon sandwiches.
"I knew Helimed 76 was secure, so I took them up on the offer."
Both John and Darren read the scene as they come in to land, in what is known as the 10 second windscreen approach.
"The scene can sometimes be a clue as to how serious the injuries will be," explains John.
"We're looking where to land, and if it's in a field we're even thinking about stuff like gates.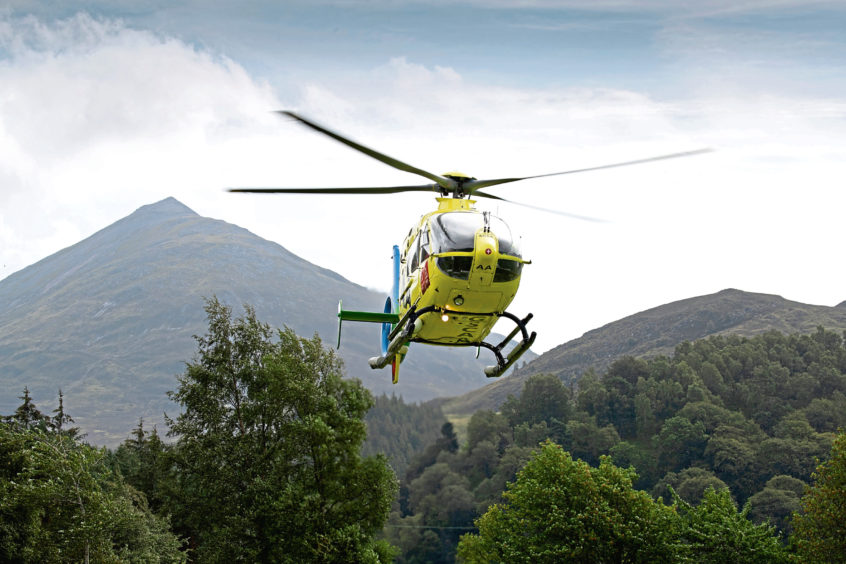 "It's an achievement just to get to the job at this time of year.
"We have to switch from aviation to paramedic mode really quickly.
"Once you reach the patient, you're looking at their colour and their breathing.
"Do you need to do CPR or stem any serious bleeding?
"You're running the worst-case scenario through your mind.
"The human aspect is hugely important, so we take the hand of the patient and chat to them.
"We meet some great characters.
"It's also a humbling feeling to be working with numerous people across the emergency services.
"The fire service, doctors, we're all working towards the same goal.
"We are at a patient's side in their darkest moment, there is no other job like it.
"People see the uniform and they automatically trust you.
"Often they are handing over the most precious thing to you, their child, and they trust you implicitly.
"You are always one step away from becoming emotional, and I've seen the toughest of people broken from attending an incident.
"The uniform is our armour."
Once up in the air, the team must deliver the patient to hospital.
They will ask for red response and stay for patient handover.
"It's continuity of care and we alert the hospital as to which teams may be required, from anaesthetic to blood on standby," says John.
"Sometimes people don't survive and you tend to lock your emotions away.
"A patient can be beyond help.
"The worst is when they are on the cusp of death, but they are battling.
"And you are right there fighting with them, the patient might even be talking to you.
"Then you lose them.
"There are also those moments when patients come back from the brink.
"They come to visit us and there is no other feeling quite like that."
---
Scotland's Charity Air Ambulance has made a huge impact since 2013, saving lives and preventing suffering. 
That is why the P&J campaigned successfully for SCAA's second helicopter to be based in our region. 
The countdown is now on for the aircraft – call sign Helimed 79 – to start flying missions from Aberdeen Airport. 
But this is an emergency service that relies entirely on donations. 
Each call-out costs about £2,500 and SCAA needs P&J readers to help hit its £6million target and get things off to a successful start. 
So please do anything you can to raise those funds and show that We're Backing Helimed 79. 
---
Ways to donate to SCAA
Website: www.scaa.org.uk/donate
Text: Text 'SCAA' and the amount to 70085
Phone: 03001231111
Cheques: Made payable to 'SCAA' or 'Scotland's Charity Air Ambulance' and sent to: Scotland's Charity Air Ambulance (SCAA), The Control Tower, Perth Airport, Scone, PH2 6PL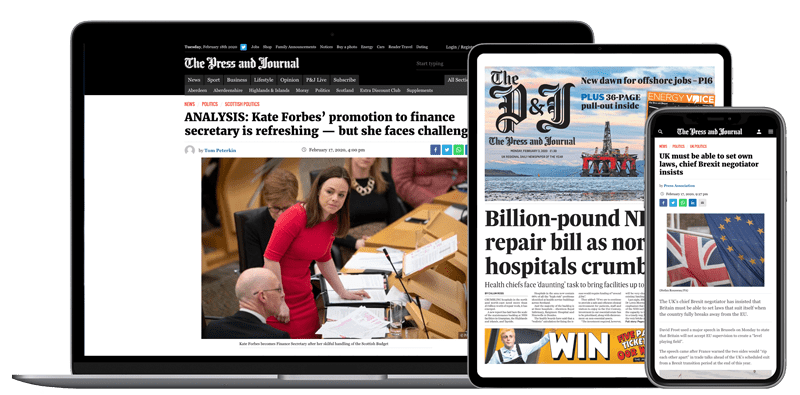 Help support quality local journalism … become a digital subscriber to The Press and Journal
For as little as £5.99 a month you can access all of our content, including Premium articles.
Subscribe