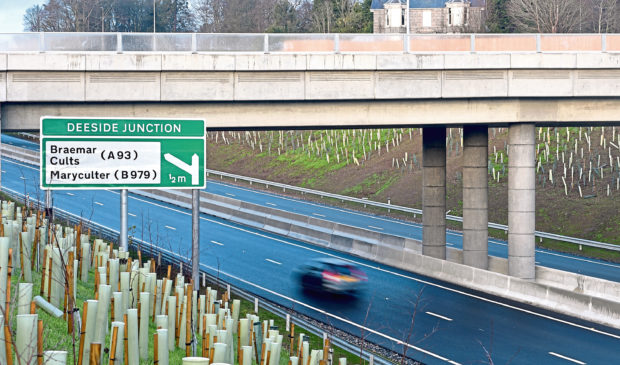 Official figures show that more than four million vehicles were counted on just one section of the £745 million Aberdeen bypass in 2019.
Data released by Transport Scotland indicates that the average number of vehicles each day on the route at Maryculter, both northbound and southbound, was 12,894.
But the busiest day on the Aberdeen Western Peripheral Route (AWPR) section was recorded on one Friday in the middle of summer.
On July 26, a total of 17,197 cars, lorries and motorcycles were counted at the location – the only day it has topped 17,000 so far.
Heading north at Maryculter, the figures show that there were a total of 1,937,621 vehicles counted between January 1 and October 27, while the total travelling south in the period was 1,917,743.
It means that the total was close to four million by the end of October, and was likely to be nearer five million by now.
Last night, Aberdeen Central MSP Kevin Stewart said: "These figures show that this huge Scottish Government investment into the north-east has been a great success.
"The fall in traffic congestion in the city has been immense and added to that, we know emissions have fallen in the city centre too."
After decades in the planning, and several construction delays, the 36-mile AWPR finally opened fully to motorists in February this year.
The P&J previously reported that in the first complete month after drivers began using it, provisional figures showed an immediate impact on pollution in Aberdeen city centre because traffic was being diverted to the bypass.
Data from Air Quality in Scotland suggested that NO2 rates in March hit at least a five-year low on Union Street, Market Street, King Street, Wellington Road and Errol Place, when compared to the same month in previous years.
And in June, all six pollution counters in Aberdeen city centre recorded the lowest levels of the toxic exhaust fume chemical for at least five years.
A Transport Scotland spokesman indicated yesterday that official traffic figures for the AWPR were currently being analysed, but remained incomplete.
"The AWPR/B-T project is proving to be a great success story for the north-east," he said.
"It has already delivered significant benefits to the area including reductions in journey times and decreases to congestion since the road opened to traffic.
"The new road, and the benefits it provides to the local road network, have been well received by the majority of road users.
"As with all major road projects, evaluations of the performance of the newly opened road will be undertaken at periodic intervals after its date of opening in accordance with Transport Scotland's Scottish Trunk Road Infrastructure Project Evaluation (STRIPE) guidance."