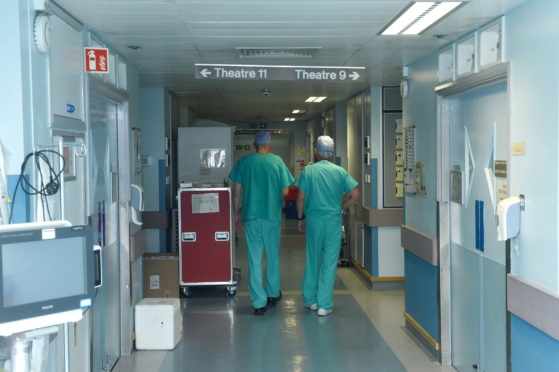 Health boards in northern Scotland carried out 88 reviews into blunders which caused harm to patients last year – including at least four which involved a death.
A law introduced in 2018 requires authorities to learn lessons from such unforeseen incidents, apologise to the families involved and publish a report each year.
Known as the "duty of candour", it was brought in following controversies over attempts by some health boards to hide their failings.
Reports published by boards in the north and north-east show that, between April 2018 and March 2019, there were 88 incidents which required duty of candour procedures.
They included 65 such cases in Grampian – which has since been reduced to 60 – 16 in Highland, four in Orkney, two in Shetland and one in the Western Isles.
By comparison, there were 75 in Ayrshire and Arran, 48 in Lothian, 25 in Dumfries and Galloway, 15 in Tayside, 12 in Forth Valley, and four in Scottish Borders.
Three of the 16 incidents in Highland related to fatalities, as did the only incident in the Outer Hebrides.
Unlike most other boards, NHS Grampian has not provided a breakdown of the consequences of the 65 incidents in the area.
Last night, the health board said 40 had been rated as "moderate or major", with 20 as "minor".
As well as three deaths, the Highland report shows that in two cases the person "incurred permanent lessening of bodily, sensory, motor, physiologic or intellectual functions".
There were a further 10 incidents in Highland which resulted in a person's treatment increasing, and in the other case a person's sensory, motor or intellectual functions was impaired for 28 days or more.
In Orkney, one patient's life expectancy was shortened, another was impaired for 28 days or more, a third experienced pain or psychological harm for 28 days or more, and a person's treatment increased in the other case.
NHS Shetland's report, meanwhile, said that the "structure" of one person's body "changed", and another required increased treatment.
Last night, Scottish Conservative North East MSP Peter Chapman called for an explanation for the less transparent report produced by NHS Grampian.
"The Scottish Government has the duty to investigate the exact breakdown of these 65 incidents at NHS Grampian and the repercussions each one had," he said.
"Any movement towards a more accountable and transparent system is welcome but the SNP have allowed failings to be covered up which is simply unacceptable.
"We need to have a system in place which allows health boards to easily report, record and publish incidents as they happen so improvements can be made and lessons can be learned."
It is understood that in September, Health Secretary Jeane Freeman ordered Healthcare Improvement Scotland to work with NHS boards to remove the variations in such reports.
A Scottish Government spokeswoman said: "All health and social care bodies have a statutory responsibility to be open and transparent when an unintended or unexpected incident results in death or harm.
"This duty of candour means that health and social care bodies must investigate and report on the causes of harm and learn from those lessons in every case.
"We are currently evaluating NHS boards' 2018-19 duty of candour annual reports and will publish our findings early next year."
A spokesman for NHS Grampian said: "Since the report was written the total number of cases has dropped to 60. Following review it was decided that five did not trigger the act.
"Within our own recording system 20 were seen as minor while the other 40 were rated moderate or major."
Dr Boyd Peters, medical director at NHS Highland, said: "Organisational duty of candour is a legal requirement meaning that when unintended or unexpected events happen that result in death or harm as defined in the act, the organisation has a duty towards the people affected.
"This includes investigating what has happened, involving those affected, apologising and identifying what can be learned from the adverse and how improvements for the future will be made.
"The requirements of duty of candour have been embedded in the NHS Highland adverse event management policy and procedures.
"Adverse events are reported through our local reporting system (Datix). Each adverse event is reviewed to understand what happened, what lessons can be learned for the future and what changes require to be put in place."
Duty of candour
NHS Highland has published examples of incidents which required "duty of candour" procedures to be launched last year.
In one incident, a total hip replacement was being carried out, but the cement used to fix the component set more quickly than usual, resulting in an inadequate volume of cement to support the implant.
It had to be revised and the patient required further surgery.
The investigation found an issue with the storage temperature of the cement, and changes were made to the arrangements and safety briefings.
In the second case, parents complained about the treatment received in October 2018 by their son, who had toothache and developed a dental abscess after the tooth was filled in, resulting in "significant, increased swelling and pain".
Several days later, a dentist raised concerns that the patient's airway could become "compromised", and an urgent admission to hospital was arranged.
Despite contact with dental services, NHS 24 and Raigmore Hospital's A&E department, urgent admission to Raigmore Hospital and onward transfer to Aberdeen for surgical drainage, management and tooth removal was necessary.
"The review highlighted several concerns, and improvements have been made in various department," according to the duty of candour report.