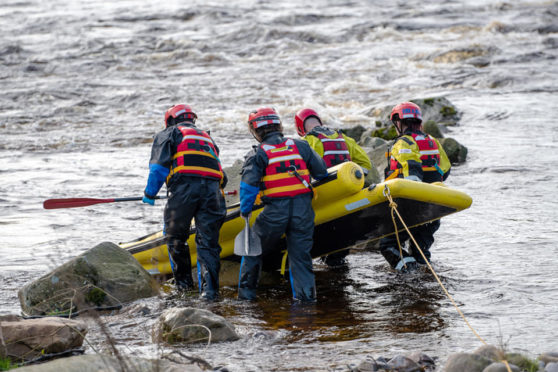 The number of hoax calls made to the coastguards in the north-east of Scotland has more than doubled in the last year.
Phonecalls and flares have both been used to lure life-saving crews out to sea to investigate fake reports of people in the water or stricken vessels.
The increase has been branded "intolerable" by Banff and Buchan MP David Duguid, who said lives were being put at risk.
Figures released by the Marine and Coastguard Agency (MCA) show that the North Sea coast from Brora down to Stonehaven acted on 13 malicious fake calls in 2018.
This year the total has increased to 30.
The statistics do, however, also show that across the north of Scotland just 58 of 1,073 "false alerts" in the last three years were malicious.
The other 1,015 were all logged as having been made "with good intent".
Around the entire Scottish coast, there have been 2,162 false alarms since 2017 – 7% of which, or 143 calls, were hoaxes.
Mr Duguid has praised the dedication of officers in their hard work but said their bravery was being abused by a minority.
Not only do such malicious actions take crews unnecessarily out to sea they also potentially deprive others of their lifesaving actions.
He said: "Members of the coastguard give their time and experience to save dozens of lives around the UK each year.
"But the nature of the sea is such that people tend to call the emergency services as soon as they see something they think is wrong.
"While that caution is commendable, it is unacceptable we are seeing more and more malicious call-ins to the MCA.
"If a team is dispatched to a false alarm and another real incident happens along the coast, the repercussions could be disastrous.
"Any ill-natured call to our frontline services is intolerable. Minutes can mean life or death in the North Sea."
The coastguard provides a 24-hour maritime search and rescue service on the UK coastlines as well as international search and rescue through HM Coastguard.
Approximately 3,500 volunteer officers work in the UK across 350 teams, placed strategically around the coast.
For most, these hoax calls are a burden that they tolerate on the chance the calls are real.
Hours of coastguard and RNLI team time has been spent on such incidents, including a "sinking vessel" hoax near Lossiemouth on July 28.
Police launched an investigation after a rescue helicopter and lifeboat were launched in following reports that a vessel was in difficulty within view of the town.
But after carrying out a search, which lasted about two hours, the emergency teams were stood down when nothing was found.
Malicious alerts blighted the Moray Firth coast over the summer, with lifeboats in Buckie and Macduff launched several times, while coastguard teams in Buckie, Macduff, Banff, Burghead and Portsoy have also been affected.