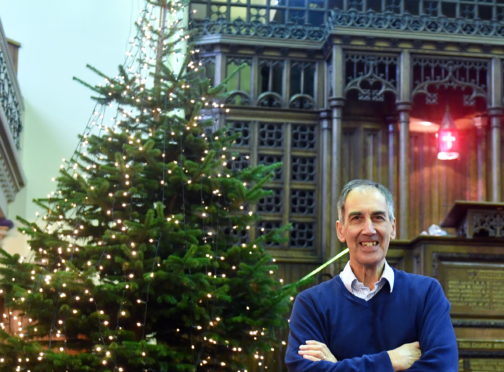 As the clock chimes midnight on Christmas Eve, people across the country come together in song. Their voices soar to the rafters of historic cathedrals, and echo within the stone walls of little-known churches.
Watchnight services are often held by candlelight; these days, attendances can vary dramatically.
You would be forgiven for thinking that St Magnus, the most northern cathedral in the UK, might welcome only a handful of worshippers on a stormy night in Orkney.
The opposite is in the case, with hundreds of people joining together in celebration year after year.
At a time when the country is more divided than ever before, can answers be found within the creaking pews and stoic stained-glass windows?
We spoke to three church ministers who have vastly different experiences of the festivities, in part due to their location.
From Arbuthnott to Aberdeen, and Oban to Orkney, the your life team wishes you a very happy Christmas.
Fraser Macnaughton
Fraser Macnaughton has been a minister for The Church of Scotland for 38 years.
His impressive CV, for want of a more holy description, includes a stint as chaplain at Dundee University, time spent in a rural parish in Ayrshire and with a congregation in Glasgow's west end.
He is currently minister for St Magnus Cathedral in Kirkwall.
Construction on the stunning building started in 1137, and it now welcomes tourists from around the world.
Fraser is preparing to host the Christmas Eve service to a 500-strong audience, and people travel from across Orkney to attend.
In keeping with island life, there is no service on Christmas Day itself.
This is due to the Ba, a mass football game which has been played in the streets for decades on December 25 and New Year's Day.
It commences in the shadow of the cathedral on Broad Street, and Fraser believes it wise that the doors remain firmly shut.
"Goodness me, could you imagine if the Ba came into the cathedral itself? That's why we don't have a service on Christmas Day. Our Christmas Eve service will have a full house, so roughly 500 people.
"It may be the one time that some people come to church all year round.
"But that is fine by me. It is one of the highlights of the year, and people make a point of coming.
"I remember one year when we had particularly horrendous weather.
"Small churches cancelled their services, so we assumed we would also have fewer people in attendance.
"The opposite was the case, we were as busy as ever.
"Congregations from the cancelled services opted to come along, people wanted to be part of the scene. It was amazing. I've been a minister in the suburbs, which is very different; I've been here for 17-and-a-half years now.
"I think in rural places, and of course on Orkney, it isn't just a question of celebrating Christmas. It's so much more than that. St Magnus remains at the centre of community life. I think people are more socially conservative here.
"That doesn't translate as more people coming to church necessarily. But when you live on an island, you have to rub along with each other. Traditions such as the Christmas Eve service are cherished.
"Although Orkney may not appear racially diverse, around half of the population is not Orcadian. People make a choice to come and live here. The cathedral is the centrepiece which draws everyone together.
"I think Orkney has become more prominent in recent years, we're always popping up in these surveys as the happiest place to live in the UK. That translates to people moving here, and there is something about cathedral worship in particular which seems to attract people.
"Just the other day I was chatting to a retired Anglican priest from Gloucester, who had wanted to escape to the island for a few days. That happens all the time. On the outer isles of Orkney there is still that community spirit.
"You'll find that 20% of the population is involved in the Christmas panto, because there's only 100 people on the isle in the first place. You just wouldn't get that in the city.
"We hold several services in December and play host to local schools who have carol services in the cathedral. Our midnight service on Christmas Eve is incredibly special.
"People leave the island every year, be it for university or employment. But as the clock strikes midnight, I see that they have found their way home to us."
Jerry Middleton
For fellow minister Jerry Middleton, Christmas offers an opportunity to invite passersby to the only service held within a church which fronts on to Union Street in Aberdeen city centre.
Several of the surrounding church buildings have been turned into restaurants and bars, but Gilcomston Church is still going strong – despite the fact it was completed in 1868.
The watchnight service is still well attended, as is the family service on Christmas morning. Jerry is also at the helm of a pop-up carol service today, Saturday December 21, and the communal singalong is linked to Gilcomston's fundraising appeal for the Cyrenians.
"We'll be singing carols out on the street, as well as serving hot chocolate and mince pies. We really want to highlight the work of the Cyrenians, and we've been collecting items for those who are homeless or experiencing hardship. I think Gilcomston is a unique experience at
this time of year, partly because of where we are located.
"Christmas is a funny thing in Scotland, because it wasn't always celebrated. We get people going past who have been out Christmas shopping or out for a drink. They may have walked past every day on their way to work, but never ventured inside before now.
"There is something particularly evocative about our watchnight service, because it is held by candlelight. It seems to offer this moment of stillness when Union Street is usually very busy.
"I think the image of the church by candlelight plays on people's memories, there is something special about the night-time. Historically the service would have been well attended; we still get around 90 people. Our family service on Christmas Day itself is very relaxed. I have seven grandchildren, I'm still a child at heart. If you look at the world which Jesus was born into, it is not so dissimilar from our world today.
"We have the confused chaos and political turmoil of Brexit, all the tensions and aggressions. It is a hugely mixed-up world filled with huge sorrows. We are not blind to that. I think there has been a marked departure from institutional religion, where people were going through the motions because it was the done thing. There is an openness now, a hunger and thirst for who knows what, spirituality perhaps.
"In the countryside, I think going to church can be part and parcel of community life – although don't take my word on that. We welcome people here from around the globe, Christmas brings with it a very diverse congregation. I am the first in at around 6am on Christmas morning and I always like to take a moment. I am thankful to the Lord for having the best job of all."
Andrew Morrison
Minister Andrew Morrison, pictured, might struggle to spot anyone bar the odd dog walker in his parish, and he admits that Arbuthnott Church is in "the middle of nowhere".
Aged 28, and Scotland's third-youngest minister, Andrew offers a fresh perspective on the celebration of Christmas in rural and urban locations.
Historically, his parish in Inverbervie included three churches, although it now consists of Arbuthnott and Bervie, after Kinneff closed down a decade ago. Andrew believes that the watchnight service held at Arbuthnott is the busiest service of the year.
There is something rather magical about the 800-year-old church, with its small collection of pews and modest nave. The building is one of the few pre-Reformation structures in rural Scotland still in use for regular Sunday worship.
"I grew up in East Kilbride, but I went to theological college in Dingwall. I think that's where I fell in love with small, rural areas.
There is a real sense of community here, our watchnight service is almost completely full each year. Some people have been coming since childhood. I think in the countryside, where you quite often have the closure of public services, the church is one of the few things left.
"I don't mind if people come 50 Sundays of the year or just the one time. I think a ministry in the city would have been a completely different experience. Only God can know what my future holds, but I can't see myself leaving a rural parish any time soon."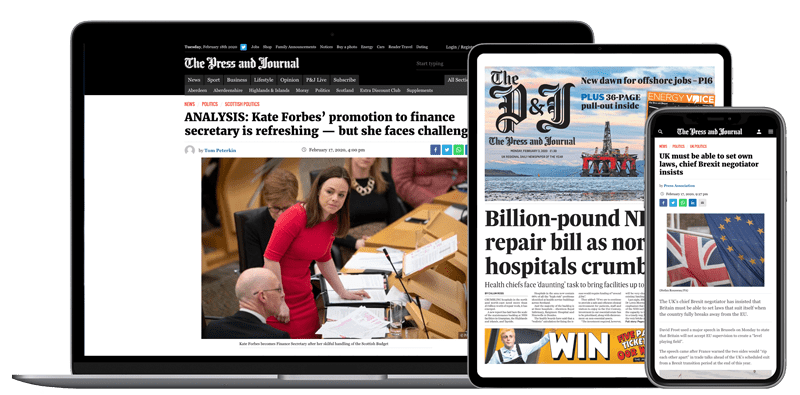 Help support quality local journalism … become a digital subscriber to The Press and Journal
For as little as £5.99 a month you can access all of our content, including Premium articles.
Subscribe