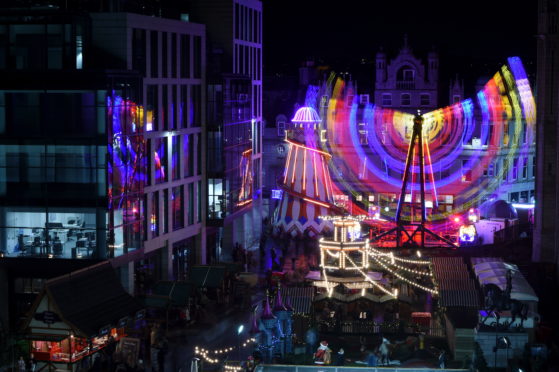 The fair rides are still in full swing in Aberdeen's Broad Street, but there is already an £800,000 incentive on offer for firms to bring the city's Christmas village into the next decade.
Aberdeen City Council has kick-started the bidding process for companies looking to win lucrative work to organise the festive fun for the next four years.
The local authority has indicated a willingness to develop from the current model the people of the north-east have grown accustomed since the first Christmas village was opened in Aberdeen in 2015.
A spokesman briefed that successful companies would "not be required" to follow any precedents set by previous versions of the event – potentially putting the local authority at odds with key backers.
Officials have opened tender applications for the work – and have revealed a budget of up to £200,000 a year to spend on the project.
Council co-leader Douglas Lumsden said: "We have done the Christmas Village in its current format for four years now, so we are just looking at other options.
"We may decide to carry on doing what we are doing, but it's only right to look at what we are providing and find out if it's what people want.
"The council took a year out with Spectra, for example, and now that's coming back, so we just want to see if there are any new ideas or thing we could be doing differently.
"It would be great if local companies came forward with ideas of what we should be doing."
Visitors currently enjoy fair rides, an ice rink, food and drink, family attractions including mini golf, and a local craft traders market.
A key partner for the council in the project, Aberdeen Inspired, which has historically put up around 25% of the annual cost of the village, is understood to be "very comfortable" with what is presently on offer – at odds with the drive for innovation.
Chief executive Adrian Watson said: "My board likes the current model and I think it has been well received by the public.
"We have an eye to go back to Union Terrace Gardens when it is re-opened, but obviously that would be subject to negotiations.
"After we get this year's festivities out the way, we will take an interest on what the council's policy will be in terms of the tendering, with a view perhaps to coming back on as a main sponsor again."