GALLERY: Daring swimmers take frosty dip in annual Boxing Day Nippy Dip
Hundreds of brave souls took an icy plunge into the North Sea to raise funds for charity as part of the annual Boxing Day Nippy Dip.
The popular event, organised by the Aberdeen Lions Club, persuaded crowds of people to plunge into the teeth-chatteringly cold waters off Aberdeen Beach.
Each year, onlookers watch hardy souls race into the water dressed in a variety of costumes, from festive to fancy dress.
Lord Provost Barney Crockett took part for the third time this year dressed as a reindeer.
He was tasked with judging the best individual and best team costume.
Abbie England and his family won the best team costume for the second year running.
His son, daughter and granddaughter joined him as Nintendo characters from the Mario Party video game.
Husband-and-wife duo Kieran and Elin Beattie scooped up the individual costume prize for their portrayal of Jack Jarvis and Victor McDade from Still Game.
After winning Mrs Beattie said the pair were "really shocked", but also "very excited" to be announced as the winners.
Mr Beattie, who works for the Press & Journal, said: "We were just thinking of dressing up as something that would be funny, so we decided to go as Jack Jarvis and Victor McDade from Still Game.
"We're taking part to raise money for Cancer Research UK and we're so happy to have raised almost £1,000 – we could not be more delighted."
The Lord Provost and members from the Bucksburn Pipe Band led the dippers down to the beach. After a 10-second countdown, a horn signalled it was time for the dippers to take the plunge and the swimmers raced into the water.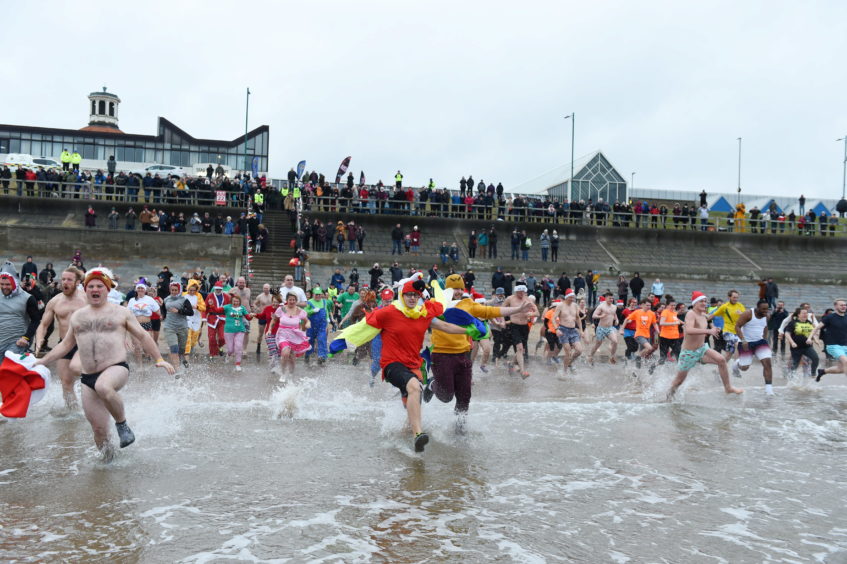 Sorin Iordachescu and his wife Cati took part for the first time this year.
Following his frosty swim, Mr Iordachescu, from Inverurie, said: "We decided to take part because we would normally swim in the North Sea at 4am anyway.
"We take these swims as part of our exercise and we wanted to raise money for the Lord Provost's Charitable Trust."
This year also marked Mr England and his family's 19th Nippy Dip, after his grandson was diagnosed with a rare blood genetic disorder called haemophilia.
He said: "We've been doing this for 19 years, since my grandson was diagnosed and we've been raising money for The Haemophilia Society in Grampian.
"Today, we have three generations taking the dip and it gets better and better."