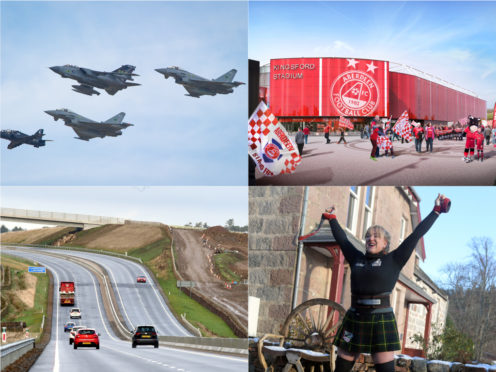 Scotland's spaceport plans might have seen scientists reaching for the stars at the beginning of 2019, but council budgets across the north and north-east meant many services were in danger of falling to Earth.
Moray Council, in particular, was forced to consider "stark options" while identifying ways to trim a further £8.1 million to stave off threats of bankruptcy.
The Scottish Government insisted it had given local government an increase in funding despite also experiencing a reduction from Westminster – but stressed it was the responsibility of individual councils to set their own budgets.
There is little doubt that politics dominated 2019, particularly Brexit.
The March 29 deadline came and went – as did Prime Minister Theresa May later in the year after she failed to get her withdrawal deal through the Commons.
As a welcome distraction from all the politics, Peterhead man William Knight hit the headlines after putting a decades-old Mars Bar up for sale.
North-east man's bid to sell decades' old Mars Bar goes viral
He discovered the treat – which had a sell-by date of February 1996 – while putting away his Christmas decorations.
Here are a few more stories that happened in the first quarter of the year:
JANUARY
January 8: Court of Session rules the Scottish Government acted unlawfully regarding sexual harassment complaints against former first minister Alex Salmond.
January 9: Aberdeen is Britain's only entry on New York Times global list of 52 must-see places in 2019
Aberdeen is Britain's only entry on New York Times global list of 52 must-see places in 2019
January 21: A woman became the first ever to lift the Dinnie Steens without the use of hand straps.
Historic lift as woman becomes first to lift Dinnie Steens without hand straps
January 26: Orkney crowned the best place to live in the UK.
January 28: Spaceflight firm Orbex secures premises in Forres to build rockets for the UK's first spaceport, earmarked for the A'Mhoine Peninsula in Sutherland.
January 31: Finance Secretary Derek Mackay delivers £34 billion budget and secures support from the Greens to pass proposals including controversial work parking levy and tourist tax.
FEBRUARY
February 1: Steven Sidebottom is convicted of brutally murdering Rothienorman mechanic Brian McKandie in his own home and robbing him. He is later jailed for a minimum of 26 years.
Steven Sidebottom found guilty of murdering north-east mechanic Brian McKandie
February 14: Plans to close swimming pools in Keith and Lossiemouth axed following pledges of support from public.
February 20: The Aberdeen Western Peripheral Route (AWPR) finally opened to motorists after decades upon decades of political – and literal – gridlock in the north-east.
February 21: Flight fans gathered at air bases across Scotland to say farewell to the RAF's iconic GR4 Tornados.
Flight fans say #FarewellTornado as iconic jets bow out with flypast at Scottish RAF bases
February 21: Aaron Campbell found guilty of abducting, raping and murdering Alesha MacPhail on Bute
February 22: The warmest ever day in February in Scotland is recorded in Aboyne at 18.3C – beating the previous 17.9C recorded in Aberdeen in 1897.
Record breaking day for Aberdeenshire town as February temperatures soar
February 26: Balfour Beatty Civil Engineering is fined £600,000 for negligence that contributed to death of Dundee dad Ian Walker after he was crushed by a 14-tonne excavator while working on the Third Don Crossing.
Construction firm fined £600,000 for failings that contributed to death of Third Don Crossing worker
March 1: Aberdeen FC finally gets the go-ahead for a new stadium at Kingsford after No to Kingsford Stadium loses its appeal at the Court of Session.
March 10: The Fair Isle Bird Observatory was destroyed in a blaze. Firefighters were drafted in by air and sea to tackle the flames.
World-famous bird observatory to be rebuilt following devastating fire
March 12: Three climbers die after an avalanche on Ben Nevis. Raphael Aymon, Cedric Ravimet and Adrien Robez-Masson are the first avalanche deaths in Scotland for three years.
March 22: A Black Watch soldier serving at Fort George was reunited with his teenage daughter after a tumultuous five months battling the Home Office.
WATCH: The emotional moment Black Watch soldier is reunited with teenage daughter after immigration fight
March 25: Four months after 16-year-old Liam Smith went missing, his body is found in a woodland near Banchory. The "well-liked" Westhill academy pupil disappeared on November 17 2018
March 29: The first official date for leaving the EU passes, with the UK Government granted an initial extension until May 22 to work out a deal.