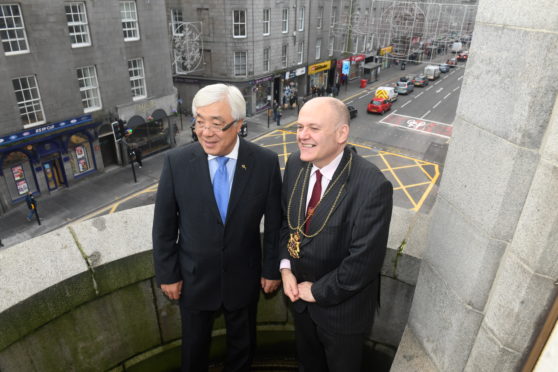 Aberdeen's Lord Provost has written to Kazakhstan's ambassador to the UK to express his condolences over a plane crash in the central Asian country.
Barney Crockett penned the note to Erlan Idrissov following the tragedy three days ago, where a plane crashed into a house shortly after taking off and killed 12 people.
Mr Crockett has met Mr Idrissov several times as the local authority continues to build bridges with the government of the oil-rich nation.
He said that many Aberdonians would be familiar with Kazakhstan from working in the oil and gas industry there.
The Lord Provost said: "It's been a big tragedy for the people of Kazakhstan and is especially concerning given how important air travel is in the country – which is absolutely enormous and is the seventh largest on earth.
"Many Aberdonians and people in the north-east will know the country well and our thoughts go to everyone affected by this awful crash.
"I have written to the ambassador expressing my condolences on behalf of the council.
"Our relationship is increasingly important and I feel there is a lot in common between us and the country."
According to the CNN agency in Moscow, the plane was carrying 93 passengers and five crew.
It was reported that it "lost altitude after takeoff and broke through a concrete fence" before colliding with a two-story building.