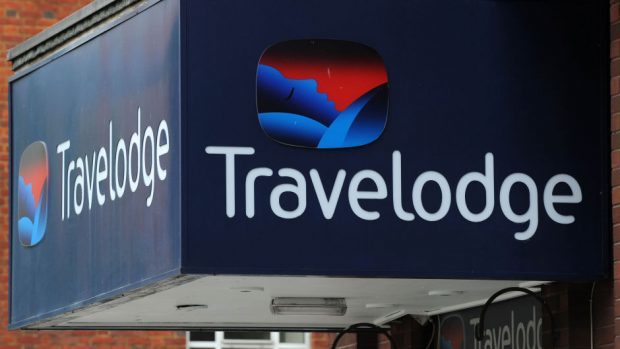 Where would you find plans to sell Highland air, a pair of stuffed pheasant and a tartan wedding dress? The Travelodge's lost & found offices in Aberdeen and Inverness apparently.
The hotel chain has revealed the most unusual and bizarre items left in their Scottish rooms over the past 12 months.
Here are some of the items found at the four Travelodge hotels in Aberdeen:
A Vertu phone worth more than £1,000
Business plans to sell Highland air
A set of golf clubs
A case of vintage red wine
A pair of stuffed pheasant
A Louis Vuitton brief case with important contracts
A diamond ring
A hand written 50 year old family recipe book
A Hornby railway set
A model replica of a house
The hotel operator has reported a growing trend in wedding props, wedding attire and even a mother-in-law being left behind at its Scottish hotels.
A forgetful bride left behind her 3ft lucky heather bouquet at Edinburgh Central Travelodge Plus and had to make a 100-mile return journey to pick it up. The housekeeping team at Glasgow Central Travelodge got quite a surprise to find a necklace made from £50 notes that the groom forgot to pack after his wedding.
Meanwhile at Perth Travelodge the hotel team had the challenge to reunite a mother-in-law with her new daughter-in-law. A breakdown in communication between the newlyweds ended up with the groom's mother being left behind.  In Dundee Travelodge the hotel team were pleasantly surprised to find a large wedding flower arch dominating the room.
In 2019, Travelodge hotel staff also reported meeting more 'forgetful' pet owners.
A cat show enthusiast staying at Stirling Travelodge thought her husband, John had placed her treasured Persian Chinchilla cat, Angel, into the car and only realised Angel was still in the room, 50 miles into their journey.
One forgetful owner staying at Fort William Travelodge with his pet Panda Oranda fish called Gin & Tonic – went into town for a walk before his drive home and decided to pack Gin & Tonic upon his return, but forgot to do so and came back a few days later to pick them up.
In Inverness, one of the more unusual items left behind at the hotel was a brand new Range Rover.
Here are some more items left at the Highland capital's chain:
A 3ft vase full of heather
A vintage doll house with family
A 6ft Christmas tree with decorations
A set of tarot cards
A pair of black and white Scottie dogs called Bonnie and Clyde
A Tartan wedding dress
A gold necklace
A Jura coffee machine
Tartan wallpaper
A coin collection
A Breitling watch
Shakila Ahmed, Travelodge spokeswoman said: "With nearly 19 million customers annually staying at our 571 UK Travelodge hotels, including our 46 properties in Scotland, for thousands of different reasons, we do get a range of interesting items left behind.  This year's Scottish audit includes a large Nessie birthday cake, a tartan print saree, a set of McWilliams bagpipes, bottles of Highland air, a 3ft lucky heather wedding bouquet, and even a mother-in-law."
"When it comes to why so many of our customers forget their treasured items, it's basically due to us all being time poor, juggling multiple tasks and being in a hurry to get from A to B. In the rush, valuable possessions are easily forgotten."
Here are some of the bizarre items left behind at Travelodge's 46 Scottish hotels during the past 12 months: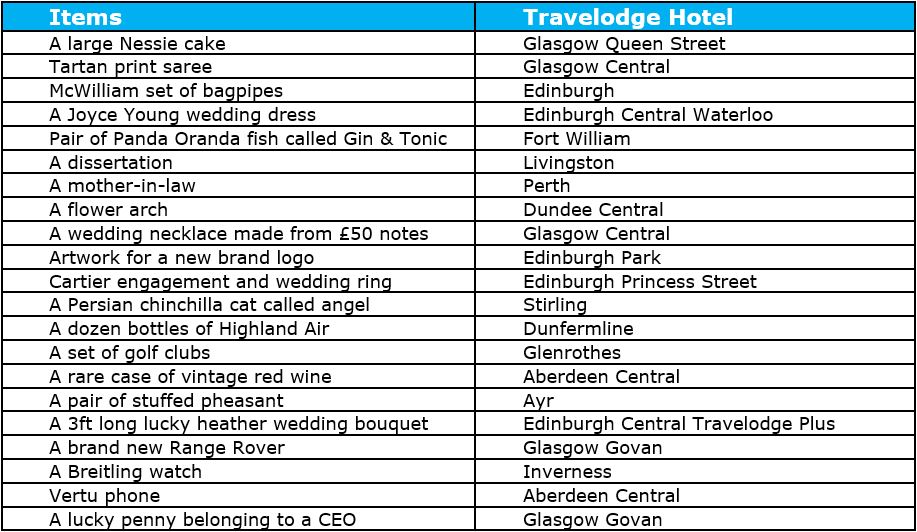 And here are the top 10 most popular items left behind in Travelodge hotels during 2019:
 Chargers for mobile phones and electronic devices such as laptops
Mobile phones, tablets and Kindles
Business papers / notepads / presentations
Books
Teddy Bears
Toiletry bags with contents
Jewellery
Clothing
Toys
Gifts / presents
All items left behind in Travelodge hotels which have not been claimed within three months, are donated to the local British Heart Foundation Charity Shops, Travelodge's nominated charity partner.