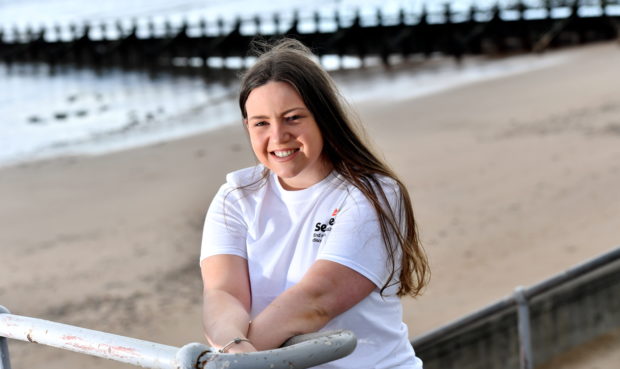 A third of Scots who struggle with their mental health don't feel comfortable talking openly about it, new research has revealed.
See Me, Scotland's programme to end mental health discrimination, is calling for people to take action in 2020 to tackle stigma around mental health, so people never have to feel ashamed or embarrassed to say they're struggling.
A survey of 1,181 people who currently, or previously experienced mental health problems, found that 35% are not comfortable speaking about their own mental health.
See Me want to see workplaces, community groups, schools, universities and health and social care providers take proactive steps to improve cultures around mental health, starting with taking part in Time to Talk day, on February 6.
And now 18-year-old Caitlin Tawse, who lives in Aberdeen, has encouraged people to get involved.
Last year, the student hosted a walk a mile event at Aberdeen Beach, as part of a nationwide campaign by See Me Scotland.
The student was diagnosed with scoliosis, a condition that causes the curvature of the spine, in 2016 and suffered with negative comments about her weight and appearance.
Last night she said: "Opening up about my mental health was the best thing I've ever done. The benefits of speaking openly to others are immense.
"Early last year I organised a See Me Scotland Walk a Mile event in Aberdeen, in the aim of reducing mental health stigmatisation.
"The event encouraged people of all different ages and backgrounds to speak to one another, and appeared to be very beneficial for attendees.
"In an ideal world there would be no stigma, talking about experiencing mental health issues would be thought of the same as talking about having a physical illness, and I hope that this new decade brings more openness and a change of attitude regarding this topic.
"I encourage everyone to talk to someone that you trust."
Wendy Halliday, See Me interim director, added: "Too many people with mental health problems are still made to feel isolated, worthless and ashamed. Conversations have the power to change lives, wherever they take place.
"See Me wants to make this years' Time to Talk to be the biggest and best yet.
"Wherever you are on the day, have your conversation about mental health."