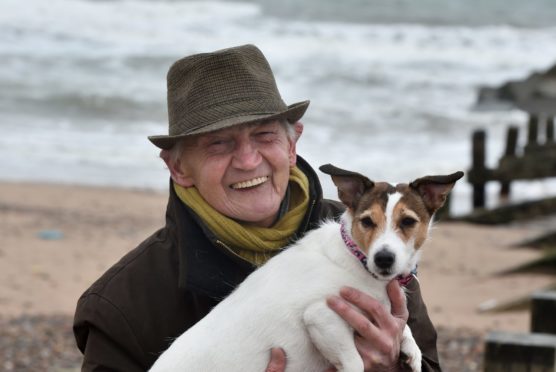 He was one of the Tartan Army's greatest supporters, cheering on Scotland at no fewer than five World Cups.
After Joe McGunnigle was diagnosed with stage four head and neck cancer in 2016, he became a star of the catwalk as part of the Brave line-up at the Beach Ballroom two years later.
His daughter, Karen, confirmed her "beloved" dad had died at his home, aged 77, in the early hours of yesterday.
But she, like so many others, was inspired by the fashion in which Mr McGunnigle responded to his devastating illness.
Joe keeps smiling and cutting the turf through the power of positive thinking
A familiar face at his beloved Pittodrie, he travelled tens of thousands of miles to cheer on Aberdeen and Scotland, visiting more than 50 different countries.
Mr McGunnigle went to Germany in 1974, Spain in 1982, Mexico in 1986, Italy in 1990 and France in 1998.
Even after undergoing surgery, he ventured to Slovenia for a World Cup qualifying match in 2017.
And he boasted that he "still meet up with friends at the Pittodrie Bar".
Mr McGunnigle was one of the stars of the Brave event, organised on an annual basis to raise money for Friends of Anchor, two years ago.
He was also among the people who cut the first sods of turf at the Anchor Centre in Aberdeen, which will house all cancer treatments, including radiotherapy and oncology, under one roof in the future.
He had nothing but praise for the medical treatment he received throughout his illness and felt a responsibility to put something back.
His daughter said: "The kindness and support of all the Aberdeen Royal Infirmary and Anchor Unit staff made a very tough time a bit easier.
"Dad was very appreciative of all their efforts and when he took part in Brave, the big smile on his face showed how much it meant to him."
Mr McGunnigle, whose wife Cath died 11 years ago, is survived by his three children and eight grandchildren.