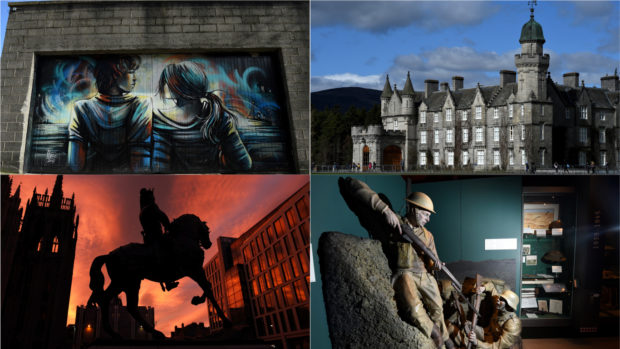 From stunning scenery, beautiful coastlines to striking architecture, we asked you to tell us what you love most about Aberdeen and Aberdeenshire.
The Press & Journal launched a reader survey with the aim of celebrating the region and spreading a message of positivity.
The results are now in and these are just some of the responses from our readers, which represent what the north-east has to offer.
Why do you choose to live in the north-east?
Born and bred here – can't imagine living anywhere else.
It's a beautiful part of the country with great scenery and a good standard of living. We also have low crime and people are friendly.
Because it's vibrant and beautiful.
It's a great location for job opportunities.
Mainly for employment but now all my family are in the area. It's a lovely area to live in.
I grew up here and choose to stay. We may not be the biggest city but we do have our own identity, buzz and amazing scenery. I love that we are resilient – change is constant and our people look for opportunity.
Because I was born here and I feel safe. The services are good and it's a nice place to live.
There's a great quality of living overall and a strong sense of community. There's also great restaurants and venues.
It's my hometown and I love it!
I was born here and it always feels like home.
Where else? There's a good variety of scenery and language. The weather can be unpredictable but it can be great. There's a good bus service every hour and good schools, too.
The quality of life.
It's where I was born and my family are all here. I'm only a short drive from wonderful coastal towns.
I've always lived here because it's a very good place to live.
It is my heartland, where I was brought up and where I will always call home.
This is home. I love that you can experience city, coast and countryside.
Friends, family, cheap living, clean air, beaches and hills on my doorstep.
My family for many generations back have always lived in the Moray and north-east areas.
I have lived and worked in the north-east most of my life. There is a good blend of city and rural activities that I like. Most of the time it isn't too busy, which I like.
The quality of life – it's less busy than the central belt. There's countryside, hills and sea close to hand.
Because you don't have to travel far to experience beautiful scenery, and you're never far from the sea.
What do you think the north-east should be celebrated for?
Its lovely scenery and nice, friendly people.
Marischal College – it was a good decision to spruce it up. It's a shame Greyfriars Church wasn't.
The Cairngorms and Deeside.
Hill walking, good food and community spirit.
Its beautiful granite, countryside and especially Deeside.
The north-east should be celebrated for our ability to change. The oil industry has financed Scotland, now it has the ability to tackle climate change and allow Scotland to generate a good income.
Our identity. We have stunning coastlines, city, castles, towns and hills. We should also be recognised as an innovation hub. Some fascinating innovations and business ventures were born here… and of course, food and drink.
The scenery, food and drink, safety, cleanliness and employment opportunities. • Our scenery, whisky and castles.
Aberdeen FC.
Vast biodiversity of the area… and rowies.
Scenery, culture and food and drink.
Hills and beaches.
Castles, breathtaking scenery and Aberdeen butteries.
The breadth of available natural beauty, history, local produce and the people.
Oil industry, renewable energy, tourism, castles, forest walks, walking in Deeside and the coastlines.
The large areas of woodland and also Aberdeen and Balmedie beaches.
Granite and architecture.
Beautiful scenery, easy access to seashore, countryside and hills. We have lovely small villages, historic sites, and good food and drink. There's an increasing number of new venues including P&J Live, the museums and art gallery.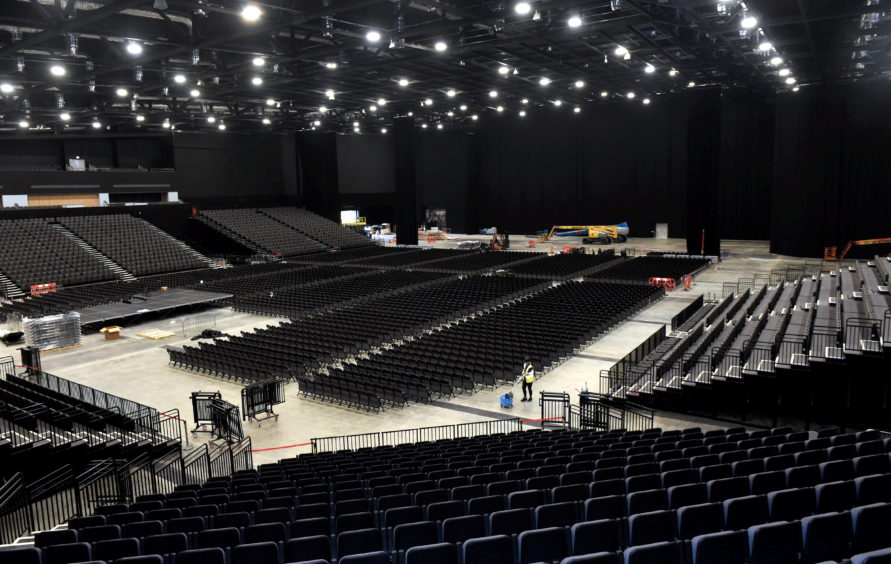 The fantastic food – we've got fresh fish and the best butchers around. We also have amazing beaches and we should celebrate our doric tongue.
Its diverse Scottish offering – we have a vibrant city, beautiful coast and majestic countryside.
The vast selection of golf courses from traditional links to modern parkland – the northeast has everything.
Its beautiful scenery, wonderful farmland, historic places and Aberdeen Royal Infirmary.
Its culture, history and its dialect. We need to encourage the use of doric afore it gets diluted and lost forever.
A great city centre, you get a warm welcome, there's great events and spectacular scenery.
Its variety of landscapes, seas, mountains, rivers, fishing, country walks, wildlife, airport and scenery.
The friendly people. Nice activities for every season with people of all ages taking part. • Aberdeen University, lovely beaches and countryside, good pubs and eateries, and the art gallery.
Great food and drink and a growing events programme. • Its diversity. It's both cultural and commercial, urban and rural.
Where in the north-east do you enjoy spending your time?
Inverurie, Huntly and Keith.
The River Dee, Duthie Park and Ballater.
Aberdeen's sea front, His Majesty's Theatre and the Tivoli.
Stonehaven, Auchenblae, Aberdeen and Johnshaven.
Aberdeen Art Gallery and Union Square.
There are so many places – the city for catching up with friends, relaxing coastline walks or winter sports in the country.
Bennachie, Haddo Country Park, Newburgh Beach and Aberdeen parks and beaches.
North-east golf courses.
Stonehaven, Fraserburgh and Banff.
Crathes Castle and Cullen Beach.
Broad Street – the area is underutilised and advertisement of this beautiful space in the heart of the city would bring much benefit to the city. The old streets of Footdee and the impressive harbour control building are an asset to the city that have very much been neglected.
Everywhere.
Banchory, Kintore and Inverurie.
I love hillwalking, visiting castles and all landmarks.
Loch Muick, Deeside, Glentanar, the city centre restaurants and shops, Aberdeen Art Gallery, Aberdeen's Music Hall, HMT and the Lemon Tree.
Seaton Park, Silver Darling, Café 52 and The Green.
Where would you tell tourists to visit in the north-east?
The Gordon Highlanders Museum or Aberdeen Art Gallery
Deeside, Balmoral, Old Aberdeen, Beach Ballroom, The Gordon Highlanders Museum and Aberdeen Harbour
Dunnottar Castle
Aberdeen University
The coastline and castle trails, starting in Dunnottar then an evening in the city centre followed by a day in Deeside.
Aberdeen Art Gallery, Balmoral Castle and BrewDog.
Portsoy and Dunnottar Castle.
Our castles.
Burn O' Vat.
Duff House, Maggie's Hoosie and Lighthouse Museum.
BrewDog Brewery, Newburgh Beach (for the seals) and go snowboarding in the Cairngorms.
St Machar Cathedral, Seaton Park, Brig O' Balgownie and Dunnottar Castle.
Castles, Deeside, countryside, Aberdeen Art Gallery, Maritime Museum, Winter Gardens at Duthie Park and Footdee.
Balmedie Beach • The older parts of the city where the old meets the new – Old Aberdeen and Sir Duncan Rice Library. The Marischal Square
development with Provost Skene House and Marischal College.
Peterhead Prison Museum
What is your favourite event in the north-east?
Alford's bus museum and pub crawling
NuArt
Granite Noir
Spectra
Inspired Nights at The Green
The Turriff Show
Aberdeen's Christmas Village
Grampian Motorcycle Convention
Deeside Food Festival
Aberdeen's jazz festival
Any event at Aberdeen's Music Hall
The Grampian Forest Rally
Taste of Grampian or Portsoy Boat Festival
Aberdeen International Comedy Festival
Aberdeen's Highland Game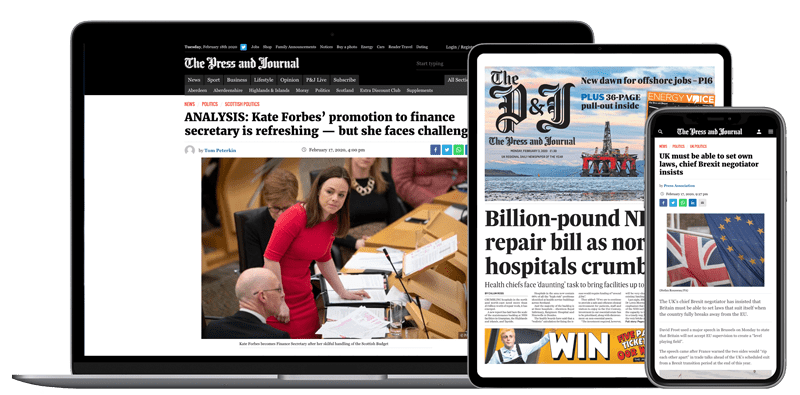 Help support quality local journalism … become a digital subscriber to The Press and Journal
For as little as £5.99 a month you can access all of our content, including Premium articles.
Subscribe