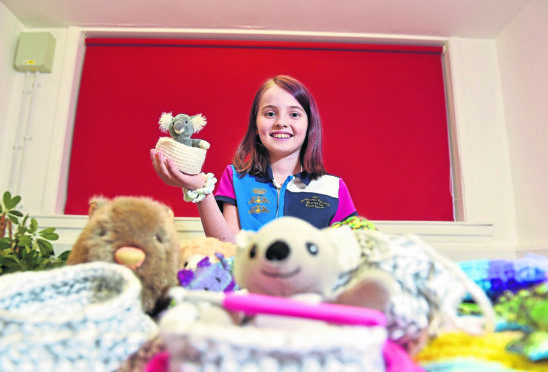 Kind-hearted Aberdeen residents have picked up their knitting needles to create soft bird nests, blankets, mittens and joey pouches for animals injured by the Australian wildfires.
The devastating blaze has led to a global knitting frenzy and a local Granite City group, based at the Inchgarth Community Centre, has been working hard in response.
With an increasing number of animals being killed, many have been left orphaned and without habitats.
Members have answered the call and are now creating items to ensure that young marsupials such as possums, koalas and wombats can grow up safely.
According to rescuers, mittens help koalas recover from their burnt paws, while wraps provide baby bats with something to cling onto.
Group leader Jacqueline Klocek said: "We want to do our bit to help animals affected by the fire.
"We have great crafters in the group and most of them knit for charities a lot of the time.
"Knitters from all over the UK are joining forces by donating the items to collection hubs. Since Monday, we have managed to get several birds nests done, I have a blanket completed and we will be starting on bat wraps next week.
"There will be a lot more done as it has only been three days since we decided to get things started because we had a two-week Christmas break.
"Many of us have been knitting or crocheting for many years, so we work fast."
Pippa Smith, one of the group's members, said it was a "unanimous decision" to help the relief work in Australia and they been hard at work creating bird nests.
She said she has been using her lunch breaks to crochet and will continue her efforts while watching the television during her time off next week.
Ms Klocek added: "This isn't just a short-term project. They will be needing help for a long time to come.
"But we are open to donations of baby double-knit wools and chunky wools. The smoother the better, so as not to irritate burned paws and skin.
"If there are knitters out there, they can look up joey pouches patterns and perhaps drop those off at the hub."
The group has already completed dozens of bird nests and blankets.
Those interested in donating their creations should drop off the items at the collection hub at 34 John Street.
Bushfires have wreaked havoc across Australia in recent months
Devastating fires have burned millions of hectares of land in Australia, killing an estimated one billion animals.
The blazes have been raging since September 2019 and fears of countless species have been pushed to extinction as a result.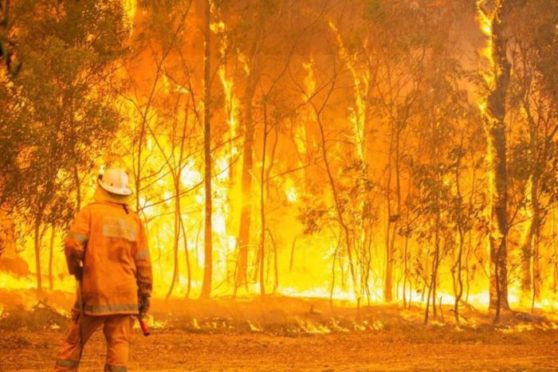 The unprecedented crisis in south-east Australia that has killed 25 people, destroyed 2,000 homes and shrouded major cities in smoke has focused many Australians on how the nation adapts to climate change.
A staggering one billion animals are believed to have died in the conflagration.
At least 24 people have died and hundreds of homes have been destroyed, leaving many displaced.
Thunderstorms and showers yesterday brought some relief for firefighters battling deadly wildfires across Australia's drought-parched east coast.
But they also raised concerns that lightning will spark more fires before dangerous hot and windy conditions return.
Around 2,300 firefighters in New South Wales were making the most of relatively benign conditions by frantically consolidating containment lines around more than 110 blazes and patrolling for lightning strikes.
The unfolding disaster in Australia, which is likely to continue throughout the Southern Hemisphere summer, has galvanised calls for more global action on climate change.
Elton John and actor Chris Hemsworth are among the celebrities donating money to help aid the firefighting efforts.
A growing list of celebrities have joined Hemsworth and John, including Pink, Nicole Kidman and Keith Urban, who have pledged to donate towards relief efforts.
The Prince of Wales said in a video message from Scotland that he and his wife Camilla had been in despair watching the infernos burn across Australia.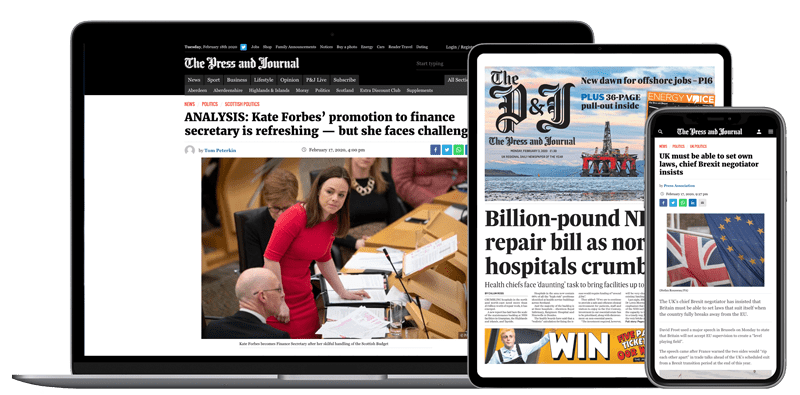 Help support quality local journalism … become a digital subscriber to The Press and Journal
For as little as £5.99 a month you can access all of our content, including Premium articles.
Subscribe