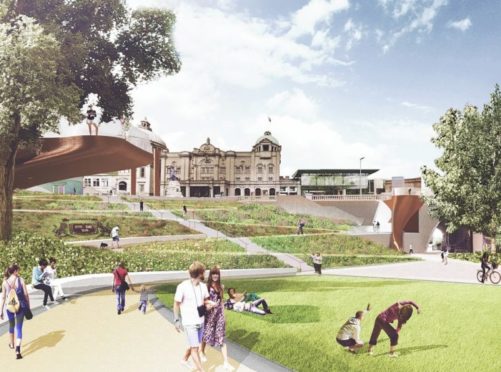 One of Aberdeen's main thoroughfares will become one-way for six months as work on the Union Terrace Gardens revamp progresses.
From January 27, Union Terrace will become one-way to northbound traffic heading from Union Street to Rosemount Viaduct.
Work on the £25.7million transformation of the sunken Victorian park is well under way, with the final plans including shop and cafe space in the arches, water features, community gardens, new entrances and walkways.
Aberdeen City Council say the one-way system is needed to maintain a safe working environment during the next phase of the programme, which includes balustrade strengthening, replacement of the existing arches under the road, slab reinforcement and resurfacing. It will be in place until November.
The gardens are scheduled to reopen next summer.
Councillor Marie Boulton, spokesperson for the city centre masterplan project, said: "We appreciate that a one-way system on Union Terrace may inconvenience some travellers, however during construction we must put the safety of workers and the public first.
"There is a huge prize to be won. The works will enhance Union Terrace Gardens' existing heritage features and provide a platform for new elements that will greatly improve access and amenity, creating an inclusive garden for the 21st century.
"This is yet another milestone in the transformation our city centre and is to be welcomed as another step towards making Aberdeen an even more attractive place to visit, work and live."
The council has been liaising with bus operators and revised service timetables have been drawn up by both First Aberdeen and Stagecoach.
Passengers are advised to check online for the revised routes.
Councillor Bill Cormie acknowledged the disruption was "unavoidable" but said: "That'll be the biggest problem – the disruption to bus users.
"Depending on which way they go, reroutes will cut people off from the city centre, especially disabled and older people."
Fellow Rosemount councillor Tom Mason added: "Hopefully it won't cause too much disruption and we'll all just have to be a bit patient with it – roadworks are inevitable for projects like these.
"I can't wait to see the results once it is all completed. We've been waiting a long time for the gardens to be upgraded and hopefully it'll be a great upgrade.
"I'm optimistic that it will provide a great focal point for the community."