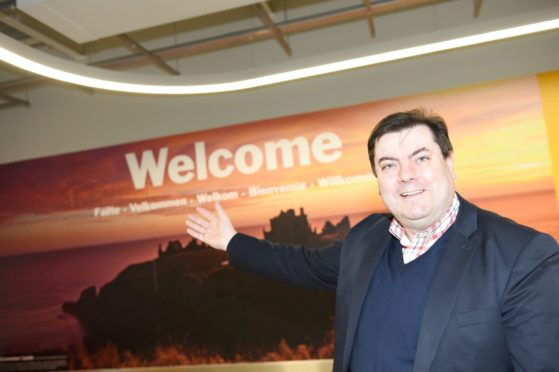 "The Northern Lights of old Aberdeen, are what I long to see…"
So goes the unofficial anthem for The Granite City, and many a homesick Aberdonian has echoed this sentiment, which can often be heard being sung loud and proud at Pittodrie Stadium.
Scotland's third-biggest city comes first place in the hearts of many, renowned for its sparkling buildings, beautiful beaches and incredibly rich heritage.
To visit Aberdeen is to barely scratch the surface, though, with the romantic castle ruins and the glorious countryside of the shire also on offer.
Listed as one of 52 places worldwide to visit in 2019 by The New York Times, it's clear that you don't need to be local to appreciate what's on offer.
The city is fast making a name for itself, with a reputation which goes beyond the oil capital tagline.
At the height of the oil boom, the cost of living in Aberdeen rivalled London – before the price of crude oil plummeted worldwide.
The downturn saw thousands of people lose their jobs, with some former oil workers even forced to turn to food banks.
Although the crisis has eased, so too has the down-in-the-doldrums narrative.
The north-east has swapped crude for culture, with millions of pounds invested in venues such as P&J Live and the city's new art gallery.
The four-year refurbishment of the gallery cost £34.6 million, with work now on display by Joan Eardley, Barbara Hepworth, Samuel Peploe and Tracey Emin.
The revamped Music Hall also points to cultural regeneration.
Could Aberdeen become known for its Nuart, Granite Noir and comedy festivals, as opposed to a once-wealthy city now home to 20 food banks?
your life spoke to those who are passionate about Aberdeen, be it through organising events or welcoming visitors from abroad, to find out if the Silver City could become the ultimate tourist destination.
Adrian Watson is chief executive of business improvement district Aberdeen Inspired.
He has recently called upon Holyrood to set up a yearly fund, in order to inject money into central shopping zones.
Adrian is also hopeful that regeneration projects in Huntly Street, Castlegate and Tillydrone will move forward, and believes Aberdeen has "untapped" potential.
He considers his words carefully, but his love of the Granite City is evident.
"Tourism has a part to play in Aberdeen, 100%," he says.
"In the city centre alone, there are 900 businesses. Round about the downturn, business owners asked to see more events in the city centre.
"As clinical as it sounds, we need to bring people into the city centre and get them spending money.
"Aberdeen has always been proud to say it is the oil capital of Europe, and rightly so. But that accolade doesn't really throw up culture.
"Oil shouldn't be the only narrative for Aberdeen.
"We should have umpteen narratives.
"We are still open for business, especially in the energy sector, but I would love Aberdeen to become a must-go destination."
Huge strides have already been made in achieving this vision, with numerous events planned for the coming year.
There is clearly an appetite for arts, with festivals such as Sound, Granite Noir and True North hailed a huge success.
"We've got Spectra in February, and that is a real coup for the city," says Adrian. "Why would a northern city not have a light festival?
"We've got our Jazz Festival coming up in March, and then there is Restaurant Week, which has been hugely successful.
"We want Aberdonians to rediscover their city. I think it's too much of a cliche to say that people living here don't appreciate what's happening on their doorstep though.
"On the whole, I've found Aberdonians to be really positive about what we're doing.
"There is more focus and resolve in putting Aberdeen on the map since the oil downturn.
"The realisation that oil isn't going to last forever, and the need to diversify – that's the way people are thinking now."
Although events such as Nuart Aberdeen – which is coming into its third year – have attracted an audience from abroad, Adrian is keen to establish tourism at a grassroots level, too.
"Of course we want people to visit from abroad," Adrian says. "But we also want people coming to Aberdeen from across Scotland, we need to think regionally.
"I grew up in Banff. When I was a young lad, people came to Aberdeen for the weekend.
"People would come to the city for their shopping, and it's that kind of vibe I want to capture again.
"I know a good thing when I see it, and Aberdeen is a good thing. I know so many passionate Aberdonians, but those who are new to the area also cherish it.
"The Granite City is untapped, but that's set to change."
Adrian is certainly not alone in his vision for Aberdeen, thanks to the work of VisitAberdeenshire.
The body was set up four years ago to meet the potential for tourism growth.
Around 275,000 tourists visited the region from overseas in 2017, and there is a strong focus on drawing tourists from Germany.
There is a headline target of £1billion in spend from domestic, international and day visits by 2023 – with a concentration on attracting visitors from across the UK.
Chris Foy, CEO of VisitAberdeenshire, believes the city is firmly on the map.
"Tourism in the region is going through an exciting period of transition," he said.
"We have seen some game-changing investments in Aberdeen and Aberdeenshire, which are helping to reposition this part of the country as a destination for leisure visits and to host business events.
"P&J Live has brought top entertainment acts to the city, and as we saw with BBC Sports Personality of the Year, the splendour of our new arena was beamed into the living rooms of 8.6 million people.
"The term 'cultural renaissance' is not an overstatement.
"The restoration of Aberdeen Art Gallery has triggered a curiosity in locals and visitors, and with 10,000 people visiting in the first week, this city centre gem will only continue to bring in the crowds.
"This, paired with events like Spectra, Nuart Aberdeen and Granite Noir, is a confident response to the cultural demand from visitors and locals alike.
"Improved rail services and new airport connections from gateways like London Southend are helping to make the region more accessible for travellers who are looking for a new Scottish experience in 2020.
"Perceptions of Aberdeen and Aberdeenshire are evolving as the regional economy transitions.
"Endorsements such as Aberdeen's feature in The New York Times' top 52 places to visit, and Airbnb's top 20 for 2020 are beginning to show that we are increasingly on the visitor map."
For those travelling to Aberdeen on both domestic and international flights, they can be sure of a warm welcome the minute they touch down on north-east soil.
An exhibition at Aberdeen International Airport features photography by North East Scotland College students, and visitors can pause to admire the work before collecting their luggage.
The project is set to be on display until Easter, and highlights "hidden gems" across the region.
Steve Szalay, who is managing director at the airport, has a rather special appreciation for Aberdeen – having just moved to the area last year.
"The north-east has some fantastic tourist spots for visitors and residents to take full advantage of," he said.
"I have been enjoying visiting all these new spots, and I have been blown away with what the north-east has to offer.
"From the seals out at Newburgh, a fantastic beachfront in Aberdeen, Royal Deeside and the Cairngorms, to places like Glen Tanar and Glen Muick that are absolutely magical.
"We have a fantastic array of hotels, cafes, restaurants and local businesses across the whole region.
"Our Northern Lights Business Lounge also showcases some of the food offerings in the north-east, and we are delighted to work with some brilliant local suppliers."
Look further afield, and the Highlands and Islands has also recently experienced its own domestic tourism boom.
It was identified as the joint top staycation hotspot in the country last year, with 2.1 million trips taken to the region in the first eight months of 2019.
Popular attractions include Urquhart Castle on the shores of Loch Ness, alongside Glenmore Forest Park and the Culloden Visitor Centre.
And it's not just those in the hospitality industry who believe that Aberdeen has plenty to offer.
The results are in from a reader survey that was launched by the Press and Journal, in a bid to celebrate the region and to spread the message of positivity.
When asked where tourists should visit, readers had plenty of ideas.
You suggested The Gordon Highlanders Museum, Dunnottar Castle, Marischal Square and Old Aberdeen to name but a few.
When it came to favourite events, Granite Noir, Nuart and Inspired Nights At The Green also made the list.
Only time will tell if culture can truly replace crude and improve Aberdeen's fortunes in the longer term.
But what is certain is that the Granite City and its surroundings have plenty to offer both the foreign and homegrown tourist, and there is much to celebrate in the region.