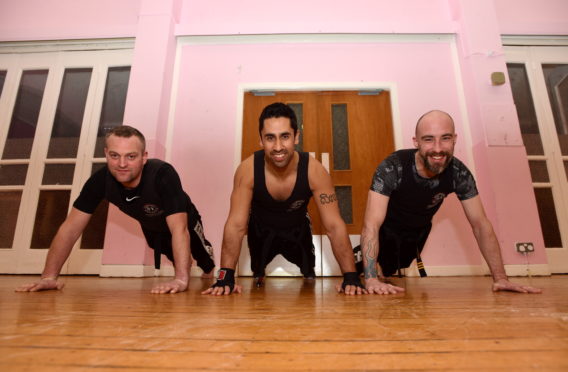 A trio of kickboxers will perform a combined 150,000 press ups this year to help a charity which brings joy to poorly children.
The three instructors from the Aberdeen branch of Satorishido Kickboxing are taking on the physical task to raise money for Hamish Dear's Warm Hugs as they are friends of the founders.
Leon Bremaneson, 37, David Krasjuk, 42, and 38-year-old Douglas Morrison will each do 50,000 press ups this year – roughly 140 a day – to raise as much money as possible.
The men, from Tarves, Huntly and Ellon respectively, have already notched up more than 6,000 and reckon they are on track to smash their target.
Mr Bremaneson, who kick-started the challenge, said: "The charity is something close to me, as one of my best friends and his wife set it up after their son lost his battle with cancer.
"Throughout his treatment their happiest memories were when they got to go on trips and spend special days together, but they realised not everyone has the resources to do that – and even giving the child a toy coming out of an operation is a help.
"They started the charity to carry on his legacy and give children and their families a warm hug."
After deciding to help them out, Mr Bremaneson began thinking of ways he and his friends could challenge themselves.
He said: "We wanted to do something that not everyone could do. I'm OK at push-ups but David and Doug are better.
"The money will go to treats for youngsters in Aberdeen, Glasgow and Edinburgh wards in such a unique way. There are many charities offering support, but this is to cheer up the children."
At their twice-weekly kickboxing training the three regularly do press ups but have upped their repetitions and added in morning sessions.
Mr Morrison said: "This isn't something any of us could do in a day.
"We've all committed to this for a full year to raise awareness and raise money."
Hamish Dear was born in 2012, and was diagnosed with stage 4 Neuroblastoma in February 2015. He died that November.
His parents Kris and Hollie founded a charity in his honour in May 2016, which has since brightened up some dark times for hundreds of families.
People can donate at https://www.justgiving.com/fundraising/leon-bremaneson2?fbclid=IwAR28PV_pm6zq-dQRNzRc7yiT82hT02_xDVnBZ2aMQEW07yxGz-bl-E1YRNA