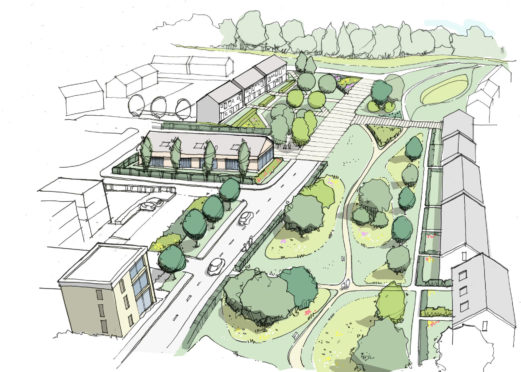 Children will have to cross some of Aberdeen's "busiest roads" just to reach school should a new 550-home development be built in Bridge of Don, opponents of the scheme have argued.
In an impassioned plea to councillors yesterday, Bridge of Don Community Council member Laith Samarai said the proposed Cloverhill scheme would overpopulate the suburb and put pressure on roads, health centres and local schools.
Cognito Oak LLP wants to build 550 homes, shops, community facilities and a football pitch as a new home ground for juniors side Bridge of Don Thistle on land north of the AECC.
Yesterday, councillors visited the site ahead of a meeting in which all sides could put forward their case.
While the firm has pledged to make contributions to Scotstown medical practice, Scotstown Primary School and Bridge of Don Academy to help cope with the extra demand, the community council said the influx would push them over capacity.
Mr Samarai also pointed to land which has been earmarked for similar developments in the area.
The council has identified space at Gradholme as being suitable for 700 homes, with space for 400 at Woodside, 500 at Muggiemoss and a possible 810 in other locations around Bridge of Don and 500 in Blackdog.
He said: "It is our view that these developments will see more than enough homes built in and around Bridge of Don.
"The housing market in Aberdeen is not buoyant, there are many homes for sale and prices have fallen considerably over the recent years.
"The population of Bridge of Don is already larger than many towns across Scotland.
"Our concerns include safe routes to and from schools, as the nearest secondary school is at least 1.3 miles from the site.
"Children would have to cross some of the busiest roads in the city, including the A92 dual carriageway, the Parkway and Scotstown Road.
"Increasing the exposure of schoolchildren to busy traffic is not seen as a responsible course of action."
However, several local residents also expressed their support for the proposals.
David Windmill, who lives right beside the site, said he felt that the development would bring new facilities to the area and was "an opportunity for the whole of Bridge of Don".
Hamish Petersen had bought a property in the area 40 years ago and welcomed the development.
And Lewis Kidd, who said high house prices had "forced" him to move away from the suburb, welcomed pledges that the development would include council and affordable homes.
Councillors will make a final decision on the scheme at a meeting on February 24.