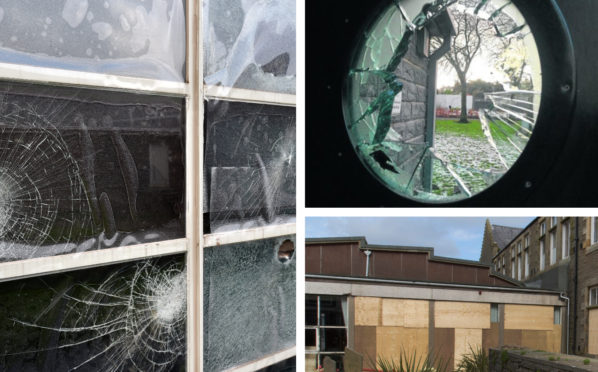 Schools, community centres and other council buildings have been damaged and broken into thousands of times across the north and north-east in the last four years.
Shocking new figures, obtained by The Press and Journal, show that vital community facilities have borne the brunt of more than 3,400 incidents.
The blight has cost cash-strapped councils £800,000 in repairing damaged buildings.
The figures come a week after The Press and Journal revealed that the clean-up bill for graffiti alone in Aberdeen, Aberdeenshire, Moray and Orkney has reached more than £80,000.
Now the financial impact caused by vandals smashing windows, kicking down fences, trashing public toilets and pulling electrical equipment from walls throughout the region has emerged.
Many of these incidents have disrupted classroom lessons, left community groups in disarray and even put members of the public in danger.
Those responsible have been branded "despicable" – with their attacks not only affecting council coffers, but the communities who rely on these facilities – and a call has been made to make them pay for the damage.
The information, released by the seven most-northern council areas in Scotland, shows that £799,787 was paid out to re-secure buildings which had been broken into, or left accessible via damaged windows or doors, between March 2016 and December 2019.
These costs included any materials and the hire of contractors, where required.
Schools, particularly in Aberdeen, were the most targeted over this period with almost £51,000 spent repairing 227 separate incidents at St Machar Academy.
Other city secondaries, including Oldmachar and Tullos, had more than 140 incidents each over the period.
Public toilets also fell prey to vandals, with stalls and facilities in Aviemore and Fort Augustus among many requiring extensive remodelling.
Scottish Conservative MSP for Aberdeenshire West, Alexander Burnett, branded the numbers "absolutely shocking".
He said: "At a time when councils are facing budget cuts, local authorities are being forced to spend significant amounts of money on damaged property rather than enhance them because of senseless individuals.
"Money is taken away from vital services and is instead having to be put towards repairing these buildings.
"We are also seeing libraries and leisure centres being targeted which are facilities people such as the elderly and families use on a regular basis – it's very frustrating."
Highlands and Islands Labour MSP Rhoda Grant said: "Every day I deal with constituents who are desperately needing council services which have been cut due to austerity, and council budgets are bearing the brunt of this.
"Yet we see these acts of sheer vandalism which are taking money away from those who need it the most.
"Children are missing out on additional learning support and older people are missing out on home care and mindless idiots think it is fine to damage and destroy our community resources."
Police have encouraged any witnesses of break-ins to report them, adding that they will "respond appropriately" in each case.
Chief Inspector Darren Bruce said: "We are aware of the financial impact that vandalism can cause, as well as the impact in terms of a loss of service in some cases."
'Vandalism has cost our city a fortune'
The single most expensive incident in the region was recorded at Kincorth Academy in Aberdeen, in August 2017, when vandals smashed scores of skylights and windows in a summer holiday rampage.
Aberdeen City Council was forced to pay almost £15,000 to carry out repairs and ensure the building was secure.
It was one in a series of attacks in the city during the schools' summer break that year, and prompted pleas for members of the public to help police catch the culprits.
Kincorth councillor and Aberdeen South MP Stephen Flynn said: "Vandalism has cost our city a fortune and folk across Aberdeen will be rightfully disgusted at the sheer scale of the money lost.
"While those involved are a small minority, as a city we need to be clear that this can't and won't be tolerated."
The most expensive incident in Aberdeenshire took place at Drumoak School in August 2016, costing £2,965, while the costliest vandalism in the Highlands was perpetrated at public toilets in Aviemore in March 2018, where ££6,897 of damage was caused.
In Moray, the most expensive vandalism took place at Forres Academy in August 2018, costing £2,604.
The Nicolson Institute, in the Western Isles, suffered £1,163 of devastation last April and St Margarets Hope School was caused £352 in damage last January.