While Extinction Rebellion campaigners gathered outside Shell, their famed Red Rebel Brigade took a different approach to the demonstration.
Dressed head to foot in red with their faces painted white, the group stopped shoppers in their tracks as they moved silently through Aberdeen city centre.
Their crimson costumes – signifying the "common blood" between humans and animals – and dramatic poses stood out all the more against the grey sky as they made their way from Aberdeen Railway Station, through the Trinity Centre and along Union Street to the Bon Accord Centre.
The group is mostly made up of activists from Forres.
Leader Mark said: "We came to Aberdeen today because it's the oil capital of Europe and we think it's really important that we raise awareness of Scotland to transition away from the fossil fuel industry.
"The Scottish Government plans to extract 20 billion barrels of oil from the North Sea but to stay within our climate target we can only extract 5 billion.
"We've tried all the ways that have been suggested to make people listen and none of that has worked so far."
And Mark Richards, who travelled with the Forres members at 5.30am, said: "We're here to make a statement, and that certainly seems to have been effective.
"This is the only Scottish group of the red brigade and it is really effective to have an actual group of north-east people highlight the situation in Aberdeen.
"We've had a few fingers and some angry car horns but for the most part people are just curious to find out.
"This has been nonviolent and peaceful. We aren't causing a stir – we just want people to take notice of the biggest issue facing us today."
Before taking part in the demonstration, volunteers had donated food – handed out by Shell earlier in the day – to a local homeless shelter.
During the march volunteers handed out leaflets entitled "Burn in Shell" which claimed that Scotland's fossil fuel industry was "holding our economy ransom".
Campaigners added that Shell were "failing in their most basic duty to preserve human life."
Marco, an Extinction Rebellion activist who had travelled from Edinburgh to join the march said: "The amount of pollution Shell causes is unimaginable.
"I don't feel guilty about disrupting their day, I feel terrified that their daily activities will disrupt my future.
"I'm terrified about whether I have a future on this planet. The science is clear."
Hundreds stopped as the red brigade made their way through the city.
One member of the public asked a police liaison officer why they "protecting" the protesters, to which he replied: "We're not protecting them".
Aberdeen resident Gary Lovie said: "I saw it on the news and I've just finished work so I stopped to watch. It was quite impressive.
"I understand what they're on about, but I don't agree with the way they've went about it."
Wilma Smith added: "It certainly is striking and I empathise with what they are doing.
"This should be more of an issue in Aberdeen."
The group, guided by security staff, ended their protest outside Aberdeen City Council's headquarters at Marischal College at about 3pm before heading to "safe house" until their return to Forres.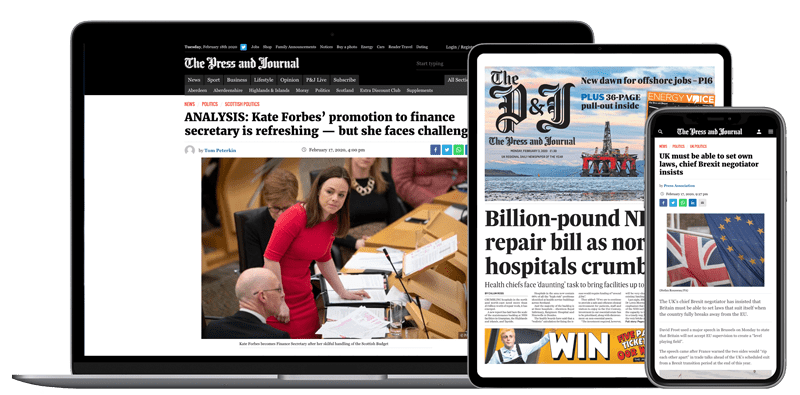 Help support quality local journalism … become a digital subscriber to The Press and Journal
For as little as £5.99 a month you can access all of our content, including Premium articles.
Subscribe