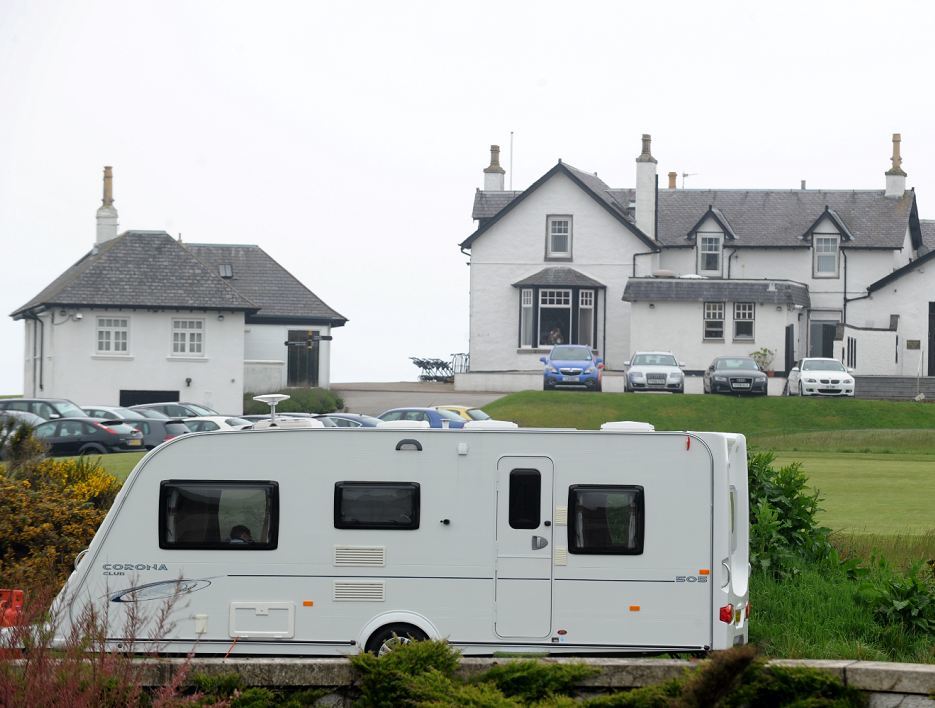 Travellers have pitched up at a prestigious north-east golf course – just weeks before it hosts the Scottish Open.
A group of caravans have been parked at the entrance of the Royal Aberdeen Golf Club, one of Scotland's most historic courses.
The famous greens are getting ready to welcome some of sport's biggest stars to the region when the Aberdeen Asset Management-sponsored tournament kicks off on July 10.
But one local councillor last night said it could take Royal Aberdeen bosses weeks to get the unwanted visitors off their land.
Police confirmed that they visited the site after the caravans moved in yesterday morning.
But under legislation, Police Scotland and Aberdeen City Council are powerless to move the travellers off private land.
Bridge of Don councillor Willie Young said it was up to Royal Aberdeen to take legal action to move them on – and that it could end up costing thousands of pounds.
He said that moving in on one of the north-east's most prized landmarks was an "absolute disgrace" and that the travellers had taken things too far.
"We now have a situation where they have pitched up on one of the most prestigious golf courses in the world – and all because they know there's nothing we can do about it," he said.
"We are doing everything possible to attract the best tournaments and the best players to the north-east. What message does this send to people when you see caravans at the front door?
"The travellers are actually now laughing at us because they know we can't do anything to stop them."
Local councillor Muriel Jaffrey said she feared the mess that would be left behind once the travellers have moved on.
"Time and time again, we see the enormous mess that these people leave behind," she said.
Earlier this month, Aberdeen City Council voted in favour of a travellers bylaw which would give police and council officers more power to move them off public land.
The bylaw – which would also allow them to enforce fines – needs to be approved by the Scottish Government before it is officially imposed.
A government spokesman last night said that Scottish ministers were considering Aberdeen Council's proposal "in full".
Last year there were 81 unauthorised encampments in Aberdeen, with 38 of these on private ground and 43 on council-owned sites.
And last month, 21 travellers who were parked near the Hilton Double Tree on Queen's Links were charged after concerns were raised about defecation at the site.
Police launched an investigation after the council reported that people had been using the land for their personal waste.
No one at Royal Aberdeen could be reached for comment last night.
The golf club was founded in 1780, making it the world's sixth oldest course.
The highly-anticipated Scottish Open will be held between July 10 and 13, attracting golfing stars including Phil Mickelson, Rory McIlroy and Justin Rose.
The event is expected to attract tens of thousands of fans and give local business a multimillion-pound boost.
The arrival of the tournament also marks the first time a major European Tour event has been held in the city.