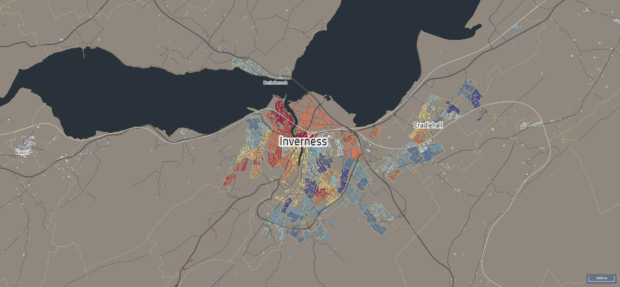 Parts of Inverness are among the most deprived communities in Scotland, according to new figures.
One area of Merkinch has been ranked eighth out of almost 7,000 locations in the latest Scottish Index of Multiple Deprivation (SIMD) statistics.
The research splits the country into special zones with around 700 people in each, and uses criteria including crime, unemployment and GP waiting times to calculate overall scores for each.
A section of Greenock town centre was ranked the most deprived followed by Carntyre West and Haghill in Glasgow, then Ferguslie Park in Paisley.
Parts of Merkinch in Inverness appear four times within the 500 most deprived locations.
Meanwhile four of the 10 least deprived areas were found in Aberdeen, with part of the city's West End receiving the second-lowest score behind only Stockbridge in Edinburgh.
The Western Isles, Orkney and Shetland all have no areas ranked as being in the 20% most deprived in the country.
However the research added that highly-ranked locations do not necessarily have people on low incomes.
It takes into account issues including pupil attainment and housing availability.
The Scottish Government's report revealing the data said: "It can also mean people have fewer resources and opportunities, for example in health and education.
"Communities can use SIMD to identify the things that matter to them."
The research revealed that Aberdeen, Moray and the Highlands were among the areas with the largest increases in deprivation over the last four years.
North East Scottish Conservative MSP Tom Mason said any increases are "unacceptable".
He accused the Scottish Government of failing to fix inequalities in economy, health service and education.
Mr Mason added: "Scots living in deprived areas are more likely to die early, suffer from physical and mental ill-health, and less likely to enter further education."
The Scottish Government said it is committed to supporting disadvantaged communities through schemes including a £1.4 billion investment to help low-income families.
Communities Secretary Aileen Campbell said: "Over this parliamentary term we are investing over £3.3bn to deliver 50,000 more affordable homes, including 35,000 for social rent.
"We are protecting the most vulnerable by providing free school meals, prescriptions, concessionary travel and free personal care and nearly doubling free childcare hours.
"This approach is backed up with decisive action in health to address alcohol consumption, reduce smoking rates, encourage active living and healthy eating."