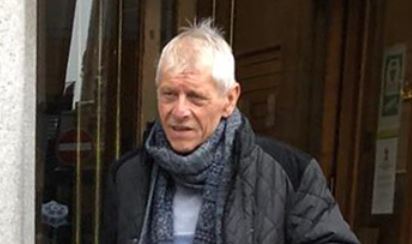 A man who knocked down and seriously injured a pensioner waiting for a bus has apologised and said his "heart goes out" to her.
Former restaurateur Zoltan Dragan previously admitted driving dangerously on Aberdeen's King Street by travelling along the 160ft pavement at 15-20mph.
The 72-year-old hit Elizabeth Grant and two other people.
Ms Grant, 78, had been waiting for a bus after church, and was thrown over the car. She suffered a broken nose and ribs and multiple leg fractures, and spent eight weeks in hospital.
Yesterday, Dragan was disqualified from driving for seven years and ordered to carry out 250 hours of unpaid work.
Defence solicitor Paul Barnett told Aberdeen Sheriff Court that Dragan blamed the vehicle in front of him for the crash, but said his client accepted "absolute responsibility".
He added: "Mr Dragan is devastated of the consequences of his actions."
Sheriff Morag McLaughlin said: "There can be no excuse for this standard of driving.
"It seems to be motivated by frustration at a slow driver – there's no excuse for that."
Sheriff McLaughlin said the incident left Ms Grant with "catastrophic, life changing injuries" and that "could not ignored".
Ms Grant now requires a walking stick and finds it "a struggle" to get about.
After the sentencing hearing Dragan, who is originally from Hungary, said: "My heart goes out especially for the lady.
"I'm glad to know and to hear about the good recovery she is having and wish her the very best in the future.
"As a human touch, I did visit her and had a jovial conversation with her. I could only wish her the best and to have a happy life."
As well as the ban, Sheriff McLaughlin put Dragan on an 18-month supervision order and a six-month curfew.
Dragan, of Wavell Crescent, Aberdeen said he would not be seeking to retake his driving test after his seven-year ban.