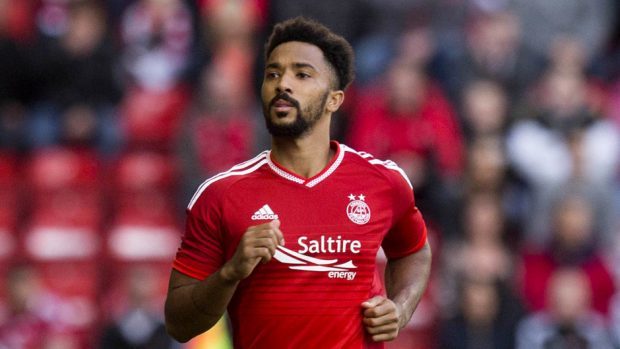 Dons boss Derek McInnes has praised one of his star's reactions to racist abuse as "spot on".
Right back Shay Logan faced a torrent of online jibes from a young Rangers supporter over the weekend, which included a a picture of black man's face with the words "don't care plus your (sic) black."
The 32-year-old, who has formerly played for Manchester City and a number of other English clubs, was also sworn at repeatedly in the messages sent to him, which he has since shared online.
But Logan did not take the onslaught lying down and hit back, pointing out that a number of senior Rangers players are also black.
Aberdeen held Rangers to a 0-0 stalemate at Ibrox on Saturday.
Logan wrote, referencing his current plumbing apprenticeship he carries out alongside his Dons career: "When your captain's black, your top goalscorer is black, your best centre-half is black, you have eight-plus black players in your team but you pick on the black plumber…"
He later removed the online exchange and told his followers he had spoken to the mother of his abuser.
He posted: "A mistake made by a young lad who, after speaking to his mum, was not brought up to be that way. So hopefully he learns and becomes a better person from this mistake."
At the Dons press officer yesterday, manager McInnes said that while the abuser was a "young boy" he "should have known better" and praised Logan's response.
He said: "I spoke to Shay this morning and the way he's dealt with it has been absolutely spot on.
"He reminded the boy his own club have black players.
"He is a 15-year-old boy and he is full of remorse now, so I think there has to be some understanding of that.
"He is a young boy, but he should know better.
"He has come to his senses, contacted Shay, he's full of apologies and has told him he's very embarrassed by it.
"I think the way Shay has dealt with it was first-class.
"Shay has been the victim of racist abuse many times in his life and has handled it well.
"If there can be a positive outcome from something like this then this is it.
"Racial abuse in this day and age is ridiculous, it really is."
Since moving to Scotland in 2014, the Manchester-born defender has faced numerous high-profile incidences of abuse.
Last year the defender hit back on social media  after a Celtic fan made reference to former player Aleksandar Tonev's racist remarks towards Logan on the pitch in 2014.
Bulgarian Tonev, who was on loan at Celtic from Aston Villa, was banned for seven matches for insulting Logan.