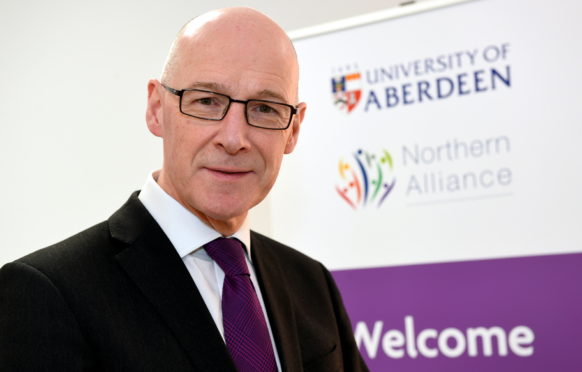 The deputy first minister was in Aberdeen yesterday to open a groundbreaking new facility that aims to put the city at the forefront of developments in education.
In his role as education secretary, John Swinney officially opened the Learning Hub at Aberdeen University.
Established in partnership with the Northern Alliance regional improvement collaborative, it has been created to bring together practitioners, academics, researchers and others to share their knowledge and encourage innovation in children's learning.
The Northern Alliance and the university have invested more than £100,000 into the new centre in a bid to stimulate collaboration and to share best practice between the university and eight local authorities, from Aberdeen to Argyll and Bute.
Mr Swinney said: "Aberdeen has got the advantage of being really at the heart of the Northern Alliance.
"It's got Aberdeen University, which is obviously a key player in the development and delivery of teacher education and a very distinguished school of education.
"There's a strong track record here in Aberdeen of working closely with local authorities across the north of Scotland.
"Crucially, I think working with local authorities in undertaking developments in digital learning will put Aberdeen and the north of Scotland right at the heart of developments in Scottish education."
He added: "Closing the attainment gap and improving the outcomes of everyone involved in Scottish education and learning is a core principle of the Scottish government's plans.
"This will be an excellent resource for sharing best practice, strengthening professional learning networks, and for applying evidence and research to improving classroom practice."
The new facility will be based in Aberdeen University's MacRobert Building.
Teachers and practitioners from across the north and north-east attended a series of six 45-minute workshop sessions following yesterday's ceremony.
They took part in sessions on digital learning, poverty and attainment, inclusive practice and building teacher confidence.
Shetland Islands Council was represented at the event by the authority's director of children's services, Helen Budge.
She said: "This fantastic new shared space at the university promotes joined-up thinking among those teaching the teachers, those carrying out important research and those directly involved in learning and teaching in our schools and early years settings."