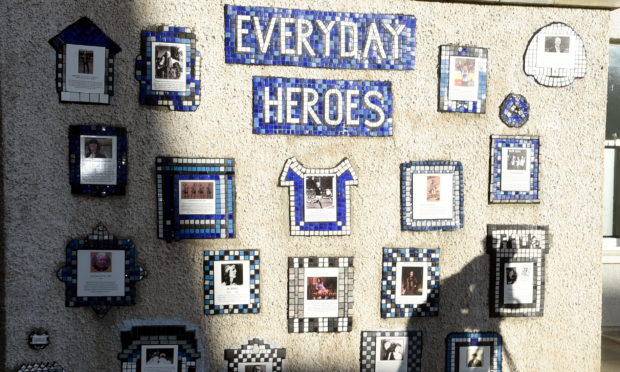 A poignant tribute to six of the north-east's most tireless and compassionate citizens has been installed in the city centre.
A dance teacher who helped youngsters achieve their dreams and a Second World War landlady who shared her limited rations with hundreds of stranded soldiers are among those who have been named Aberdeen's everyday heroes.
Portraits of Jemma McRae, who died in 2019 after a battle with cancer, and Barbara Russell have been added to the mural on Flourmill Lane, alongside many other inspirational figures.
The mosaic artwork was created in 2018 by craft practitioner and artist Carrie Reichardt as part of the city's NuArt festival, featuring an initial 10 heroes and displayed on a wall at The Green.
However, it was relocated to Flourmill Lane earlier this year with local artist and ceramist Shelagh Swanson leading the project to recreate some of the tiles with the help of volunteers.
Ms Swanson also oversaw the work to extend it this month to include the following Everyday Heroes:
Shelagh Swanson, the artist behind it, has now returned to add a further six names after receiving additional funding from the city council.
Those names include that of Justin Ritchie, who founded Street Friends Helping the Homeless, charity campaigner Mark Taylor, and Piper Alpha survivor and offshore activity activist Steve Rae.
Michael Brown, who started a campaign that resulted in the introduction of Clare's Law to protect potential victims of domestic abuse, is also featured.
All those who feature of the Everyday Heroes mural were nominated by members of the public, with a panel set up to pick those featured.
Angela Joss from Aberdeen Inspired, which led the project, said it had been a "joy" to look through the dozens of entries received.
"These are another six really important people for Aberdonians to be aware of," she said.
"Nowadays we have a tendency to believe everything is rubbish and the world is getting worse and worse and we're all doomed.
"But working on this it became obvious there are people who have changed the world and it makes me really proud to be an Aberdonian too."
She added: "All the time we're coming past and see people stopping.
"It's a focal point and so it should be – and we should be proud of these amazing people."
The new Everyday Heroes
Michael Brown
Michael Brown helped to spearhead a major change in the law to protect people from domestic abuse.
His daughter, Clare Wood, was murdered in 2009 by a man who had previous convictions for violence against women.
Mr Brown then found a legal loophole which allowed some perpetrators to hide behind data protection law.
He started a petition to close it, and this was later delivered to Downing Street.
This led to the introduction of Clare's Law, which allows people to check in with police about the potential violent pasts of their partners, across the UK.
It is also being trialled in parts of Australia and Canada.
Mr Brown said: "I'm delighted and humbled to be honoured by my city of birth and raising awareness of Clare's Law is invaluable."
Jemma McRae
Dance teacher Jemma McRae founded her own dance school when she was 21 years old and many of her pupils went on to perform professionally.
During this time she inspired her students with her positive attitude and also raised money for charity Friends of Anchor.
She died last year aged 43 after battling breast cancer.
Alan McRae, Jemma's father, said: "It is a real honour for the family to hear that Jemma had been chosen as one of the Everyday Heroes.
"We are all grateful to any of her friends and pupils who took the time to nominate her, also to everyone who has played their part in putting this touching mosaic tribute together, including her daughter Izzy, who was Jemma's own special hero."
Justin Ritchie
Justin Ritchie founded the organisation Street Friends Helping the Homeless.
It helps feed an average of 70 homeless and vulnerable people, operating six nights a week.
Last year a group of volunteers organised a sleep-out to help raise money for items including carts, tables, pots, flasks and sleeping bags
Mr Ritchie said: "It feels amazing to be recognised in this way, thanks so much to everyone that nominated me."
Steve Rae
A survivor of the Piper Alpha disaster, Steve Rae has worked tirelessly to improve safety conditions for others working offshore.
167 men were killed in an explosion on the oil platform on July 6, 1988.
Mr Rae was one of the 61 who escaped and survived.
He is now the chairman of the charity Pound for Piper, which ensures the continued upkeep of a memorial garden at Hazlehead Park.
Mr Rae said his initial reaction to being made a hero was to ask: "Why me?"
He said: "It dawned on me that what I see as 'doing the right things' is viewed by others as going the extra mile.
"As a born and bred Aberdonian it fills me with pride and a great honour to be recognised as one of its everyday heroes."
Barbara Russell
During the Second World War, Barbara Russell helped hundreds of soldiers stranded in the north-east.
She used the few rations she had available to ensure they had enough to eat before they were able to make their journeys home.
It is thought she helped around 300 men, mainly those from the US and Canada, who were dropped off in Aberdeen during the conflict.
Mrs Russell's great-granddaughter, Lisa Campbell, said: "We are delighted that Barbara Russell has been recognised in this project as someone who represents the welcoming spirit of Aberdeen.
"We hope sharing her story inspires Aberdonians to show their kindness by continuing to welcome those who visit from all over the world."
Mark Taylor
Mark Taylor has helped raised thousands of pounds for good causes operating in the north-east.
Over the last nine years he has organised events for cancer support charity Clan, even taking the time to delight crowds by hopping around as rabbit mascot Clancey.
He has also helped a raft of other good causes including Charlie House, Friends of the Neonatal Unit, Bosies Breast Cancer and Aberdeen FC Community Trust.
Mr Taylor said: "I am shocked and also honoured to have been chosen for this award and I would like to thank my family and friends that nominated me.
"I've been involved with Clan for over nine years now.
"During this time, along with many helpers, we've put on many events and had a lovely time doing so.
"Due to the support and help from many friends we've managed to raise many thousands for Clan and recently, a few other local charities.
"We will continue to raise funds for local charities and this award is perfect to show people of Aberdeen and Aberdeenshire that together we can all make a little difference to those less fortunate than ourselves."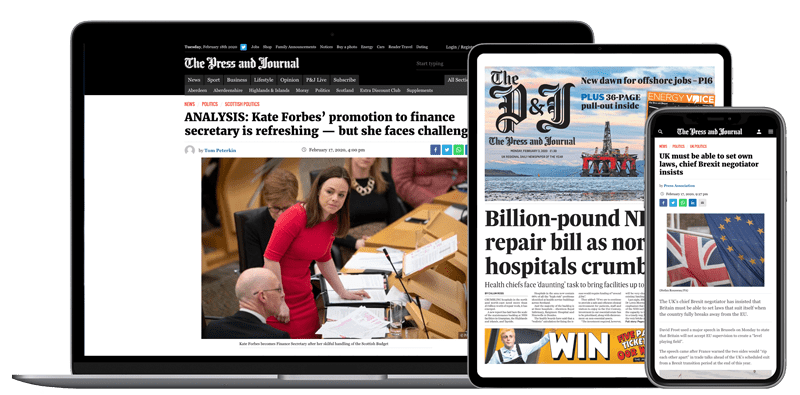 Help support quality local journalism … become a digital subscriber to The Press and Journal
For as little as £5.99 a month you can access all of our content, including Premium articles.
Subscribe