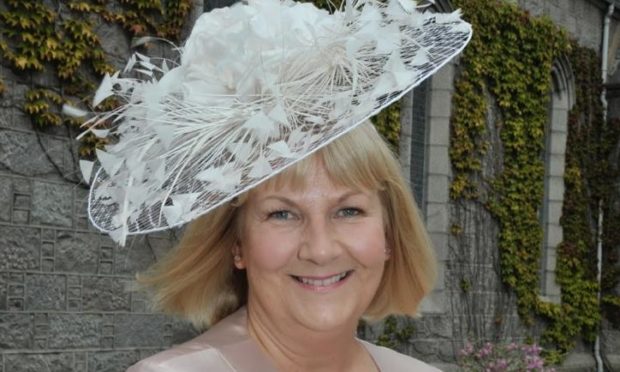 A retired police inspector accused of murdering his wife told first responders he heard a "thud" while he was in the shower.
Keith Farquharson said he then found her lying in their bedroom, the High Court in Glasgow heard.
But the Crown allege he killed 56-year-old Alice by compressing her neck and face, and restricting her breathing by covering her nose and mouth.
He is further accused of blunt force injury "by means unknown".
Son-in-law Neil Fraser told the jury he had received a call from Farquharson at about 7.10am on August 29 last year.
Mr Fraser, who is a police officer, said his father-in-law told him Mrs Farquharson had died and raced to the property in Angusfield Avenue.
Advocate depute Alex Prentice QC, prosecuting, asked if Farquharson had told Mr Fraser what had happened.
The 28-year-old replied: "He basically explained that he had been in the shower, heard a thud and, as he came out, Alice was lying half on, half off the bed.
"He said he pulled her off and she hit her face off the bedside cabinet.
"He said he had performed CPR while on the phone to the ambulance."
Paramedic Laura Steven said Farquharson, 60, had appeared "very agitated".
She said she found Mrs Farquharson, a pupil support assistant at Hazlehead Primary, lying on the bedroom floor in her nightdress.
"I could identify that she was in cardiac arrest and was not breathing," she said.
"He said that he had gone for a shower, heard a clatter then found her like that."
The medics worked on Mrs Farquharson for 30 minutes before pronouncing her dead.
Mr Prentice asked Miss Steven: "How was Mr Farquharson's demeanour?"
She replied: "Very irate, hyperventilating. I had concerns for his welfare because of how irate he was.
"I thought he was in a state of emotional shock."
The jury also heard from Mr Fraser that Farquharson had mentioned an "argument" with his wife in days after the alleged murder.
And daughters Joanna Farquharson and Sarah Fraser told the court that in about 2008, their father had been suspected of having an affair.
Miss Farquharson, 30, however, agreed that latterly her parents' relationship had been "fine".
Pressed by defence counsel Ian Duguid QC, the chemical engineer said: "Some years earlier, he was certainly suspected of having an affair with someone.
"There had been a bit of a fall-out at the time."
Mr Duguid suggested to Mrs Fraser, 27, that her mother had been searching for the other woman online before her death.
She told the court it was "perhaps natural" for her mother to do so.
The trial, before Lady Stacey, continues.