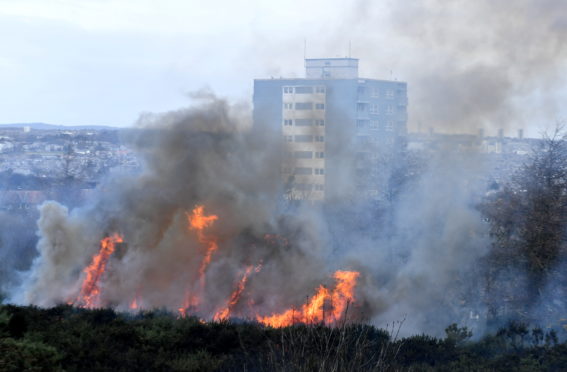 A blaze which tore through an Aberdeen beauty spot is now being treated as deliberate by police.
Firefighters were called to the Gramps at about 9am yesterday, and spent more than an hour battling flames which were raging across a 17,000 sq ft area.
The nature reserve has frequently been targeted by firebugs over the last year, with fire chiefs last week issuing a plea for an end to the "dangerous and unacceptable" practice.
Investigators have confirmed that the blaze was started deliberately.
A spokeswoman for the fire service said: "There were three appliances and 14 firefighters there, and there were several seats of fire.
"Crews used a hose reel jet, beaters and backpacks and were away by 10.10am."
Nobody was injured and Sergeant Kevin Souter, of Nigg Police Station, is now appealing for help from the public.
He said: "Deliberately starting a fire is extremely reckless – you only have limited control over how it may develop.
"I'd appeal to anyone with information or may have seen anything suspicious in the area to let us know.
"You can contact police by calling 101, quoting incident 0859 of 12 January, or Crimestoppers anonymously on 0800 555 111."
Only last week, fire chiefs confirmed crews had already attended four intentionally lit fires at the Gramps since the beginning of 2020.
The emergency services have been called Kincorth Hill scores of times in the past.
Last night Kincorth councillors called for "vigilance" in the area to ensure the risk of fire – either wild or malicious – was reduced.
Sarah Duncan said: "Everyone is responsible for taking away their own litter and anything else that might provide fuel for a fire that has been started accidentally.
"It goes without saying that no-one should be lighting campfires on the Gramps and setting off fireworks, or throwing away cigarette ends.
"We need to be vigilant about fly-tipping and people should report it through the council website.
"These all sound like small things, but one careless act can lead to the fires we've seen recently."
Fellow councillor Alex Nicoll added: "It is disappointing that we have another fire at the Gramps, but I am sure the fire service will be working to ensure the safety of the area and residents in Kincorth."
Fellow councillor Alex Nicoll added: "It is disappointing that we have another fire at the Gramps, but I am sure the fire service will be working to ensure the safety of the area and residents in Kincorth."