There's the click of heels and swish of long coats as cabin crew make their way through Aberdeen International Airport (AIA).
The British Airways (BA) team have just come off a flight, and are heading to rest up before their next scheduled departure.
Uniforms still immaculate, they smile broadly as they walk through arrivals.
It may not be their own family members eagerly waiting for a hello hug, but there's still plenty of enthusiastic greeting to be had.
Tails are wagging in expectation, and the first officer (also known as co-pilot) removes his cap and crouches down readily. Tweedie Bear has no qualms as he nuzzles into his arms, which is quite a feat for a rather large German shepherd.
Not to be overlooked, Noodle quivers in excitement and raises her head to be stroked.
People stop in their tracks instead of blustering past; the need to be first in the taxi queue is quickly forgotten thanks to these two rather charming canines.
Passengers queuing for a flight to Tenerife crane their necks and point excitedly, before the popular furry pair make their way over to say hello.
In just two hours, Noodle and Tweedie Bear create quite a stir.
With their smart yellow neckerchiefs and special leads, their charm is instantaneous.
From Duty Free to luggage collection, they leave a trail of happy customers – and perhaps a sprinkling of dog hair.
Pilots, Border Force and toddlers travelling for the first time – the love of dogs brings everyone together.
Proud owners Julie Duguid and Amy McKenzie pause every few minutes to allow people to have a stroke of their canine crew, and one traveller even FaceTimes family back home so they, too, can enjoy the moment.
"Selfies are pretty common – Noodle is definitely a poser," says Amy, before scooping the beagle into her arms for a quick cuddle.
Tweedie Bear spots a passenger tucking into crisps, but is placated with some doggy treats.
Belly rubs aside, both Noodle and Tweedie Bear have an important part to play – and it's no easy task in such a busy environment.
On the day in question, 58 flights are scheduled to arrive and depart.
From soothing anxious fliers to brightening the day for staff on the check-in desk, Noodle and Tweedie Bear are therapy dogs.
They form part of a 21-strong team, and the canine crew is the UK's first-ever team of airport therapy dogs.
The scheme, which is a partnership between Therapet and Aberdeen International Airport, launched in May last year, and received national media attention.
Therapet is run by the Scottish charity Canine Concern, and one dog was piloted at the airport before the scheme was rolled out.
Almost one year in, and seven new members have recently been welcomed due to the popularity of the project.
The canine crew works on a shift basis, and dogs currently visit twice a week – although extra visits have been lined up for this month.
From Vinnie the Leonberger to Doug the pug, the team comes in all shapes and sizes.
And they've even been recognised after wining the National Geographic Traveller's Award for innovation, in December last year.
It's clear that these thoughtful pooches don't do the job for the recognition though, they just love people.
Each member of the canine crew must undergo rigorous training and assessment to work in a variety of environments, before becoming a therapet at the airport.
Noodle visits Inverurie Academy and Pitmedden Primary alongside care homes.
"I am very proud of her, and I love the fact that people can enjoy Noodle just as much as me," says owner Amy, who lives in Ellon.
She stops to hand out Noodle's business card to people, and believes that regular travellers collect the cards.
"The smile on their face when they spot Noodle, it's amazing," she said.
"It's just so rewarding.
"Noodle has been a therapet for four years now, and she turns 10 soon.
"I used to work in the oil industry, and now I'm a wedding and events planner.
"It can be quite a stressful job, and coming on shift at the airport with Noodle is a welcome break.
"Sometimes people think that they can't pet the dogs, so we always make a point of saying they are here for that very reason.
"There's the stress element of an airport, and then there are anxious fliers.
"Stroking a dog can lower your blood pressure, and you can see people's faces just light up.
"It can be emotional if you are on your travels and leaving your family.
"Seeing a dog can be a real boost to your day.
"When Noodle visits the primary school once a week, she helps children with their reading.
"They read to her and she's a non-judgemental listener, so it improves confidence.
"I remember one little boy, he came from Syria, and he was petrified of dogs. By the end of the session, he was cuddling her.
"There are also children who have lost family members, and Noodle is able to sense that loss.
"She brings happiness.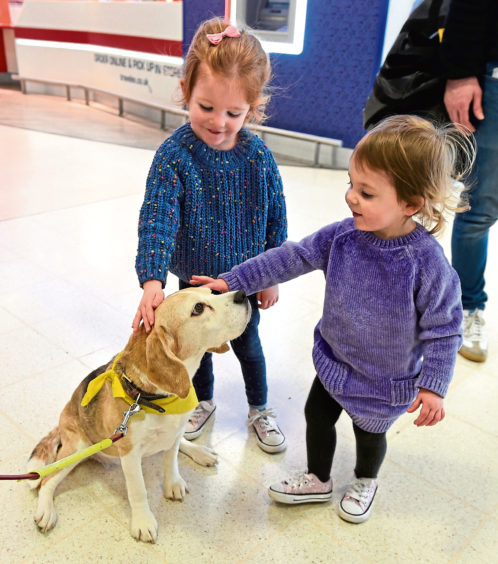 "Staff always come rushing over at the airport to see Noodle; we're actually upping our shifts because there's such a big demand."
Tweedie Bear is also a huge hit, and the long-haired German shepherd enjoys a back rub in particular.
Owner Julie Duguid takes Tweedie Bear to two care homes in Peterculter, and believes he may have appeared in hundreds of selfies at the airport.
"He's very sweet and gentle, he loves people," she says.
"He was the calmest puppy, I knew he'd make a great therapy dog.
"He is a big sook, and he's always exhausted when he gets home.
"I think it's all the stimulation.
"I used to have a small dog-walking business but then I had a few operations, so I couldn't really commit to walking four hours each day.
"Becoming involved in this was perfect."
The team is given regular breaks as and when required, and even go through security thanks to a special pass.
Diane Wood, who helped get the project up and running, also volunteers with her own dogs.
She balances her career at The Society of Petroleum Engineers (SPE) Aberdeen Section with being a trustee for Canine Concern.
"I've been involved as an area rep for 20 years; it all started with taking my then therapet Ellis into nursing homes in Inverness," said Diane.
"I got my first dog at the age of nine.
"Dogs give unconditional love regardless of who you are – it is unexplainable really.
"Dogs are 100% a great leveller, it doesn't matter who you are."
This is particularly true for Diane's canine companions, Breagh and Naso.
Breagh is a golden retriever, and works with dog-phobic children and adults.
Alongside Naso, who is an Italian Segugio rescue dog from Milan, the pair also visit prisoners at HMP & YOI Grampian in Peterhead.
"I think they've been of great support to prisoners, who are delighted to see them," said Diane.
"Every dog is different, but what we are looking for during assessments is for the dogs to be friendly, gentle, patient, enjoy lots of human contact, be good natured and kind.
"As soon as people see the dogs, they are saying 'oh my goodness, can we stroke them?'
"It's just a fantastic thing to be part of."
Fraser Bain, airport duty manager at AIA, said: "Our therapets project has been a great success since launching in 2019.
"We recently announced seven new dogs joining our canine crew.
"Our dogs have been a fantastic addition to the airport, and we look forward to the new ones making a paws-itive impact.
"Being awarded for innovation from the readers of National Geographic Traveller in December was a huge honour.
"Our dogs also took centre stage during Sports Personality of the Year, with many visitors stopping to grab a picture with our award-winning canine crew.
"The team have been doing a fantastic job, and we are looking forward to building on this in 2020."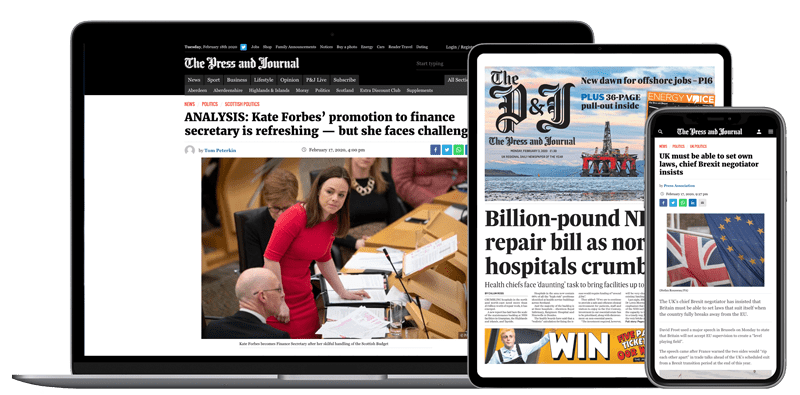 Help support quality local journalism … become a digital subscriber to The Press and Journal
For as little as £5.99 a month you can access all of our content, including Premium articles.
Subscribe