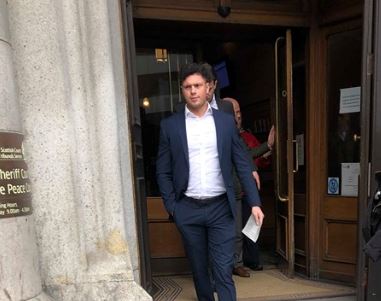 A man who attacked two people on Union Street has been ordered to pay a fine.
Evan Robertson, of Culter House Road, pleaded guilty to assault at Aberdeen Sheriff Court yesterday.
The incident on April 6, 2019, in which Robertson assaulted Joseph Irwin and Danny Eaton, was captured on CCTV.
Fiscal depute Lynne Macvicor told the court: "At 1.20am, a taxi driver was sitting within his vehicle and noticed an altercation taking place with a group of all males and it included the accused."
After exchanging words with Robertson on Union Street, the two men from England walked away, but met him again further down the road.
Ms Macvicor added: "The accused approached Mr Irwin, shook his hand and then punched him in the face.
"Mr Irwin came to be on the ground and then a scuffle ensued between the accused and complainer Mr Eaton.
"The taxi driver then ran to assist and Mr Robertson had both his arms and legs around Mr Eaton's head."
Mr Irwin had to have his eyelid glued after sustaining a 2cm deep cut.
Solicitor Gregor Kelly said his client was "ashamed" and although he did recall "something offensive being said" he should have walked away and he "accepts responsibility" for that.
He added: "He hasn't been in trouble since and has significantly moderated his drinking."
Sheriff Margaret Hodge reduced the 25-year-old's fine from £1,200 to £800 for pleading guilty and ordered him to pay a further £100 to each victim.