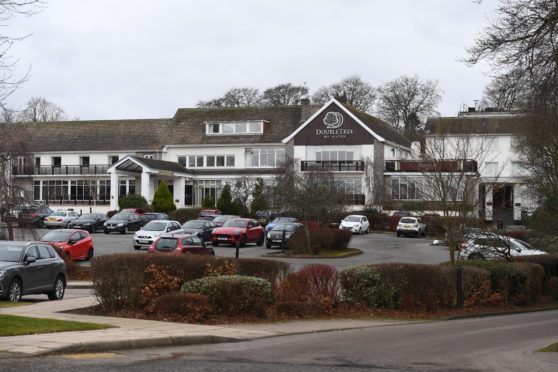 Dozens of workers have been made redundant and scores of events left cancelled following the sudden closure of a long-standing "landmark" Aberdeen hotel.
The Treetops Hotel on Springfield Road shut its doors yesterday, with bosses blaming the devastating move on "difficult trading conditions".
It had been operating as a franchise of global hotel chain Hilton's DoubleTree brand, though customers were informed last month the branding was being removed.
They were told the hotel would continue as an independent venue but have now spoken of their "shock" at its immediate closure instead.
The Treetops first opened in 1964 and has been a mainstay of the city's hospitality sector ever since.
Its owners said the hotel has ceased trading with "immediate effect," adding they are considering the possibility of re-opening under new management.
Should it find a second life as a going concern, however, it would do so with a new workforce.
Jayne Groundwater, the Treetops' former events coordinator, said more than 70 members of staff were called to a meeting where they were told to pack their things and "not come back".
She wrote online: "Devastation, confusion, sadness and anger are just some of the emotions we are feeling, as we have to put our lives on hold.
"With no legal advice being provided and little communication from the company we are at a standstill.
"Ultimately all 70-plus staff are now unemployed with little hope the hotel will continue to trade."
Heartbreak over sudden closure
Scores of customers have been left heartbroken and "in the dark" over the hotel's closure.
Bride-to-be Katie Richards was due to tie the knot with fiance Colin at the Treetops in August.
She said: "They emailed me at the end of last month saying it was going to be refurbished and would no longer be a Hilton.
"But they said there was no reason for concern and the wedding would be fine.
"I've paid everything up-front so I'm concerned I might have lost all my money – we have a four-year-old son and scrimped and saved for the last five years to afford this wedding.
"I'm absolutely distraught by the news. I don't know what's happening.
"There will be plenty of other people with weddings booked too. It's a disaster."
Darron Lornie paid the hotel a deposit ahead of his wedding to fiancee Gillian Watt in July, but has since run into difficulties trying to contact the event organiser booked through the venue.
"My fiancee has sent emails and they're bouncing back," he said. "It's just ridiculous, we've had no communication at all."
The couple have since moved their special day to the Douglas Hotel.
Businessman Iain Gosling said he was in "total shock" at the news of the closure.
He has run a regular antiques fair at the hotel for the last 30 years but severed all ties with the venue yesterday.
Mr Gosling said: "I heard what was happening through the grapevine and cancelled everything.
"I can't take a risk on this as I have a small business.
"Nobody has bothered to contact me, I'm totally devastated by this.
"The antiques fair has been an integral part of the city for a long time so I'd like to find another location. But just now, I'm in limbo."
The future of Austin Crow's Feel Like Dancing special needs discos was also left unclear following the announcement.
Jane Johnston, a friend of the Crow family who helps organise the events, said: "The Treetops has been wonderful to us.
"I've been involved in the discos for about 15 years and I think the last 10 have been at the Treetops.
"It's devastating as the staff were so handy and welcoming to the needs of our clientele, which includes people from 16 to 70 years old with all kinds of special needs."
The group has been able to move its all of its bookings to the nearby Palm Court Hotel, with its Valentine's Day disco taking place there from 6.30-9pm on Sunday.
Many other city hoteliers have reached out to affected Treetops customers with special deals, offering them a replacement venue for their cancelled events.
A spokeswoman for the Palm Court Hotel said: "While we acknowledge the various hardships faced by hotels, restaurants and really businesses of all shapes and sizes in Aberdeen recently, our primary concern lies with the many hundreds of customers who will be acutely affected by this closure."
Stephen Gow, general manager of the Chester Hotel, said: "No-one in the hotel industry wants to hear of people having bookings cancelled and we will do everything we can to help those who may be affected.
"Coming in the wake of so many hotels recently experiencing extremely challenging times, it is important that we as a hotel industry work together to protect the future of quality tourism and that we work with local authorities and governments to give us an enabling framework in which to operate."
The Treetops' glamorous beginnings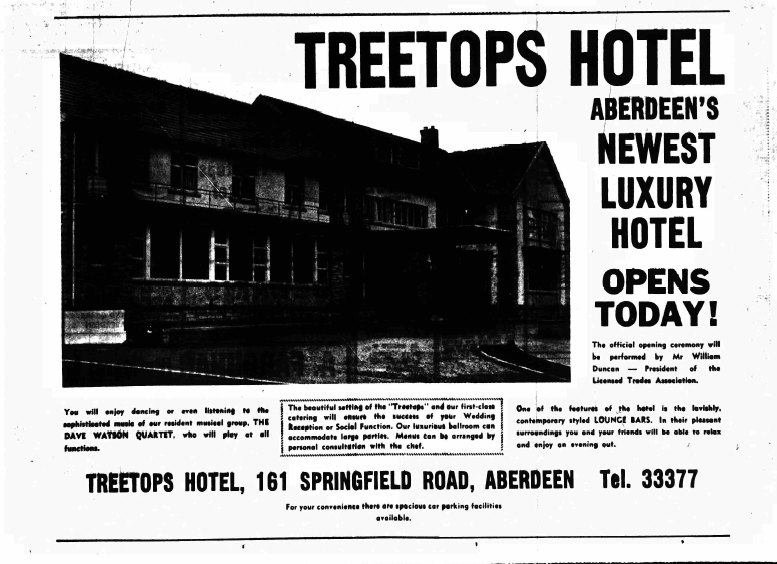 The Treetops Hotel opened to much fanfare and the "melodious, exciting pop of champagne" in 1964.
Advertised at its launch as Aberdeen's newest luxury hotel, it boasted "lavish" lounge bars, first class catering and a luxurious ballroom.
It remained one of the most exciting places in the city for decades, with scores choosing it for glitzy and glamorous events of all kinds.
The Treetops was also a favourite of the oil and gas industry, with firms regularly paying for employees to spend the night there before making their way out into the North Sea.
Reporting its grand opening in April 1964, The Press and Journal described its "impressive hygiene" and "abundance of amenities" which were perfect for "a quiet read, rest, chat or tete-a-tete among the flowers."
It said: "Cupid should have plenty of dart practice here, for the conservatory is easily reached from the ballroom and lounge.
"Just the kind of place to put a ring in a man's voice."
The hotel also boasted that "several" of its 25 rooms had private bathrooms and their own radio, and that residents could arrange for a portable television to be sent up for reception.
Former hotel chain Stakis took over the facility in 1984, investing thousands of pounds in a refurbishment to give it a "fresh mantle of elegance."
It matched its new "soothing rose-pink theme" with "restful tape music" piped in through the corridors.
The owners also kept up to date with the latest trends, installing a disco bar where residents could drink and dance in the same place and decking out rooms with Laura Ashley cushions and curtains.
It also introduced the concept of "female executive rooms", which came complete with "thoughtful little luxuries" including flowers, fruit, shortbread and cotton wool – and security-locked doors with "spy glasses" so guests could see who was knocking.
The Treetops changed hands again in 1999 when the Stakis hotel portfolio was purchased by global chain Hilton. It later rebranded as a DoubleTree.
Its most recent refurbishment came in 2010 when £350,000 was invested to revamp 23 bedrooms and overhaul its lobby, reception, restaurant and ballroom.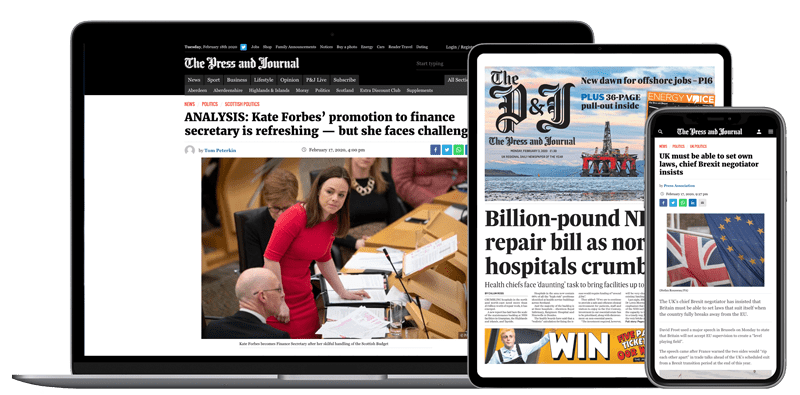 Help support quality local journalism … become a digital subscriber to The Press and Journal
For as little as £5.99 a month you can access all of our content, including Premium articles.
Subscribe