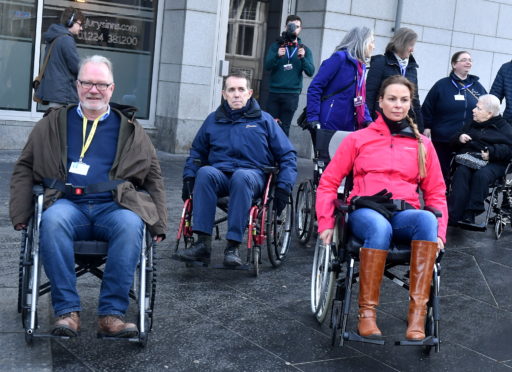 Five councillors were challenged by a local charity to make their way through the busy city centre in wheelchairs.
Councillors Marie Boulton, Steve Delaney, John Cooke, Sarah Duncan and Claire Imrie were invited by Future Choices to test the difficulties which wheelchair-users face every day due to Aberdeen's infrastructure.
However, Ms Duncan and Ms Boulton were not present.
The charity first challenged councillors in 2017 and members at the time said they would look into the issues.
The city leaders were guided from Union Square to Carmelite Street, through The Green, struggling uphill on Market Street before crossing the busy Union Street and reaching the Town House.
They hit snags along the way such as loose cobbles, uneven pavements, narrow scaffolding and a number of potholes.
At the end of the challenge Mr Cooke said: "It's fair to say I struggled immensely, but I'm really glad I did it because it gives you a completely different perspective on what it's like to be wheelchair user.
"Someone can write to you or you could be looking at a planning application, which says it includes a ramp – but actually doing it is really different.
"Even the smallest bump in the road caused major issues.
"Anyone making policy decisions, or involved in planning, I would urge them to do this kind of thing."
Ms Imrie said it was "a lot more challenging" than she anticipated and confirmed she will be "taking on board" the comments of those affected by the city's infrastructure.
Mr Delaney, who took up the challenge for the second time, said: "I found it every bit as much of a challenge this time as the last time."
Charity founder and chairman David Forbes said he was "worried" the challenge "will be forgotten" about after yesterday's events.
He added: "There are looming budget cuts and we're working to stand up for people with disabilities. I'm worried this will be forgotten about after today.
"The first time we did this exercise it was successful, but as we just saw, nothing has changed. And it's disappointing, and I'm hurt, to see the two empty wheelchairs reserved for the remaining councillors."
Wheelchair user Ean Watt, 32, said he's concerned "nothing is going to change" after the councillors concluded their challenge.
He said: "I'm happy that they did this, and they did it in wheelchairs that aren't as easy to move in.
"It gives them a small taste of what we have to face everyday.
"I wish I could take the councillors out with me and let them see what my everyday is like – go food shopping, go to the gym and try to get home.
"But I'm worried nothing is going to change – they did this the last time three years ago and nothing has changed."
Mr Watt said the biggest recurring issue he deal with is maintenance.
He said: "Securing loose cobbles, drain covers that have been removed and dog mess.
"I've fallen over because of a drain cover left open.
"It's hard to see what's right in front of me sometimes so if I'm not careful, people who leave their dog mess just winds up on the wheels.
"I've had my hand sliced open from broken glass bottles.
"But it's the little things like proper street lighting during the winter night and potholes."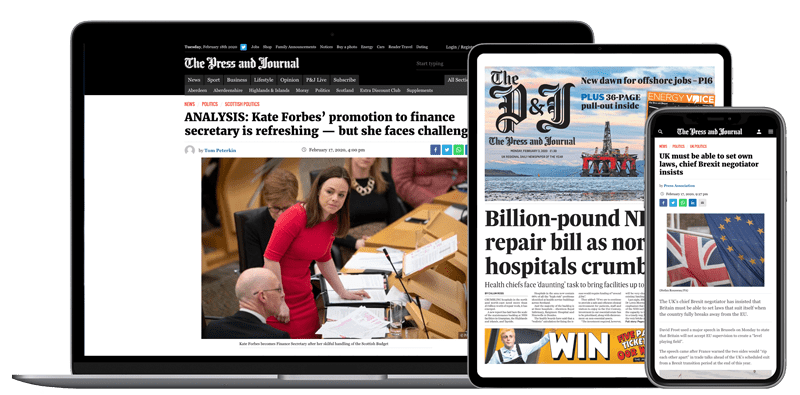 Help support quality local journalism … become a digital subscriber to The Press and Journal
For as little as £5.99 a month you can access all of our content, including Premium articles.
Subscribe