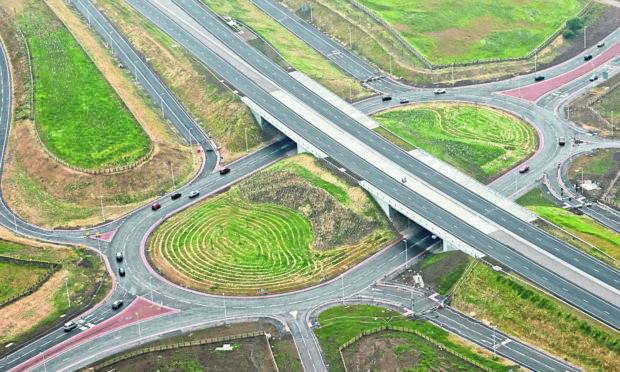 Lorry traffic in parts of Aberdeen has been more than halved since the opening of the long awaited city bypass, a Scottish Government body has claimed.
To mark the first anniversary of the opening of the £750 million AWPR today, Transport Scotland has released a snapshot of its studies into heavy goods vehicle (HGV) traffic in the city.
Depending on the location, HGV traffic along the A92 corridor through Aberdeen has reduced between 49% and 61% when comparing January to June 2019 data with comparable 2014 figures.
It was predicted the traffic would reduce by 20 to 36 per cent.
Transport secretary Michael Matheson said: "The benefits of the project are plain for everyone to see, enhancing the quality of life for tens of thousands of people.
"This is supported by initial reporting which shows a reduction in congestion through the city, including areas which are susceptible to congestion such as the Bridge of Dee, where there has been noticeable reductions in queue lengths and duration.
"The AWPR is also providing the local authorities with an opportunity to improve and expand public transport and active travel, as traffic has been moved to a more appropriate route."
Aberdeen has long struggled with air pollution from lorries going through the city centre.
In January, it emerged 3% of all deaths in the Granite City in 2017 were down to deadly air pollutant PM2.5.
Several streets across the city breach air pollution guidelines and the local authority is introducing a London-style Low Emission Zone (LES) in the coming years to tackle the problem.
Martin Reid, director of the Road Haulage Association Ltd, added: "The Aberdeen Western Peripheral Route has seen benefits to freight movements in the north-east."
In November, it emerged that the opening of the route had led to a reduction in city centre traffic of 50%.
Figures released by Transport Scotland at the same time also found key journey times had been reduced by half, even during rush hour, through the 36-mile AWPR route between Stonehaven and south of Ellon.
Completion dates for the much-anticipated project varied wildly over the course of the construction – in 2014, it was estimated the entire bypass would be open to traffic by the winter of 2017.