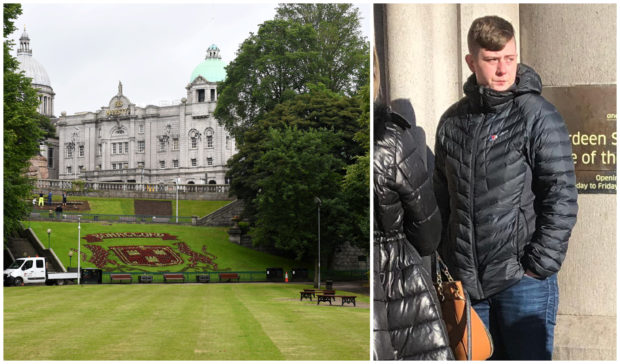 An Aberdeen woman has admitted involvement in an "aggressive" street attack which left two people in hospital – and caused a prominent songstress to be late taking the stage.
Musician Eddi Reader had been walking along Union Terrace on April 20 last year when she happened upon the incident involving a "marauding" gang of around 50 youths.
A 44-year-old man suffered serious injuries, while a 17-year-old girl was also hurt in the fracas.
I don't want anything to harm the police doing their work- so I won't go near any deeper detail until I'm allowed to. Suffice to say I had an AMAZING time at my sold out gig- standing ovation and a thrilling musical experience- That little incident does not define Aberdeen.

— Sadenia Eddi Reader (@eddireader) April 21, 2019
Yesterday Courtney Maule, 21, pleaded guilty to playing a part in the incident.
Fiscal depute Brian Young said: "At around 8pm the complainer and a number of others were in Aberdeen to attend a concert.
"Around this time a group of youths were within Union Terrace Gardens.
"They started shouting insults at the complainer and an altercation arose."
At the same time Maule had been a passenger in a car travelling along the neighbouring Union Terrace and saw the melee unfolding.
Some of those involved ran up and asked for her help. Maule became "agitated" then approached the 17-year-old girl, the court heard.
Mr Young said: "She walked straight over to the complainer, pulled her up to the road by her hair and punched her numerous times, causing her to fall to the ground."
The girl was left with cuts and bruising and was taken to hospital along with a 44-year-old man.
Solicitor Lynn Bentley said Maule has stayed out of trouble since being locked up for a brief spell last year.
"Since that time she has not been charged with any other offences," she explained.
Maule, of Seaton Place East, also admitted a charge of malicious mischief, where she caused almost £1,200 of damage by kicking a car parked on Exchange Street on March 28.
Sentencing was deferred until next month to allow for the preparation of social work reports.