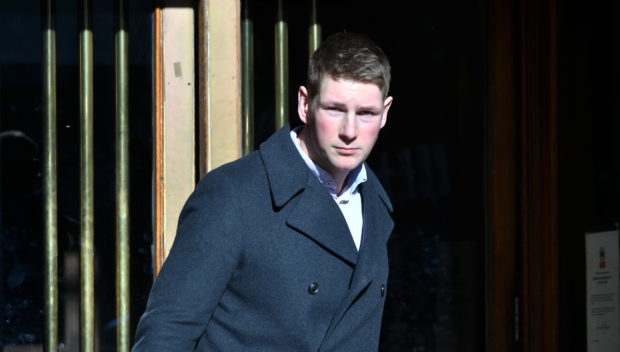 A speeding drink driver attempted to strangled a female police officer after being stopped in Aberdeen.
The officer and a colleague were in an unmarked vehicle when they spotted offshore worker Ryan Gunn driving at 50mph on a 30mph road.
More than three-times the legal alcohol limit at the time, he attempted to make off, believing his pursuers meant him "harm".
The 24-year-old appeared at Aberdeen Sheriff Court yesterday and pleaded guilty to dangerously driving and at excessive speed on Great Northern Road and St Machar Road on November 10 last year.
He also admitted failing to comply with a red traffic light, taking bends at excessive speed and overtaking when it was unsafe to do so.
When caught by police, Gunn assaulted Detective Constable Kayleigh McLean by pinning her to the ground, seizing her by the neck and compressing her neck.
Fiscal depute Alan Townsend said: "A female police officer was forcibly pinned to the ground and he applied pressure to her neck.
"The other officer was able to release the accused's grip."
Gunn, of Linksfield Road, Aberdeen, subsequently gave a positive breath test.
He had 83 micrograms of alcohol in 100 millilitres of breath. The legal limit is just 22mcg.
His solicitor, Gregor Kelly, said: "To his credit, he has turned his life around.
"In November, he was bored and drinking because he was struggling to find a job.
"He was drinking with a friend on the night in question and made the poor decision to drive."
Mr Kelly added that Gunn accelerated away from the officers in the unmarked vehicle because he "thought it was someone that meant him harm" and he was not "thinking rationally".
The solicitor called Gunn's actions a "moment of madness".
Sheriff Ian Anderson said: "No doubt what you did was very foolish and you may regret it.
"But more than that, it was criminal. Especially attacking a police officer.
"Police officers require to be protected by the court and will be protected by the court."
Gunn was placed under social work supervision as an alternative to custody, ordered to carry out 120 hours of unpaid work and given a £900 fine.
He was also handed a two-year driving ban and ordered to pay £100 compensation to the police officer.