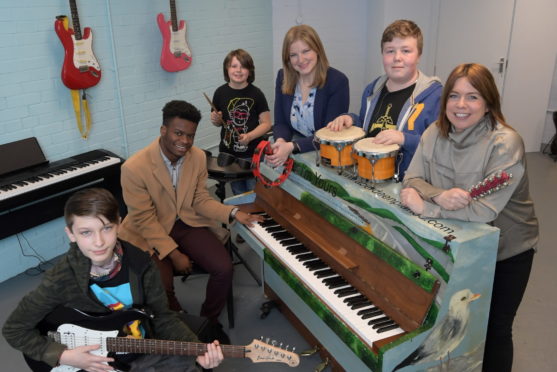 An Aberdeen initiative is hoping to get rid of the barriers young people face when it comes to learning music.
Fersands and Fountain unveiled their new community project last night, having transformed an old basement into a brightly coloured music facility.
Based in Woodside, the musical initiative will provide young people with access to a variety of instruments and professional tuition.
The successful renovation was able to take place thanks to a £25,000 donation from the STV Children's Appeal and with support from the 2019 Aberdeen Kiltwalk fundraising campaign.
Many of those working at Fersands and Fountain are former visitors to the centre and have personal experience of its positive impact on children's life chances.
Mark Lovie, coordinator of the community project, said he hoped it would be a space everyone in the community can enjoy.
"Music can be quite an expensive hobby and so we are trying to get rid of barriers and make it easier for people to get into that hobby," he said.
"It's another safe space that young people can meet in and express themselves. We are very pleased with the transformation.
"In a vibrant and busy community like this, we need more spaces to congregate."
Joy Branda attended the project for six years after moving to Woodside from Malawi.
The 17-year-old is now studying architecture at RGU and says the initiative helped him feel at ease in the community.
He said: "It generated bonds and helped me settle in. It is more than just music.
"I think the new transformation will attract other people to join."
Kacper Remer, 16, who has been attending the centre for nearly two years added: "It's a great place.
"Whenever you're bored or upset you can come here, have fun and it is something to distract yourself with."
STV News Presenter Sharon Donaldson also attended the grand unveiling of the new music facility to cut the ribbon.
Community worker for Fersands and Fountain, Claire Whyte, said the new facility was a "fantastic opportunity" and would "mean a lot to young people".
"It's a good opportunity for people to show their skills, especially if they're not academic," she added.
The charity is hoping that the new music space will support the next generation to continue to have fun and gain new skills amidst difficult family or personal circumstances.