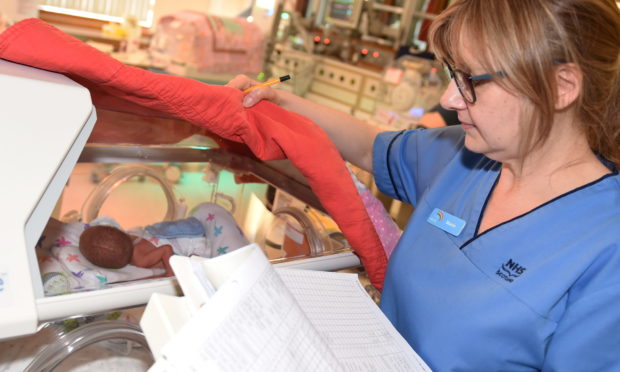 "What are you still doing here, take your baby and go home," says Dr Saulius Satas, motioning to the secure door exit.
"Shoo, shoo, I don't want to see you in here again."
He turns on his heels and strides down the ward, ready to see the next patient.
In just a few short hours, we have become used to his mock crossness and entertaining quips; we give a cheery wave before proudly wheeling the cot down the corridor.
It is March 10, 2018 and my son has just spent two days in the neonatal unit at Aberdeen Maternity Hospital.
His brief visit is but a drop in the ocean in comparison to babies born prematurely who may spend several months on the ward.
Our son is a healthy weight, but needed resuscitating at birth.
The incredible team, led by consultant neonatologist Doctor Satas, sprang into action and stabilised our baby within minutes.
Were you to not know Dr Satas, you might believe his outburst to be rude.
He is in fact charmingly eccentric, and well liked on the unit by staff and families.
His sparkling humour, endless selection of jokes, and no-nonsense approach brings fun and laughter during a difficult time for new parents.
Fast forward two years and Dr Satas is now sitting opposite me, wearing his standard uniform of black chinos and a shirt.
"You saved my son's life," I tell him, feeling the lump form in my throat.
He smiles and shrugs off the accolade, it's nothing he hasn't heard before.
Around 900 babies pass through the unit every year, and Dr Satas is on call 24 hours a day.
The neonatal unit opened in 1988 following a fundraising campaign by what is now called Friends of the Neonatal Unit.
The passing years have seen huge advancements in technology, changes in techniques, further research and developments in medicine.
Babies born at 23 weeks are now not only surviving but flourishing, thanks to the work of the neonatal unit and the charity that supports it.
Over the steady march of time, there has remained one constant – the enormous appreciation of families.
Thank-you cards adorn notice boards, and photographs of former patients who are now cheeky toddlers have been framed on the wall.
It is quiet time when I arrive on the ward, a magical two hours of muffled silence.
Between 1pm and 3pm, noise is kept to a minimum – which is an achievement in a hospital environment.
The blinds are drawn on each ward and the lights are dimmed in a bid to help the brain development of these very special patients.
A brief glimpse shows the outline of parents crouched over cots, fingers clasped by tiny hands, and the gentle stroking of downy hair.
Families are encouraged to be heavily involved with the care of their baby, be that mastering tube feeding, the delicate process of a bed bath or expressing milk in a private room.
Dr Satas believes it is partly this approach which enables families to feel heard at a time when control has been taken away.
From Lithuania, he now lives a three-minute drive from the hospital.
"My contract says I can live half an hour away. I'd love a little cottage in Aberdeenshire," he says.
"But I know I wouldn't feel comfortable doing that.
"I am happiest living round the corner, so I can be here quickly."
"I don't mind it at all, because my job is incredibly rewarding."
He makes light of his complex work, having taken up his post five years ago.
"If something is wrong and you solve that problem, babies will fix themselves," he says.
"I am never surprised, because babies by their nature are unpredictable.
"Especially 23-weekers, they have this enormous will to get better.
"We just guide them.
"We take a very different approach in comparison to other units where I have worked.
"That means the parents are part of the care.
"So we call mum and dad by their first name, we ask their opinion.
"Then I tell them how I feel about things, what I expect to happen.
"I try to keep the mood up in here, it's what I do.
"I am very open, and I say exactly that to parents.
"I am going to be open and straight with you.
"If things are going right, I will tell you.
"Honesty is really important, especially if things are going wrong.
"Creating trust in those circumstances it is a vital thing."
For each of the many miracles which occur on the ward there are babies who do not survive.
I ask Dr Satas how he copes in these situations, when he must take parents to one side and explain that there is no hope.
He is quiet for a moment, and doesn't disguise his sadness.
"I do not believe you can train yourself to not be impacted by these situations," he says softly.
"Do I grieve? Yes, I grieve in private."
Although the majority of babies come to the unit because they have been born prematurely, the team also deals with babies who may need surgery, are fighting infection, or are oxygen dependent.
There is space for 34 babies in total, with 10 incubators in the intensive care ward – where it is one nurse to one baby.
There are five incubators in high dependency, with the rest spread over special care.
Alongside consultants there are five clinical senior charge nurses, who each lead a team of 25 – with roughly 110 staff in total.
The team works on a 12.5 hour shift basis, with three weeks on day shift and two weeks on night shift.
Despite treating thousands of babies, Dr Satas can still recall memorable cases.
"There are one or two patients," he says with a wry smile.
"They were sitting on the fence, I didn't know if they would pull through.
"Then I see them again at the age of two, and they are absolutely perfect.
"That is worth something."
Senior charge nurse Aileen Duncan has worked at the neonatal unit since the very beginning, having started out as a midwife.
"We were all midwives in those days, now people come from paediatrics and receive further training before coming here," she says.
"I used to wear a white dress and a cardboard hat.
"There have been so many changes; we're seeing babies that are far more premature.
"We're also keeping these babies alive, and they are going home quicker.
"When I first started, a baby born at 28 weeks probably wouldn't go home for six months.
"Now they spend around 12 weeks with us."
Aileen can be present at a premature birth before following the family on their journey.
She believes this is one of the most rewarding parts of her job.
"If we know there is going to be a pre-term delivery or a complication, I am asked to attend," she says.
"This means I can go back to mum and tell her: 'I was there at your delivery.'
"I'll say: 'You may not remember me but I was there when your baby was born.'
"Once that baby goes home, I can visit up to three times a week, I love that.
"One case will always stand out to me.
"It was 28 years ago, and a little boy was born on Skye.
"He had undiagnosed exomphalos, meaning his intestines were born outside his body.
"He was transferred by helicopter, he was a very sick little boy.
"And by the time he was ready to leave, he was going up and down the ward using a walker.
"His mum still keeps in touch with me, she wrote to tell me he is getting married.
"I cried when I had to say goodbye to him.
"When a baby doesn't survive, I think one of the most difficult things is that this little person has only just arrived in this world, before they are taken away.
"We are guided by the parents as to how they want things to be.
"We offer something called Remember My Baby, where a photographer comes in.
"We can offer a blessing or a christening, it's whatever the parents want."
Families can be supported by the on-ward counsellor, both during and after their stay.
For first-time mum Hayley Forsyth a stint on neonatal never crossed her mind.
Her daughter Rosie was born at 25 weeks and five days just before Christmas last year, weighing only 1lb 9oz.
Amazingly she was breathing by herself after she was delivered by emergency c-section.
It is hoped she will be able to go home to Bridge of Don by the end of the month – to coincide with her due date.
Hayley had pre-eclampsia, which causes high blood pressure and protein in urine.
"On the 18th of December, my face felt puffy," she says.
"Rosie was born on the 22nd, we had to go to Dundee because neonatal was so busy.
"We were transferred back here in January.
"We hope to get out around her due date, which was March 31.
"There is light at the end of the tunnel.
"I normally stay at the unit all day; the worst thing is leaving Rosie at night.
"But the staff do such an amazing job here.
"We had our first cuddle on Christmas Day, and Rosie has just had her first bottle.
"We celebrate all these little milestones.
"Getting to take her home, I can't describe that.
"It will honestly be amazing."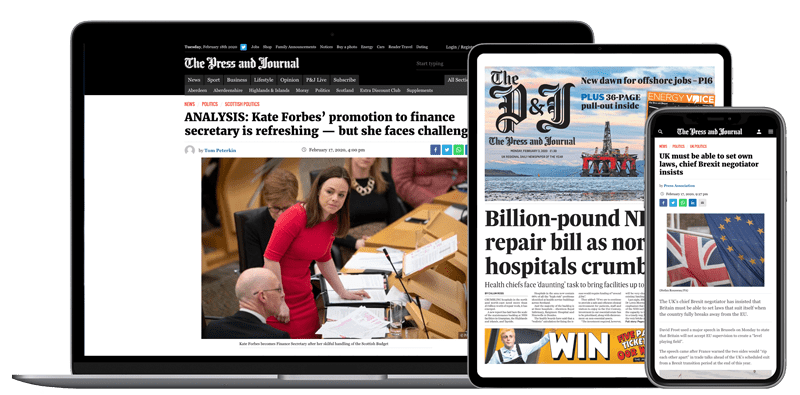 Help support quality local journalism … become a digital subscriber to The Press and Journal
For as little as £5.99 a month you can access all of our content, including Premium articles.
Subscribe