A 79-year-old man has been arrested for the alleged murder of Aberdeen doctor Brenda Page more than 40 years ago.
The 32-year-old was a leading geneticist at Aberdeen University when she was found dead at her home on the city's Allan Street on Friday, July 14, 1978.
Her death has become one of Scotland's oldest and most notorious unsolved murder cases, with no arrests made for almost 42 years.
A cold case inquiry was launched in recent years, in the hopes of finally making some progress.
And today, investigators confirmed that a pensioner had been arrested on suspicion of murdering the talented scientist.
Detective Inspector Gary Winter marked the milestone development by appealing for anyone with "relevant information" to come forward as the inquiry continues.
He said: "I would like to appeal to anyone who believes they may have information relevant to the inquiry, and has not previously come forward or been seen by the police.
"I would also urge any previous witnesses from 1978, or from the subsequent review from 2014 onwards, who have changed contact address or telephone numbers to get in touch and update us."
Dr Page was living alone at the time of her death, having divorced her husband six months earlier.
It later transpired that she had been discreetly accompanying wealthy businessmen on dinner dates to supplement her income.
Speaking at the launch of a fresh appeal in 2018, her sister Rita Ling said that it remained painful to think about the things Dr Page would have "undoubtedly achieved".
She said: "Forty years have passed since Brenda was found and not a day goes by when we don't think about her.
"Brenda was an extremely intelligent woman with her whole life ahead of her. It pains us to think of the great things she would have undoubtedly achieved."
At that time, DI Winter said a cold case review had "generated a lot more information" since being launched in 2015.
He said: "I spoke to Brenda's sister, Rita Ling. She has waited 40 years for justice. She hopes to get justice while she is still alive, which we hope as well."
The senior investigator added that the renewed effort encompassed a "full review of all material previously gathered, witness statements, forensic material, and productions that were captured at the time".
On top of the 2,500 statements obtained from the original inquiry, the new probe generated a further 800 within three years.
A new podcast, Black Gold, was launched by The Scottish Sun, and former Evening Express reporter, Ruth Warrander to document the case last week.
Secret double life of Aberdeen doctor at heart of murder probe
Revelations about Dr Page's double life have ensured that the case has lingered long in the memory of people across Scotland.
Dr Page, originally from Ipswich, worked at Aberdeen University for five years between 1973 and 1978.
She was described as a "brilliant scientist" who was "well liked by her colleagues".
One said that she "was really quite delightful to speak to, and seemed courteous and gentle".
In the days after she died, 35 detectives and 50 uniformed officers patrolled the Broomhill area carrying out inquiries.
Less than a week later, the Press and Journal reported that Dr Page had been leading a so-called double life as an escort girl.
It emerged that, for two years, she was on the books of a commercial agency, which was based in Edinburgh but operated in Aberdeen as well.
The Granite City was an attractive market for such a service, as it had become the oil capital of Europe and was teeming with wealthy businessmen.
On the last night of her life – Thursday, July 13, 1978 – the geneticist had left her laboratory and headed out for dinner at at the city's Treetops Hotel with two clients.
She left the hotel alone and drove home in her beige Mini, arriving at her flat at around 2.30am.
Two of her colleagues turned up at her Allan Street home the next day when she didn't appear at work, and persuaded a neighbour to let them in with a spare key.
They discovered Dr Page lying dead in her bed.
Her neighbour, Elizabeth Gordon, never returned to the block of flats after Dr Page's death such was her torment.
Police soon eliminated the two businessmen from their inquiries but the revelation of her escort work added interest to the case.
An article in the P&J, published a year after her death, said one of the key questions facing investigators was "why was a woman like Dr Page – highly respected in her profession – an escort at night?"
The boss of the agency, Capital Escorts, said she joined because her life was "friendless and lonely".
THE TIMELINE
July 13, 1978: Dr Page leaves work and goes out for dinner with two businessmen at an Aberdeen hotel
July 14, 1978: Two concerned co-workers persuade her neighbour to allow them entry to her flat, after she did not appear at work. They find her dead body.
July 28, 1978: Dr Page is buried in the Suffolk countryside, just outside Ipswich.
July 29, 1978: Revelations that Dr Page worked as an escort at night emerge.
August 2, 1978: Police divers scour the River Dee for clues as the investigation ramps up.
June 20, 1980: The murder investigation is shelved, with police inquiries ceasing and it being classified as "unsolved".
February 19, 2004: Detectives raise hopes that new DNA techniques might help solve the case.
November 29, 2011: A special "cold-case" unit is set up to help police in the north and north-east tackle unsolved murders and other serious crimes.
February 28, 2015: Police confirm that detectives will reopen the case, 37 years on.
July 10, 2018: As the 40th anniversary of Dr Page's death approaches, her sister says she "wants to see justice done in her lifetime" and police launch a new appeal for information.
March 17, 2020: Police confirm the first arrest in connection with the scientist's death, as a 79-year-old man is apprehended.
The police's inquiry team can be contacted by calling 101 and quoting reference number 479 of March 17, or by e-mailing SCDHOLMESAberdeen@scotland.pnn.police.uk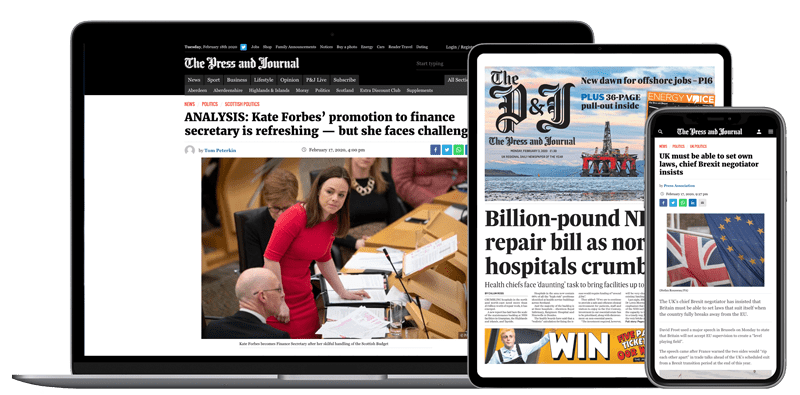 Help support quality local journalism … become a digital subscriber to The Press and Journal
For as little as £5.99 a month you can access all of our content, including Premium articles.
Subscribe