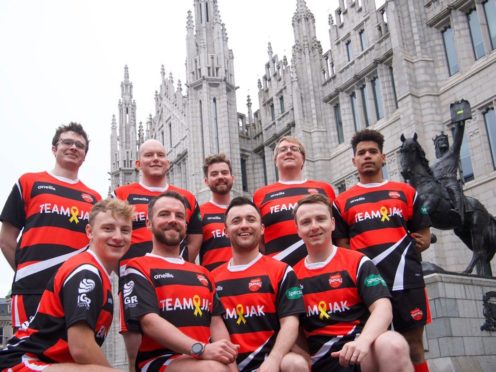 The Granite City's LGBT rugby team is reaching out to the people of the north-east.
Aberdeen Taexali has developed a tactical plan in the wake of coronavirus to help support its fans and the wider community.
Members of the team will engage with people, particularly those in isolation whilst offering practical support to those in need.
The team has recently just taken home its first trophy, as part of the Hadrian's Cup, but will now deliver essentials to those in need.
As a club they will also regularly check in over the phone on players in isolation and undertake both a morale boosting online campaign including posts and updates to help followers keep fit, entertained and engaged from their sofas and a social campaign to promote local business.
Chairman Joe Burnett said: "Aberdeen Taexali has quickly established itself as a recognised and well-respected part of the LGBT community in the north-east of Scotland.
"We couldn't have achieved what we have, in our short 18-month history without the support and belief from all our players and supporters.
"We need to take advantage of the community we have built, for the next few months are going to be undoubtedly difficult and challenging in unprecedented ways."
It comes after Scottish Rugby decided to suspend the current domestic season in response to the deadly respiratory illness.
Mr Burnett added: "As the north-east's first inclusive rugby club, with a growing and loyal fanbase, we have a unique platform to connect with people of all ages, from all backgrounds across all parts of the city region and beyond.
"We now hope to use this powerful position to motivate the community through content that entertains, educates and puts at ease all those affected, in any way.
"Just like in rugby, the key to success is support, so we encourage anyone who is going through a difficult time, no matter how silly you may feel, to reach out to us."