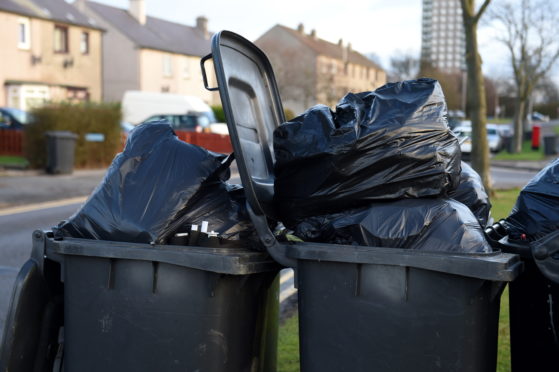 Recycling and brown bin collections are to resume in Aberdeen, but on a four-weekly cycle to ensure crews can comply with social distancing.
The city council temporarily suspended the service last month while it drew up new plans to ensure workers could stay safe amid the coronavirus pandemic.
Yesterday it announced a new schedule for kerbside collections, with general waste collected fortnightly and others once every four weeks.
Brown bins will next be picked up in the weeks beginning April 6 and April 13, with mixed recycling collected in the weeks beginning April 20 and April 27.
After these initial collections, the crews for these will switch to making these rounds once every four weeks.
The city council has drafted in new staff to help with the collections and implemented a new way of working.
Typically each lorry will have a driver and two crew members joining them in the cab, but the new system will have just one person accompanying the driver.
If a third person is required, they will follow the vehicle in a separate van.
A council spokeswoman said: "The waste and recycling collection service has also been impacted by increased absence levels due to people self-isolating and while staff from roads and environmental service are assisting, there is still an impact on bin collections.
"There are 80,000 households which have kerbside collections in Aberdeen.
"The new ways of working are designed to protect staff by ensuring social distancing in the waste collection vehicle cabs however the consequence is collection operations are slower."