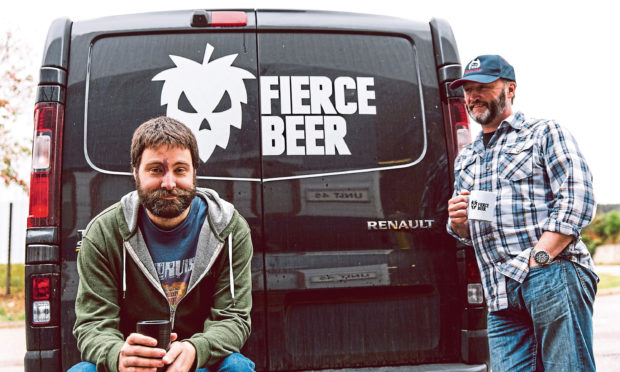 An Aberdeen brewery refused a government loan by its bank to help it through coronavirus generated more than £155,000 in just one day from more than 2,300 loyal fans.
Fierce Beer, based in Dyce, was established in April 2016, and has gone from making beer in kitchens to exporting its products to 18 countries around the globe, and two bars in Aberdeen and Edinburgh.
But with the ban on pubs and bars opening to reduce the spread of the coronavirus pandemic as well as other restrictions, the business was hit with an 80% drop in revenues.
To help keep the company going, Fierce managing director Dave Grant said he approached the brewery's bank in order to secure a loan through the government's Coronavirus Business Interruption Loan Scheme, but was turned down as it deemed the brewery and bar business "not financially viable".
In response, Mr Grant and the team launched an online "pay it forward" project to raise cash and help secure the future of Fierce's 24 employees.
Starting at a minimum of £30, for every £1 supporters contributed to the fundraiser, they would receive £1.50 back to spend at the brewery's bars when they reopen, or on the website.
And in under 48 hours, the independent brewers generated £155,920 from 2,373 supporters.
Mr Grant said he and the team have been left "absolutely shocked" by the goodwill and support shown to his business, and is confident they will now be able to keep going for the foreseeable future.
Mr Grant said: "As part of the Covid-19 loan scheme the government had set out, we applied but our bank told us we weren't viable.
"They've been the same bank we've used for the past five years, but they told us absolutely not.
"We looked at releasing some equity by selling off parts of the company, but we decided to go with this pay it forward scheme instead.
"We've got a whole bunch of new supporters and they're getting a decent deal – we're not hugely benefitting in the long run, but we're able to get cash in early."
Mr Grant added: "Everyone is pretty shocked. It's been an outstanding, emotional few days as we couldn't have possibly imagined we would have done this well and have had so many people supporting us.
"It's been a great showing of support and it looks like people like what we're doing.
"We've had to put a lot of people on furlough – of our 24 staff 21 of them are furloughed right now so they get to keep their jobs.
"This money definitely will help us because if the other financial measures the government has indicated don't come to pass, then we could have been in pretty dire trouble."