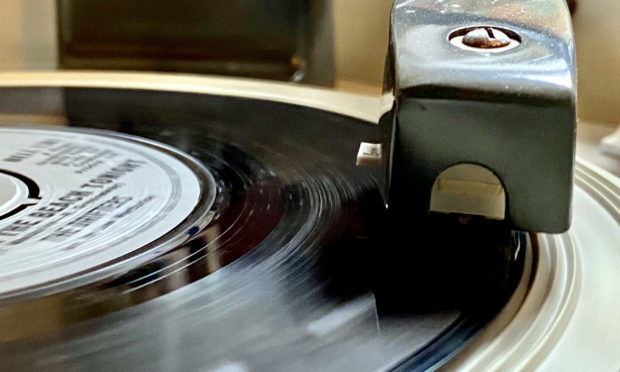 Bob Smith gently holds the disc, his fingertips pressing against the rim as he lowers it on to the turntable.
There is a pause as he moves the tonearm into position, and the needle rests in the groove.
A brief silence; the air seems to shimmer with expectation and Bob grins in readiness.
He has perfected this move over the decades, and yet the moment will never grow old.
Volume knob cranked up just that bit too high, and the classic vocals of The Beatles echo around the market.
A few people jump in surprise and Bob waves his arm in apology before adjusting the sound.
Satisfied, he returns to the shelves and begins flicking through his pride and joy – scanning sleeves for the most eye-catching design.
It is rarely silent in Aberdeen Vinyl Records, which can be found in the market just off Union Street.
The modest shop has been running since 2015, and what it lacks in size it more than makes up for in character.
There is no fancy lighting or stylish seating, but Bob has amassed a dedicated tribe of customers.
They come rain or shine in a bid to get their fix, be it a rare collection or all-time classic.
"Vinyl is an addiction. You could say I'm the dealer for those who just can't kick the habit," says Bob with a chuckle.
"There could be a nuclear war and those who love vinyl would still turn up at this shop, that's the kind of passion it inspires in people."
Thanks to a resurgence in vinyl, in part due to the next generation buying records once more, Bob was busier than ever prior to the Covid-19 lockdown.
He now runs a virtual record shop online and posts records out to customers.
It was not so long ago that records sold for mere pennies, and were considered by many to be a relic.
Vinyl was out, tapes, followed by CDs, were in.
It would seem that fashions have once again come full circle, with youngsters opting for the tangible touch of vinyl – as opposed to the practical yet clinical act of streaming music online.
Is it the nostalgia, the sound or the thrill of discovering a dusty record just aching to be played that means LPs are spinning once again?
We spoke to four people who are passionate about vinyl in a bid to find out.
Bob Smith owner of Aberdeen Vinyl Records
There has been a huge increase in the number of people buying vinyl.
That's partly because there is so much nostalgia for the format.
People over the age of 40 can remember records first time round.
There are always people who never lost the faith, and they feel it's OK to come out of the woodwork now.
If you compare vinyl and streaming, well, there is no comparison really.
You invest in a record in every possible sense.
From the moment you pick it up, you can see the history in the label.
There are so many fantastic covers, and you physically have to play a record.
You don't just select a track on your phone and carry on with whatever you're doing.
I think it's a different experience for collectors; collecting is different from listening. Some people collect vinyl like you'd collect matchbox cars.
The psychology is different.
I always find it fascinating when I buy a collection, because you can chart someone's musical history.
You can chart their growth and see how their taste has developed.
A record collection is a mirror of somebody's life.
The price depends on the condition of the record and whether it's an original. Sometimes you pay way over the odds.
I've been a Beatles maniac for 40 years, even my customers rip me about it.
There is an endless sea of possibilities in vinyl; I see my job as encouraging people to explore. It is a thrill to introduce people to music they've never heard.
You feel this sense of anticipation with vinyl, the expectation and the tension.
This shop is well known for coincidences as well. A guy once came in dripping wet from the rain. He asked me if I had Guess Who by American Woman. I'd never heard of it.
He left and a few minutes later, this little old lady came in with an Asda carrier bag. As I lifted it up, the first record I saw was Guess Who.
I sprinted out of here, but the man had disappeared.
I thought this place would be a way of paying the bills. But it has become so much more.
For Claire and David Milne, vinyl has been the soundtrack to their life.
Not only did they meet in a club, where David worked the decks as a DJ, they have made sure their two young children also know how to work a record player.
And when they're not enjoying music together as a family, the couple can be found in their vintage emporium, Peapod, which recently moved to Holburn Street in Aberdeen.
Named in reference to their first son, "the pea in the pod" as aptly described by Claire, the shop has been running for eight years.
Alongside old-fashioned roller skates, costume jewellery and traditional typewriters – you'll also find vinyl.
The couple source their stock from private collections and house clearances, and David also runs a vinyl night at The Triplekirks. He believes records are here to stay.
David Milne, co-owner of Peapod
I think people are curious about vinyl because it offers something that bit different.
We hand pick every single record that comes through the door, there is so much variety.
A record is to have and to hold. You can look at the cover and some sleeves come with lyrics on.
There is so much more ritual involved, you have to look after a record and clean it. Plus you have to make sure that your equipment is good.
I've got my dad to blame for my love of records. When I was a kid, he'd send me to the library to get records out then put them on tape.
Can you imagine doing that now? It just snowballed from there.
Sometimes we get people in who sold their collection back in the day. Usually after finishing university, they needed the money or just didn't have the space.
And they've regretted it ever since.
There's now more records in places like HMV than there are CDs. Only a few years ago, that would have been unthinkable.
Claire Milne co-owner of Peapod
I hate technology, maybe that's why I run a vintage shop. I love being stuck in the past.
We've been stocking vinyl for at least three years now. There's something wonderfully nostalgic about it; it reminds me of going to Boots to pick up your film from the camera – you never quite know what you're going to get.
Vinyl can remind people of what they were doing at a certain point in their lives. It has the power to uplift you and transport you to somewhere else.
One of my favourite parts of this job is that we meet really lovely people.
You never know what's lurking within a collection. That's the joy of it.
Neil McLeod opened his vinyl shop, Mo' Fidelity Records, three years ago, after deciding it was now or never.
Having previously worked within welfare rights and social policy, Neil took a gamble after being made redundant.
And although the shop can be found in the coastal town of Montrose, it draws vinyl lovers from across the region.
Neil believes the shop invokes a traditional high street feel, with folk popping in for a blether over a shared love of music.
Neil McLeod, owner of Mo' Fidelity Records
My background in vinyl comes from hanging around a lot of record shops while growing up.
I actually find it quite difficult to describe my love of records. It's the aesthetic, the magic of vinyl.
Ever since I was a wee kid, my first memories of listening to music are bound up to records. I can remember my dad's record player and the sound of Johnny Cash.
It's the whole feel, the look and the smell of vinyl itself. It makes it even more magical in some way. How vinyl sounds is a big part of it; you can hear so much that you just can't hear through other mediums.
A customer will stream something on Spotify, they think it sounds alright. Then they hear the same song playing on vinyl in the shop, and they are amazed by it.
This place is almost a social enterprise. That is the beauty of a wee shop, with so many regulars who come in to hang out and listen to new music. You get to be friendly with people; that is something you don't get online.
There's always been more demand for vinyl than what has previously been catered for.
There was a period when it wasn't valued at all, people were selling records for pennies
Now people come in, usually between the age of 16 and 26, and they think vinyl is a new thing. That always gives me a smile.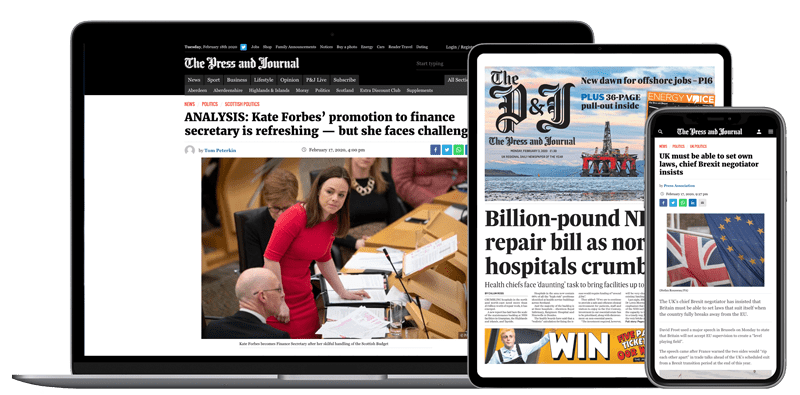 Help support quality local journalism … become a digital subscriber to The Press and Journal
For as little as £5.99 a month you can access all of our content, including Premium articles.
Subscribe