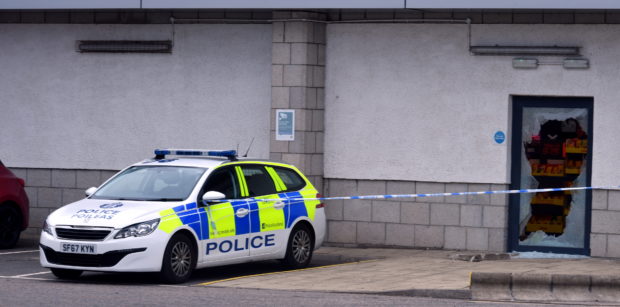 An Aberdeen supermarket that has proved a lifeline for residents under lockdown was forced to close today after being broken into.
Lidl on the city's King Street fell victim to a smash and grab raid overnight on Sunday night into this morning.
Thieves left a gaping six-foot high hole in a glass door, having smashed their way in to seize a significant amount of alcohol.
They made-off with drinks worth a three-figure sum. Police investigations are under way to identify the perpetrators.
Officers were called at 6.20am, though one local resident had reported the store's alarm going off at 11.30pm on Sunday night.
The store re-opened at about 11.30am, by which time more than three hours of business had been lost.
Uproar has ensued on social media as locals, who have been even more reliant than usual on the supermarket in light of the ongoing coronavirus pandemic, expressed their dismay at the news.
Among the hundreds of angry responses was that from Jennifer Gillon, who said: "There are food banks and other support out there. There is no excuse to break into a supermarket."
And Catherine McAdie said: "Things are hard enough for everyone just now but there are food banks and numerous good people out there going the extra mile to help people who are struggling."
Local councillor Alexander McLellan said: "It is incredibly disappointing to hear about this incident, which has meant local folk couldn't get their shopping this morning.
"I would encourage anyone with any information to get in touch with police."
A spokeswoman for Lidl said: "We can confirm that the police were contacted following an incident at our Kings Street store and we are supporting them with their investigation.
"As this is now a police matter, we are unable to provide any further information at this time."
A police spokeswoman said: "Police were called around 6.20am on Monday morning, following a report of a break-in at a supermarket on King Street, Aberdeen.
"Alcohol worth a three-figure sum was stolen. Inquiries are ongoing."
The incident bucks recent trends, with police figures showing crime has reduced by 21% during the last four weeks compared to the same period last year, as the country has gone into lockdown amid the coronavirus outbreak.
Head of the National Police Chiefs' Council (NPCC), Martin Hewitt, said: "That drop, combined with the commitment of our over 200,000 officers and staff across the UK, and the fantastic response from our volunteer special constables, means that we are in a strong position."
Senior officers believe the drop in crime has been driven by the closure of bars and clubs, lack of large public events, and robbery and burglary being made more difficult by people staying at home.