Alastair Campbell has played the bagpipes as a "virtual lament" for an Aberdeen-born farmer's funeral.
Unable to attend the funeral of George Mackie in Essex, Mr Campbell filmed himself playing three pieces in memory of his good friend.
The journalist was press secretary for Labour prime minister Tony Blair between 1997 and 2000, and holds prominent roles at The New European and GQ publications.
Mr Campbell performed the lament after being inspired by another piper, Allan Henderson, who had done the same with a video on the South Uist shoreline.
He told the P&J: "I too would have been at the funeral in Essex, where George and Catherine lived together for many years on their farm, and where we spent many a happy hour.
"Sadly, the coronavirus meant that, though George died from cancer not Covid-19, due to current restrictions only Catherine and their sons Robert and Hector could attend.
"So, like Allan, I sent tunes on the pipes in place of me, my partner Fiona and our daughter Grace, who for her teenage years kept her pony, Stella, in George's stables, and rode there any time she could."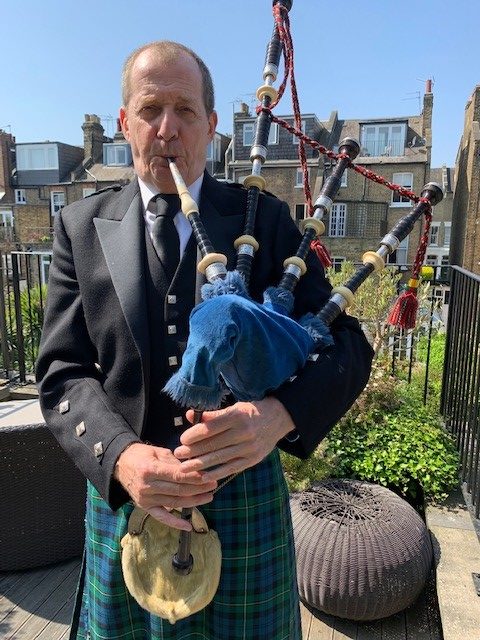 Mr Campbell's daughter Grace filmed the video of him playing Lest We Forget, his own piece Our Neighbours, Our Nurse, and When The Saints Go Marching In.
He said: "The Neighbour/Nurse tune almost certainly popped into my head because also attending, on her balcony, was our next door neighbour Florence Bridge.
"She too was a regular visitor to the stables, as was her sister Sissy, a nurse, for whom I wrote the tune, to play during the weekly clap for carers."
Mr Campbell was taught the bagpipes by his father from a young age, alongside his brother Donald, and said there were "plenty of times" he wished he did not have to.
"Football-mad, cricket-mad, growing up in Yorkshire, why did I have to stay in for an hour every night to do something that my friends would laugh at anyway," he said.
"Answer: because Dad, also Donald, was proud of his Hebridean heritage and wanted us to be proud of it too.
"So we grinned and bore it for him, endlessly practising scales and grace-notes on the chanter before we were even allowed to blow on the 'goose', as the mini-pipes were known, let alone the real thing.
"There have been many times since when Donald and I felt gratitude that Dad made us stick with it."
Mr Campbell's brother made a career out of piping, first in the Scots Guards and later at Glasgow University.
And the journalist did the same when busking around the world during his time studying languages at university.
He said: "But today, both father Donald and brother Donald gone, and the world in this weird state to which coronavirus has reduced it, I am more grateful than ever for all those sessions at the kitchen table in Keighley… 'g,d,e on A, B, C, low G – again' until we got them perfect.
"Because the love of pipes which started under pressure, then developed over decades, has gone to a whole different level in lockdown.
"I went into self-isolation well ahead of government advice.
"I work with a number of governments and leaders abroad and they were all saying the same thing – this is going to be bad.
"In particular Albanian Prime Minister Edi Rama, who knows me well, said that with my asthma and my history of depression I needed to take real care. So I have."
Mr Campbell has encouraged others to listen to or play music while in lockdown to help their mental health, saying it is helping people across the world to find "comfort and joy" amid the pandemic.
Mr Campbell said: "I love my pipes. They are bringing back wonderful memories, and stirring great emotions.
"They are helping me get through this very, very strange time.
"The number of requests I am getting online and face-to-face when out walking tells me they – and music more generally – are helping others get through it too."