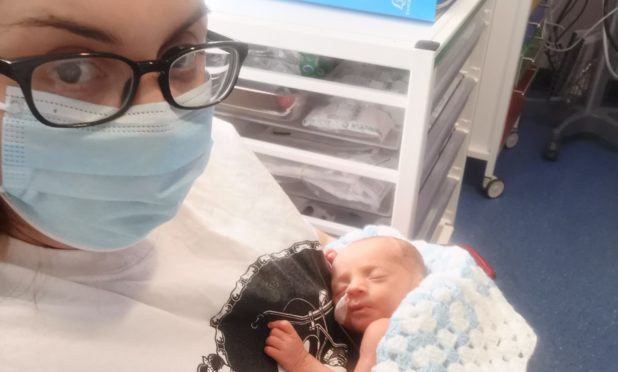 With hospitals restricting visitors and lockdown rules separating families, Alastair Gossip speaks to first-time parents learning about their new son through picture messages.
In the months before the birth of their now 10-day-old son, Mark Murray and Cher Gaitens had never imagined his early life would be like it has been.
Arriving eight-weeks prematurely, William Murray was born at Raigmore Hospital in Inverness, more than 100 miles from home, the middle of a global pandemic.
His parents, who live in Torry in Aberdeen, are each granted only two hours a day to hold their baby boy who is otherwise incubated in the neonatal high dependency unit.
New dad Mr Murray has returned to the north-east for his work as a lorry driver while Miss Gaitens remains in the Highlands, recovering from a Caesarean section.
May 20, 2020

May 19, 2020

May 18, 2020
The couple, both first-time parents, rely on video-calling and picture messages to share news of their son – and daily updates from staff on the ward.
Miss Gaitens, 30, was taken up to Inverness from Aberdeen Royal Infirmary by ambulance on May 7 when it became clear her son was making a surprise early arrival as there was no space in Aberdeen's neonatal unit.
Having returned home to feed the family pets, Mr Murray soon had to rush back up the A96 Aberdeen to Inverness road at midnight on Saturday, May 10 to arrive just in time for William's birth.
Miss Gaitens, who is a baker, said: "I was expecting to give birth in June when everything might have been a bit more settled- but William had other ideas.
"Obviously nothing about this situation, with everyone separated due to social distancing, was on the radar when we found out I was pregnant.
"Both sets of grandparents are very excited and everyone wants him home but because he was eight weeks early and weighed only 3lbs 3oz he is still in an incubator.
"It will be weeks yet before he has enough strength to leave the high dependency ward but he is getting bigger."
But even when William is strong enough to come home to Aberdeen with his mum, the line of adoring relatives queuing up to hold the newest Murray might still have a little while longer to wait.
Miss Gaitens said both sets of grandparents, other family and friends are "very excited" to meet him but revealed she has had to steer them away from the family home until the all-clear from the government.
"Once lockdown is over I can look forward to letting everyone else meeting him: the main priority is getting home to Mark to be a family," she said.
"There will be a very strict lockdown in place – they can see pictures and videos for now.
"He is just too little to be around germs."
New father Mr Murray, 22, made the decision to take up work again in Aberdeen only a day after the birth of his son due to the visiting restrictions.
Both parents are given a two-hour window with their son on the ward but Miss Gaitens has taken up both slots in her fiance's absence.
The pair share updates using their smartphones and Mr Murray was able to dote on his son hours after the birth.
He said: "Visiting is one at a time and I get a little corner to sit with William and hold him for a little while.
"When he was born I got a call at midnight, he was born at 2am and then I had a two-hour window to see him early that morning.
"We are getting by on photos and videos and speaking on video calls – we are coping."
The new mother and father have paid tribute to "amazing" staff at both hospitals involved in William's birth.
Mr Murray added: "They took away a lot of stress of having our first baby, despite how stretched they obviously were."
Technology helping in-the-dark dad feel he's 'almost there' with baby son
New dad Mark Murray says technology has been the saving grace, reducing the anxiety of being away from his two-months premature son and fiancee in the middle of a nationwide lockdown.
At opposite ends of the A96 Aberdeen to Inverness road, the lorry driver said "amazing staff" had made the extra effort to keep him informed.
The new dad has been receiving updates on an app staff at Raigmore Hospital use with parents of premature babies, as has his fiancee Cher Gaiten as she recovers from the caesarean operation to deliver 10-day-old William.
For the 22-year-old, the information, photos and videos are keeping him from being "in the dark" and driven to distraction.
He said: "The more information I and others away from the hospital have, the easier it is to handle. It's calming and takes away the what-ifs.
"They have an app which staff are using to share photos and videos with us – it's been so good for the separation anxiety.
"It feels like we are still there with him and it has really helped.
"We have just accepted that this is the way the world is just now and we all have to make the best of it. You either laugh or cry."
Although not 100 miles away like Mr Murray, Miss Gaitens is still only allowed four hours with eight-weeks premature William.
And so updates from staff are also a welcome relief for the new mother, in Inverness without friends, family or her fiancee.
"I get pictures sent to me from the unit through an app so we can see him while not with him.
"It's been really good and I cannot fault staff here at Raigmore at all."
The stream of photos and videos also provide exciting updates for the wider family, "desperate" to see William but unable to do so in person until after the lockdown restrictions are eased.
But despite the video-calls and the photos, the couple can't wait to be clear of the geographic hurdles and be home together as a family.
Lamenting the situation they find themselves in, Miss Gaitens told The P&J the family was learning the lessons of first-time parenting apart – something they clearly would not be if restrictions were not in force.
Mr Murray added: "This has all really helped us to cope as new parents that are separated because of the Covid-19 pandemic.
"It's been really helpful.
"But William is doing well and we now cannot wait for a space to open up in Aberdeen to get him down here and closer to home."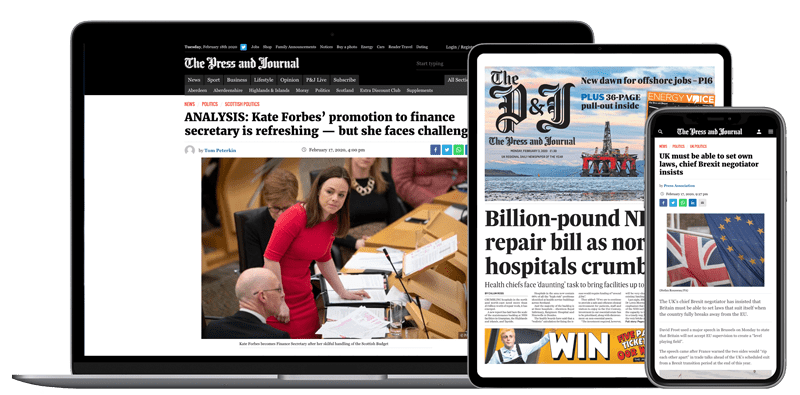 Help support quality local journalism … become a digital subscriber to The Press and Journal
For as little as £5.99 a month you can access all of our content, including Premium articles.
Subscribe