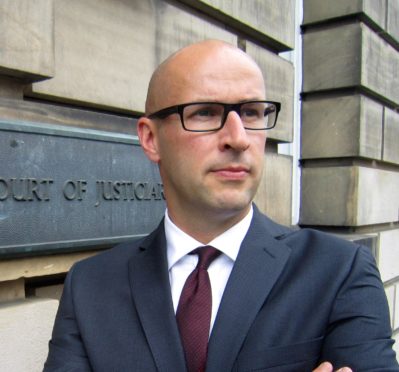 A north-east lawyer has shared tips for parents struggling with their mental health as he works from home with his wife and seven-year-old daughter.
Ian Woodward-Nutt can usually be found representing clients at Aberdeen Sheriff Court during the week.
But like many others, his regular routine has been turned upside down by the coronavirus pandemic.
He is now marking national Mental Health Awareness Week by offering advice on the best ways to get through the crisis.
Mr Woodward-Nutt said: "The thing I've found the toughest is the lack of social contact with friends and extended family. It's been hard.
"I'm mindful of how fortunate I am and my family is. I appreciate many other people are in situations far tougher.
"Every day we try to do something active together. So some days we go for a cycle or a walk – we try to mix it up a bit to keep it interesting.
"It is beneficial mentally to stay physically fit but it is also beneficial to get time away for yourself as well.
"We've found that trying to have a structure and routine is quite helpful so most days we work out a plan in the morning and our daughter responds well to that."
Deputy First Minister John Swinney spoke in support of the Parent Club group's Here For You campaign – which encourages parents and carers to look after themselves as they juggle the extra pressure being placed on them during the pandemic.
He said: "We know it's an extremely challenging time for parents and carers. What is being asked of you is not easy, but just being there for your family is all that really matters – so take each day as it comes and enjoy the little moments."
Parent Club is a digital information resource which is backed by the Scottish Government and provides information, advice and support to parents and carers across Scotland.
The new campaign recognises the additional pressure on parents and guardians, whether that is trying to support home learning while working from home themselves or keeping on top of housework while trying to keep children entertained and fed.
Some of their top advice is to keep up a routine to help emotional wellbeing and make a plan for the week to make things a little easier.
The group has also noted that physical exercise can play an important part in mental health and is encouraging people to get outside or take part in online workouts at home.
Further information can be found at parentclub.scot/coronavirus.