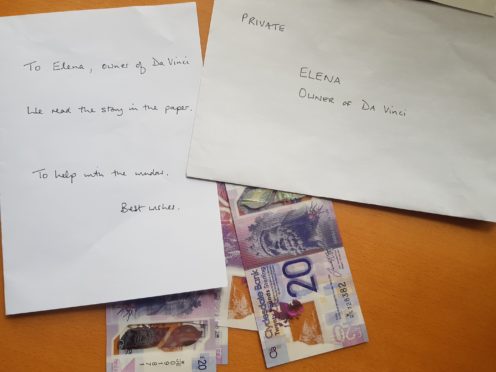 The owner of the Da Vinci Italian Restaurant in Aberdeen says she has been brought to 'tears' by the generosity of the community as she recovers from the shock of a recent break-in.
Elena Ionascu said the support from customers has been "overwhelming" as hundreds of pounds worth of anonymous donations have flooded-in to help fix the business's damaged window.
Through a dedicated Facebook donations page and donations sent to her door, £360 has been raised in less than a week to help cover the cost of the damages.
Initially woken by a call from her alarm company at around 1.30am a little over a week ago, she checked the restaurant's camera feed online and saw a man stealing bottles of alcohol from behind the bar.
Police subsequently arrested two people in connection with an early morning break-in and recovered the majority of the stolen alcohol.
The 37-year-old said: "This has shown me there is so much love and humanity left out there.
"I cried. I didn't expect anything like this from people. All I can say is thank you.
"We were thinking of closing the restaurant because of how hard coronavirus has hit the industry, but seeing people come together to help us out, we can't give up.
"We have to stay open."
Miss Ionascu is keen to pay special thanks to a mystery benefactor who sent their son to drop-off an envelope with a £100 donation enclosed inside.
Originally from Florence, the restaurateur has also received flowers and confectionery gifts as well as hundreds of messages from members of the local community wishing her well.
In a bid to keep the business open, the team at Da Vinci have been operating a takeaway service during lockdown.
She added: "We aren't doing the same as we were before Covid-19, but people have been so good in helping us.
"It is has been so overwhelming to find out just how many people care."