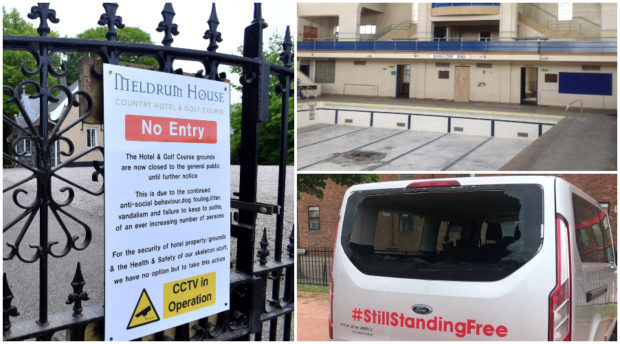 A north-east hotel has been forced to close its grounds and a former swimming pool has been left "open to the elements" by vandals striking during lockdown.
Community efforts to help others amid the pandemic have also been hampered, as a van used by an Aberdeen charity to make food deliveries has been smashed.
Those responsible have been branded "despicable" with their actions directly affecting vulnerable people and heaping pressure on already-stretched organisations.
Over the weekend Meldrum House Country Hotel and Golf Course, near Oldmeldrum, announced it would be closing its grounds for the foreseeable future.
It had initially left its 240-acre site open to the public for walks but began noticing an "ever increasing" level of antisocial behaviour.
Management said this included people straying from designated paths, leaving litter and dog mess, disturbing nesting birds and failing to follow social distancing rules.
The golf club's toilets were also trashed by vandals.
No-entry signs and gates have now been installed at all of the entry points to the estate to keep people out.
A statement from the hotel said: "We are taking these measures to protect our property as well as for the health, safety and security of our skeleton team here at Meldrum House.
"We are extremely disappointed to do this, but sadly have been left with no option."
Meanwhile efforts to preserve the former Bon Accord Baths in Aberdeen have been set back after vandals broke in.
The B-listed swimming pool on Justice Mill Lane closed in 2008, with work under way to return it to its former glory as a community-run facility.
But the Save Bon Accord Baths group said "a number" of individuals have been forcing entry to the building, leaving it open to the elements.
They said: "The baths have been badly damaged in areas by vandals previously, and further trespass and damage is likely to have a significant impact upon future hopes of restoration and welcoming the people of Aberdeen back through the doors."
On Friday the Urbandoned "urban explorers" group posted a video on YouTube, which has since had thousands of views, showing three males exploring the interior of the building in February.
In it, they referenced taking a "calculated approach" to entering the property, but said they had not forced entry and used access points which had already been made available by others.
They added that they did not vandalise anything inside.
Over the weekend criminals also targeted Aberdeen FC Community Trust (AFCCT), which has been working with social enterprise Cfine to deliver food packages to vulnerable families.
They smashed the rear window of one of the charity's vans, which had been parked outside the club's Pittodrie Stadium, but it is not thought anything was stolen.
Liz Bowie, chief executive of AFCCT, said: "This deliberate act of vandalism is despicable.
"These vans are used to make vital deliveries of food to those most in need and now this one will be off the road until we can get it repaired."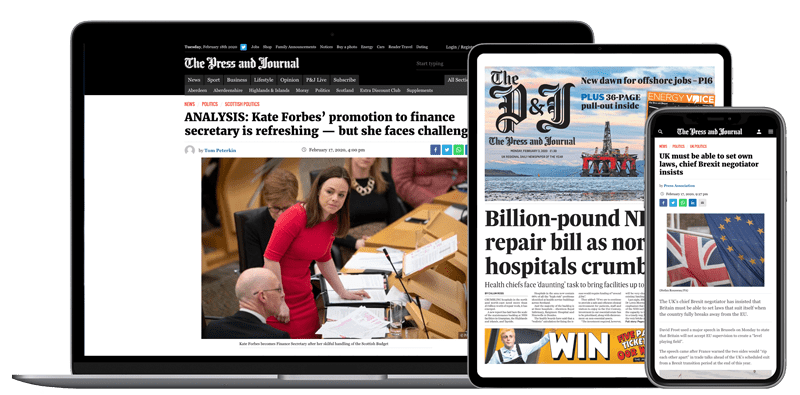 Help support quality local journalism … become a digital subscriber to The Press and Journal
For as little as £5.99 a month you can access all of our content, including Premium articles.
Subscribe